Determinants Of The Under Five Years Children Visit To Posyandu In The Pusaran Enok District's Of Indragiri Hilir
Abstract
ABSTRACT
A visit to Posyandu toddler is the coming to Posyandu toddler to get health care. The participation rate of maternal health check babies to Integrated Health Service Post (Posyandu) is still low. Riau Province has not reached the target Strategic Plan which is only 64.52% of the target of 80%. IHC D / S in District Inhil (Indragiri Hilir) decrease from 2013 to 2014, ie from 50.4% to 50.3%. The aim of research to determine the factors associated with a visit to Posyandu toddler in the Village Puskesmas Enok Maelstrom Indragiri Hilir. This study uses a quantitative method with cross-sectional design. The population is all the mothers who have children aged between 12-59 months in the Maelstrom Village Puskesmas Posyandu Enok Indragiri Hilir. The number of samples in this study were 63 mothers. Techniques of sampling using a set number of samples based on sampling techniques stratifiet proportional random sampling. The results showed that the study (p = 0.042, POR = 3.333), occupation (p = 0.016, POR = 4.154), the role of volunteers (p = 0.004, POR = 6.028), and knowledge (p = 0.029, POR = 3.682) was associated with a visit to Posyandu toddler. While age (ρ = 1.000), income (p = 0.247) health facilities (p = 0.320) there was no correlation with a visit to Posyandu toddler. Conclusions are variable relationship education, employment, the role of cadres, and knowledge of the toddler visit to neighborhood health center in the Village Maelstrom Enok Indragiri Hilir Subdistrict.
Keyword     :   Visitst to the Posyandu in the Work Area Kelurahan Pusaran Kecamatan Enok Kabupaten Indragiri Hilir 2015
Downloads
Download data is not yet available.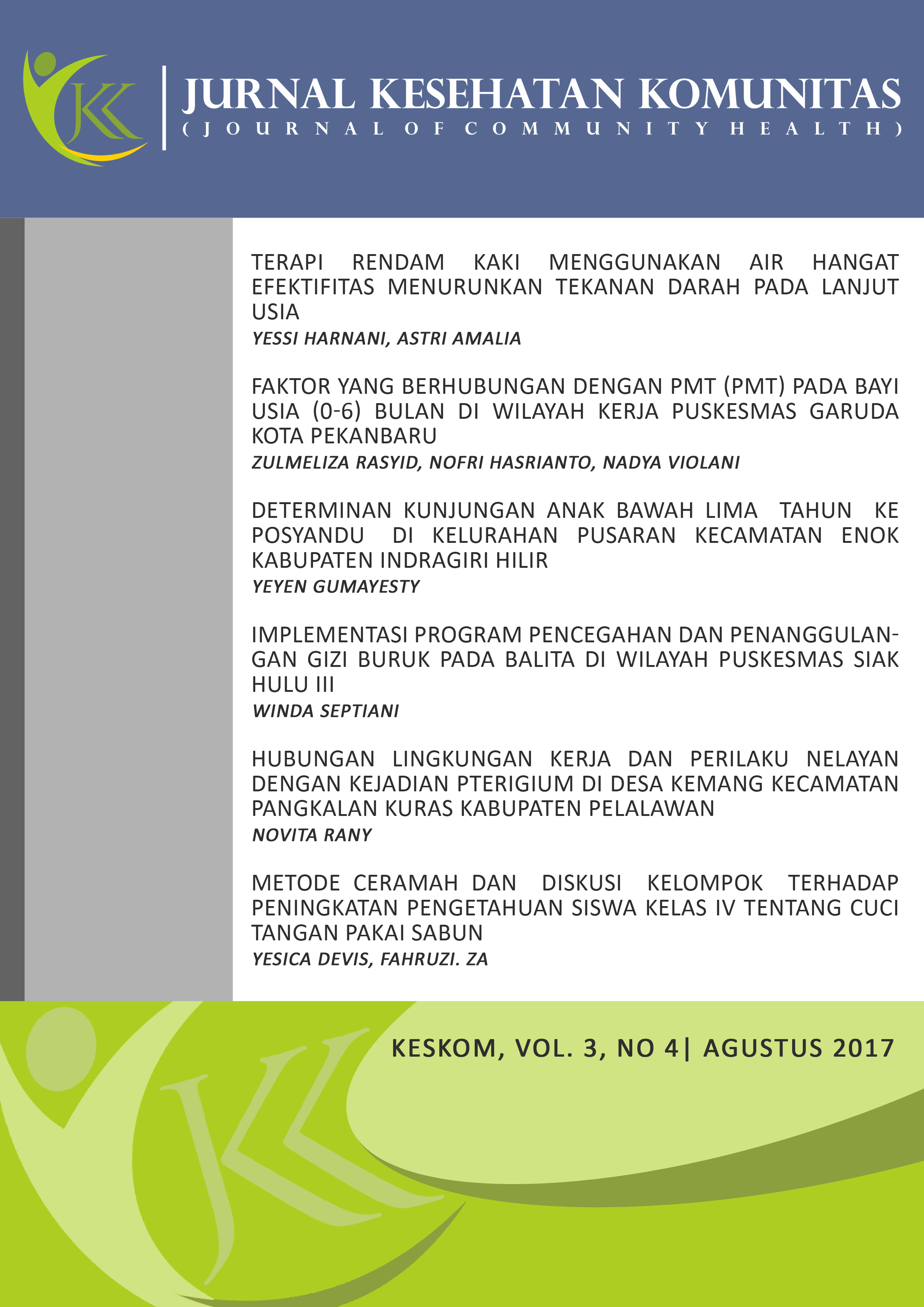 How to Cite
1.
Gumayesty Y. Determinants Of The Under Five Years Children Visit To Posyandu In The Pusaran Enok District's Of Indragiri Hilir. KESKOM [Internet]. 29Dec.2017 [cited 19Jan.2019];3(4):138-44. Available from: http://jurnal.htp.ac.id/index.php/keskom/article/view/135
Copyright (c) 2017 Jurnal Kesehatan Komunitas
This work is licensed under a Creative Commons Attribution-NonCommercial-ShareAlike 4.0 International License.
Copyright @2017. This is an open-access article distributed under the terms of the Creative Commons Attribution-NonCommercial-ShareAlike 4.0 International License (http://creativecommons.org/licenses/by-nc-sa/4.0/) which permits unrestricted non-commercial used, distribution and reproduction in any medium
Abstract viewed = 192 times
pdf (Bahasa Indonesia) downloaded = 208 times