RELATION WORKING ENVIRONMENT BEHAVIOR AGAINST FISHERMEN SCENE PTERYGIUM IN THE VILLAGE KEMANG KECAMATAN BASE KURAS PELALAWAN DISTRICT
Novita Rany

STIKes Hang Tuah Pekanbaru
Downloads
Download data is not yet available.
Abstract
Pterygium is a thickening of the conjunctiva or the white part of the eye on the side of the medial or lateral, usually in older people, but can also be found in young adults, and increasingly extends towards the cornea. Ultraviolet light is one factor that can increase the incidence of pterygium. This situation is an irritating phenomenon caused by ultraviolet light, drying and the environment with a lot of wind. Data from Kemang Postu found that 30 (80%) incidence of pterygium.
The purpose of this research that determines the behavior of fishermen on the incidence pteirigum. This research is a quantitative research with cross sectional analytic design. This research was conducted in Desa Kemang District of Pangkalan Kuras Pelalawan June-July 2016, with a sampling technique in the study of saturated sampling. Data were collected using a questionnaire and profile data from Kemang Village office. Data analysis for bivariate with chi-square test on the degree of α = 0.05.
The results showed that there is a relationship between knowledge p-value = 0.001 <0.05 POR = 18,083 (3.281-99.67), personal protective equipment fisherman p-value = 0.001 <0.05, POR = 14,000 (2.69-72.97) the role of power health with the results of p-value = 0.008 <0.05, POR 10,667 (1.92-59.20) and the period of 0,017 fishermen p-value <0.05, POR 7750 (1.53-39.12) with pterygium disease.
Health workers should pay more attention to the fishing community in order to prevent and menangguangi incidence of pterygium.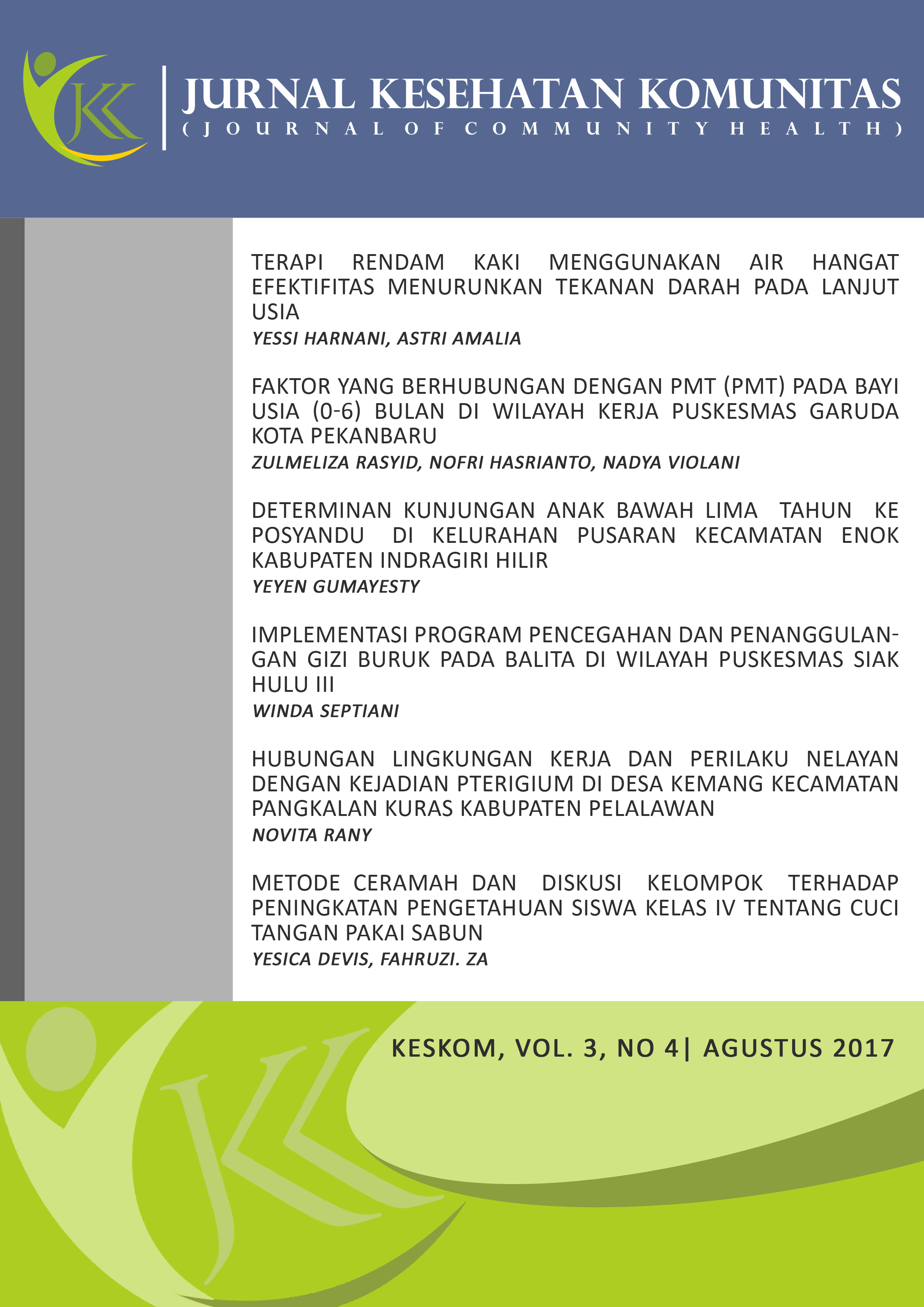 How to Cite
1.
Rany N. RELATION WORKING ENVIRONMENT BEHAVIOR AGAINST FISHERMEN SCENE PTERYGIUM IN THE VILLAGE KEMANG KECAMATAN BASE KURAS PELALAWAN DISTRICT. KESKOM [Internet]. 31Dec.2017 [cited 20Oct.2018];3(4):153-8. Available from: http://jurnal.htp.ac.id/index.php/keskom/article/view/203
This work is licensed under a Creative Commons Attribution-NonCommercial-ShareAlike 4.0 International License.
Copyright @2017. This is an open-access article distributed under the terms of the Creative Commons Attribution-NonCommercial-ShareAlike 4.0 International License (http://creativecommons.org/licenses/by-nc-sa/4.0/) which permits unrestricted non-commercial used, distribution and reproduction in any medium