Identification of Suspected Tuberculosis Using A Pharmamed Chatbot Based on Health Services in The City of Padang
Abstract
Introduction: TB disease is the first of the 10 leading causes of death in the world, and Indonesia is the 3rd highest country after India and China. The Minister of Health said there were 824,000 people suspected of having TB and asked all health officials to prioritize surveillance efforts to find people with TB detected by name by address. The TB cure rate in West Sumatra Province in 2020 is 76.9% and has not reached the national target of 85% and the city of Padang is only 23%. Objective: The purpose of this study is to find suspected cases of TB using the Pharmamed Chatbot, by name and by address so that they are easy to find to overcome TB. Methods: This type of research is quantitative descriptive of suspected TB cases using a 20-question chatbot to obtain social data by name and by address and suspected cases of TB. Results: The results of 838 respondents obtained 91 people suspected of TB, the composition of respondents BPJS 78.5% and 22.5%, not BPJS. BPJS respondents of productive age 15-24 years 26.91% and age range 45-64 years 34.4%. Chatbots are relatively successful and innovative as digital health in obtaining patients with suspected TB and the initial steps for TB control. It is necessary to develop a more complete chatbot and further research on TB disease prevention in Indonesia
Downloads
Download data is not yet available.
References
Handayani I, Sumarni. Tuberkulosis. Penerbit NEM; 2021.
Kementerian Kesehatan Republik Indonesia. Melalui Kegiatan INA – TIME 2022 Ke-4, Menkes Budi Minta 90% Penderita TBC Dapat Terdeteksi di Tahun 2024 [Internet]. 2022. Available from: https://sehatnegeriku.kemkes.go.id/baca/rilis-media/20220909/5541046/menkes-budi-minta-90-penderita-tbc-terdeteksi-di-2024/
World Health Organization. Global Tuberculosis Report 2021 [Internet]. 2021. Available from: https://www.who.int/publications/i/item/9789240013131
Kementrian Kesehatan RI. Profil Kesehatan Indonesia 2019. Jakarta : Kementrian Kesehatan RI; 2020.
Kementrian Kesehatan Republik Indonesia. Profil Kesehatan Indonesia 2020. 2021.
Dinas Kesehatan Kota Padang. Laporan Evaluasi Pengobatan TB 2018-2021. 2021.
Kementerian Kesehatan Republik Indonesia. Strategi Nasional Penanggulangan Tuberkulosis di Indonesia 2020-2024. Pertem Konsolidasi Nas Penyusunan STRANAS TB. 2020;135.
Kementerian Kesehatan Republik Indonesia. Strategi Transformasi Kesehatan Digital. Kementerian kesehatan RI; 2021.
Nurhikmah. Efektifitas Skrining Tuberculosis Terhadap Case Notification Rate ( CNR ) Pada Penderita Tuberculosis Diwilayah Kelurahan Kwitang. 2017;4:9–15.
Free C, Phillips G, Watson L, Galli L, Felix L, Edwards P, et al. The Effectiveness of Mobile-Health Technologies to Improve Health Care Service Delivery Processes: A Systematic Review and Meta-Analysis. PLoS Med. 2013;10(1).
Adriani, Nurhayati, Oktavianis, Antono D. Pembentukan Program " Hallo Batuk " Untuk Penemuan Suspek Tb Di Puskesmas Piladang Kabupaten Lima Puluh Kota. Empower Soc J. 2020;1(2):67–76.
Arif MAI. the Legal Review of Online-Based Medical Services. 2018;1–134.
Kementerian Kesehatan Republik Indonesia. Peraturan Menteri Kesehatan Nomor 67 Tahun 2016 Tentang Penanggulangan Tuberkulosis. 2016.
TB Indonesia. KONSEP JEJARING LAYANAN TB DI FASILITAS KESEHATAN PEMERINTAH DAN SWASTA BERBASIS KABUPATEN/KOTA (DISTRICT-BASED PUBLIC-PRIVATE MIX/DPPM) [Internet]. 2021. Available from: https://tbindonesia.or.id/pustaka-tbc/informasi/teknis/ppm/
Falzon D, Raviglione M, Bel EH, Gratziou C, Bettcher D, Migliori GB. The role of eHealth and mHealth in tuberculosis and tobacco control: A WHO/ERS consultation. Eur Respir J [Internet]. 2015;46(2):307–11. Available from: http://dx.doi.org/10.1183/09031936.00043315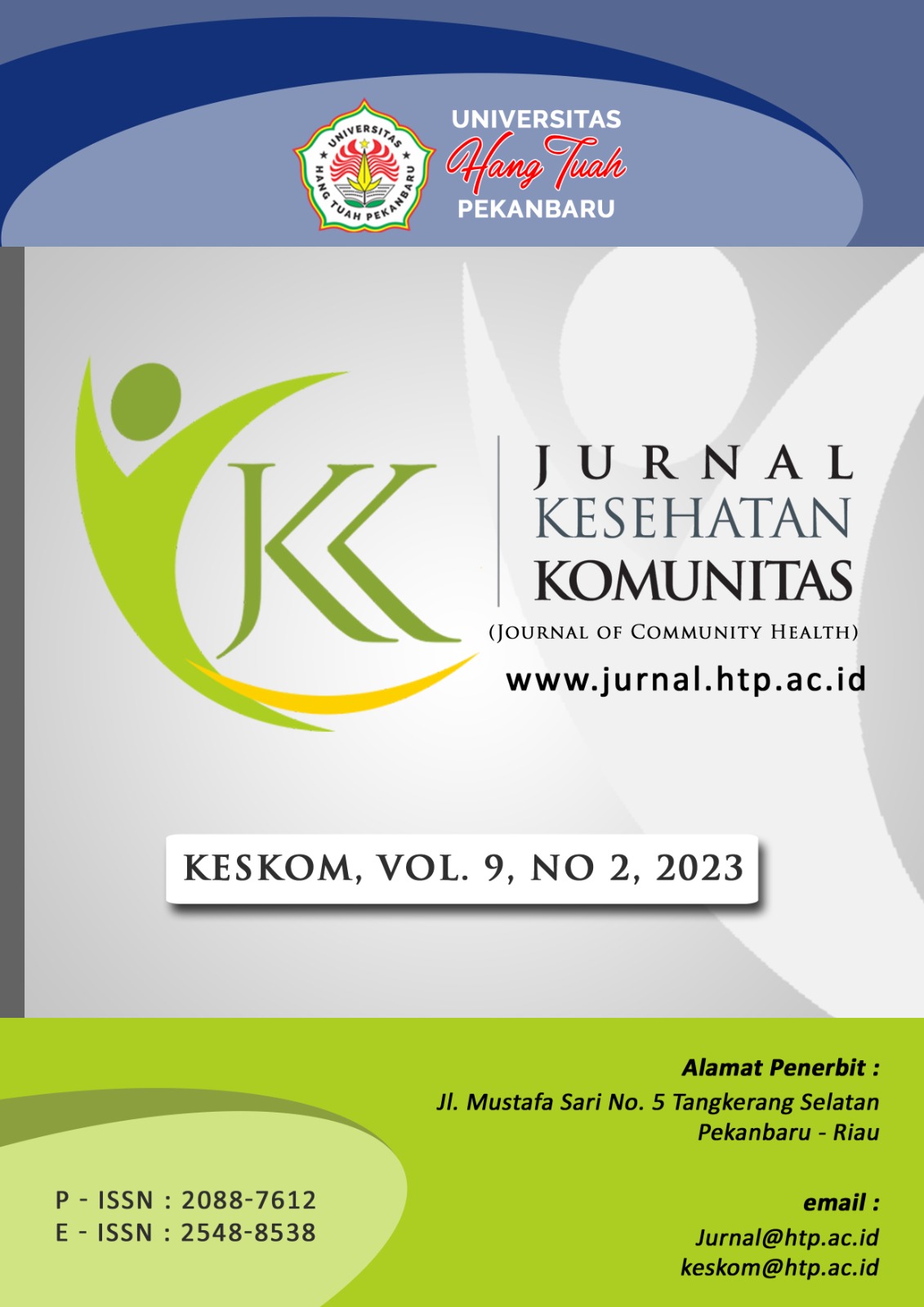 Downloads
How to Cite
1.
Siswati S, Giatri E, Safitri Y. Identification of Suspected Tuberculosis Using A Pharmamed Chatbot Based on Health Services in The City of Padang. J Keskom [Internet]. 2023 Aug. 9 [cited 2023 Dec. 10];9(2):379-85. Available from: https://jurnal.htp.ac.id/index.php/keskom/article/view/1354
License
Copyright (c) 2023 Jurnal Kesehatan Komunitas
This work is licensed under a Creative Commons Attribution-NonCommercial-ShareAlike 4.0 International License.
Copyright @2017. This is an open-access article distributed under the terms of the Creative Commons Attribution-NonCommercial-ShareAlike 4.0 International License (http://creativecommons.org/licenses/by-nc-sa/4.0/) which permits unrestricted non-commercial used, distribution and reproduction in any medium