The Impact of Landfills Toward Public Health
Abstract
The presence of a garbage disposal in a region will certainly cause problems for the surrounding population, especially those settling with a distance of < 1 km. Based on government regulation No 18 year 2012 that the distance of settlement should be more than 1 km. If landfills are not managed properly, will certainly cause pollution of water quality, air pollution, soil pollution from piles of garbage piled up. This literature study aims to determine the health impact of communities living around landfill waste and risk factors that can increase health disorders of the community. The method used in this study is literature review. The collection of literature is conducted through http://garuda.ristekdikti.go.id and Google Scholar databases published in the period from 2015 to 2019. Health complaints found in the community around the TPA are skin diseases, diarrhea, respiratory disorders, chest pains, sore eyes, dry throat, hot throat, dizziness, coughs, worms and shortness of breath. There are factors that also cause public health disorders around TPA are environmental factors such as poor air quality that is affected by water pollution, air pollution, soil pollution that can cause disease arise due to the buildup and accumulation of garbage that causes the breeding of bacteria, vector diseases and viruses.
Keywords: Landfill, Health Problems
Downloads
Download data is not yet available.
References
Ayen, D. and Umar, A. F. (2016) 'Gambaran Proses Pengolahan Sampah dan Dampaknya Terhadap Kesehatan Masyarakat di Wilayah TPA Bantar Gebang Bekasi Tahun 2016', pp. 59–71.
Cecep, C. et al. (2018) 'Pencemaran Air Di Kawasan Tempat Pembuangan Sampah Akhir (Tpsa) Ciangir Kota Tasikmalaya', NATURALISTIC : Jurnal Kajian Penelitian Pendidikan dan Pembelajaran, 2(2), pp. 147–151. doi: 10.35568/naturalistic.v2i2.203.
Emilda, E. (2019) 'Dampak Pengelolaan Sampah Pada Kesehatan Masyarakat Di Tpa', Jurnal Ilmiah Ilmu Kesehatan: Wawasan Kesehatan, 5(2), pp. 246–252. doi: 10.33485/jiik-wk.v5i2.138.
Emina, E. (2016) 'Analisis Kualitas Udara Dan Keluhan Kesehatan Yang Berkaitan Dengan Saluran Pernapasan Pada Pemulung Di Tempat Pembuangan Akhir Sampah (Tpa) Terjun Kecamatan Medan Marelan Tahun 2016'.
Hartini, E. and Jayanti, R. (2015) 'Faktor-faktor Risiko Paparan Gas Amonia dan Hidrogen Sulfida Terhadap Keluhan Gangguan Kesehatan Pada Pemulung di TPA Jatibarang Kota Semarang', Jurnal Kesehatan Lingkungan, 1, pp. 1–16.
Iqbal, A.Yudi, C. D. (2018) 'Dampak Tempat Pembuangan Akhir Sampah (TPA) Terhadap Masyarakat di sekitar TPA Ampang Kualo Kota Solok', Jurnal Kapita Selekta Geografia Geografi, 1(September), pp. 39–45.
Latul, Kapantaow, A. (2017) 'gambar hygiene perorangan dan pemakaian alat pelindung diri pada pemulung sampah di tempat pembuangan akhir sumampo kota manado 2017', ВеÑтник РоÑздравнадзора, 6, pp. 5–9.
Mawaddah, S. (2016) 'Pengaruh Air Lindi Tpa Sampah Terhadap Kualitas Air Tanah Dangkal Dan Kesehatan Masyarakat Disekitarnya (Studi Pada Masyarakat Di Sekitar TPA Batu Layang Pontianak)'.
Muhammad Alfan (2017) 'dampak tempat pembuangan akhir (TPA) sampah kebon kongok terhadap gangguan kesehatan masyarakat desa suka makmur kecamatan gerung kabupaten lombok barat tahun 2017', Progress in Physical Geography, 14(7), p. 450. doi: 10.1177/0309133309346882.
Rochmawati, P. Y. (2017) 'analisis kualitas lingkungan dan status kesehatan masyarakat di sekitar tempat pembuangan akhir (TPA) sampah batu layang kota pontianak', JURNAL KESEHATAN MASYARAKAT KHATULISTIWA http://openjurnal.unmuhpnk.ac.id/index.php?journal=jkmk&page=index ANALISIS, 4.
Rumbruren, A. A. et al. (2015) 'Sampah Di Kecamatan Manokwari Selatan', pp. 1–10.
S.m.exposto, L. (2015) 'Pengaruh Pengelolaan Sistem Pembuangan Akhir Sampah Dan Dampak Terhadap Kesehatan Masyarakat Di Desa Tibar, Kecamatan Bazartete, Kabupaten Liquiça, Timor-Leste.', Bumi Lestari, 15(2).
Sabella, S. (2014) 'Risiko gangguan kesehatan pada masyarakat di sekitar tempat pembuangan akhir (tpa) sampah tanjungrejo kabupaten kudus', Skripsi.
Safmila, R. (2018) 'hubungan kebersihan lingkungan dan pencemaran udara dengan tanggapan masyarakat terhadap keberadaan tempat pembuangan akhir sampah (TPA) banda aceh', 1(1), pp. 27–33.
Seppina, D. S., Hilal, N. and IW, H. R. (2017) 'Upaya Pemulung Dalam Mencegah Risiko Gangguan Kesehatan Di Tpa Banjaran Kecamatan Bojongsari Kabupaten Purbalingga Tahun 2017', Link, 13(1), p. 13. doi: 10.31983/link.v13i1.2589.
Siprianus, S. (2015) 'Health Problems of Scavengers at the Alak Landfill, Kupang City', Media Kesehatan Masyarakat Indonesia Universitas Hasanuddin, 10(1), pp. 30–35.
Siswanto, S. (2012) 'Systematic Review Sebagai Metode Penelitian Untuk Mensintesis Hasil-Hasil Penelitian (Sebuah Pengantar)', Buletin Penelitian Sistem Kesehatan, 13(4 Okt). doi: 10.22435/bpsk.v13i4.
Suwendar, R. (2019) 'persepsi masyarakat kelurahan sumberrejo terkait kenyamanan tinggal dan pencemaran akibat tempat pembuangan akhir sampah benowo kecamatan pakal kota surabaya', (1), pp. 1–5.
Utami, Sampurna Jaya, L. N. (2018) 'dampak sanitasi lingkungan terhadap kesehatan masyarakat di wilayah pesisir kecamatan kota agung'. doi: 10.1017/CBO9781107415324.004.
Yuniarti, T. and Anggraeni, T. (2018) 'Dampak Tempat Pembuangan Akhir Sampah Putri Cempo Surakarta Terhadap Penyakit Kulit Pada Masyarakat Mojosongo', Jurnal Ilmiah Rekam Medis dan Informatika Kesehatan, ISSN 2086-2628, 8(1), pp. 26–29. Available at: https://www.ejurnalinfokes.apikescm.ac.id/index.php/infokes/article/view/193/166.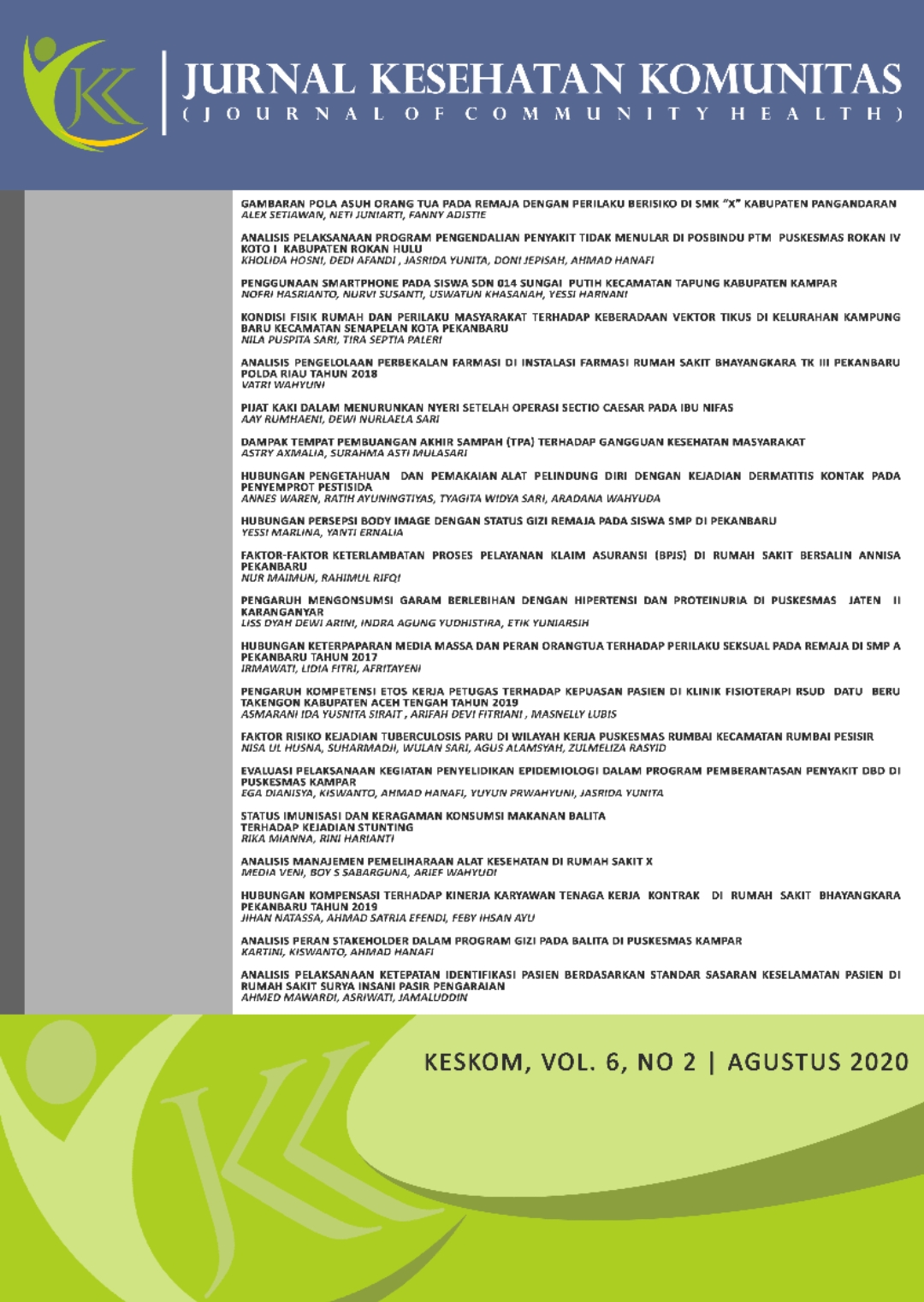 Downloads
How to Cite
1.
Axmalia A, Mulasari SA. The Impact of Landfills Toward Public Health. J Keskom [Internet]. 2020 Oct. 2 [cited 2023 Jun. 2];6(2):171-6. Available from: https://jurnal.htp.ac.id/index.php/keskom/article/view/536
License
Copyright (c) 2020 Jurnal Kesehatan Komunitas
This work is licensed under a Creative Commons Attribution-NonCommercial-ShareAlike 4.0 International License.
Copyright @2017. This is an open-access article distributed under the terms of the Creative Commons Attribution-NonCommercial-ShareAlike 4.0 International License (http://creativecommons.org/licenses/by-nc-sa/4.0/) which permits unrestricted non-commercial used, distribution and reproduction in any medium