Factors Associated with the Incidence of Dengue Hemorrhagic Fever (DHF) in Health Center Islands Selatpanjang Meranti
Keywords:
Dengue Haemoragic Fever, Enviromental Factors, Selat Panjang district health center
Abstract
Incidence og dengue in the region of the district health center island Selatpanjang Meranti as 129 cases. Of 2 and 6 rural villages, urban villages, especially the city Selatpanjang RW 09 and RW 10 and RW particular village east Selatpanjang 01 and RW 02 includes areas with the highest cases of health centers in the region of Selatpanjang. The purpose of the study to determine the factors associated with the incidence of dengue in Selatpanjang Meranti Islands. Quantitative research conducted with cross-sectional research design. The sample in the study of 167 respondents. The sampling technique using simple random sampling. Data collection using questionnaires and direct observation. Test statistics with chi square test at 95% confidence level. The results showed no relationship between respondents knowledge of dengue, the presence of aedes aegypti larvae in containers, the shelter is closed on the availability of water and frequency of draining water reservoirs daily use with the incidence of dengue in the district health center island Meranti Selatpanjang 2012. While the habit of hanging clothes no association with the incidence of dengue in the district health center island Selatpanjang Meranti of 2012. It is expected that further intensify the health center larva periodic inspection activities, as well as for the community to pay more attention to the activities and the implementation of PSN plus 3M-DBD independently and regularly
Downloads
Download data is not yet available.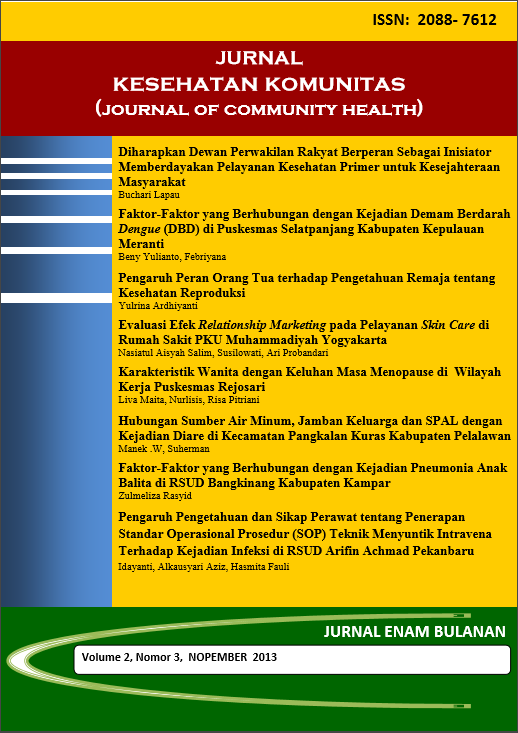 Downloads
How to Cite
1.
Yulianto B, . F. Factors Associated with the Incidence of Dengue Hemorrhagic Fever (DHF) in Health Center Islands Selatpanjang Meranti. J Keskom [Internet]. 2013Nov.1 [cited 2021Oct.20];2(3):113-6. Available from: https://jurnal.htp.ac.id/index.php/keskom/article/view/56
License
Copyright @2017. This is an open-access article distributed under the terms of the Creative Commons Attribution-NonCommercial-ShareAlike 4.0 International License (http://creativecommons.org/licenses/by-nc-sa/4.0/) which permits unrestricted non-commercial used, distribution and reproduction in any medium