Management Implementation Analysis of Hepatitis B0 Immunization Program in Rumbio Jaya Health Centre, Kampar Regency 2020
Abstract
The implementation of immunization program is a very important element, but still found that the immunization program at health center is not run in accordance with a promise that is in Indonesian Permenkes No. 12 in 2017. This study aims to analyze the program management immunization Hepatitis B-0 in the work area Rumbio Jaya Health Center in Kampar Regency in 2020. This research used is qualitative research with a descriptive approach. This data collection was carried out at the Rumbio Jaya Health Center in Kampar Regency through in-depth interviews involving 7 informants and reviewing documents.The results showed that there was no vaccine management officer, immunization training had not been carried out, planning for syringe, safety box, and cold chain planning was not carried out by the Rumbio Jaya Health Center, unavailability of immunization waste management and timely immunization reporting. It is recommended to Rumbio Jaya Health Center in Kampar Regency should appoint vaccine management officers so that immunization activities can be carried out optimally, it is better to plan syringe, safety box and cold chain needs, it is better to make the imunization reporting at the fifth date the following month. It is recommended to the Rumbio Jaya Health Office conduct minimum immunization training once a year and should provide immunization waste management places.
Downloads
Download data is not yet available.
References
Afrizal, Edison & Firdawati, 2020. Evaluasi Pelaksanaan Program Imunisasi Dasar di Puskesmas Lubuk Buaya Tahun 2017. Jurnal Human Care , Volume 5, pp. 865 - 874.
Dinkes Kampar , 2019. Profil Kesehatan Kabupaten Kampar. Bangkinang: Dinas Kesehatan Kabupaten Kampar.
Dinkes Provinsi Riau, 2018. Profil Kesehatan Provinsi Riau. Pekanbaru: Dinas Kesehatan Provinsi Riau.
Kepmenkes , 2005. Keputusan Menteri Kesehatan Repubilk Indonesia Nomor 1611 /MENKES/SK/XI/2005 Tentang Penyelenggaraan Imunisasi. Jakarta : s.n.
Kepmenkes, 2010. Keputusan Menteri Kesehatan Republik Indonesia Nomor 482/MENKES/SK/IV/2010 Tentang Gerakan Akselerasi Imunisasi Nasional Universal Childh Imunization 2010 - 2014 (GAIN UCI 2010 - 2014). Jakarta.
Moerdiyanto, 2009. Teknik monitoringdan evaluasi (monev) dalam rangka memperoleh informasiuntuk pengambilan keputusan manajemen. Yogyakarta.
Notoatmodjo, S, 2003. Pengembangan Sumber Daya Manusia. Jakarta: PT Rineka Cipta.
Permenkes , 2017. Peraturan Menteri Kesehatan Republik Indonesia Nomor 12 Tahun 2017 Tentang Penyelenggaraan Imunisasi. Jakarta: s.n.
Prodi Magister Stikes Hangtuah Pekanbaru, 2020. Panduan Tesis Magister Kesehatan Masyarakat. Pekanbaru: Program Studi Magister Kesehatan Masyarakat Stikes Hangtuah Pekanbaru.
Reviana, L. S, 2018. Analisis Kebutuhan Sdm Kesehatan Berdasarkan Standar Ketenagaan Minimal Permenkes Nomor 75 Tahun 2014 Di Puskesmas Kanor Kabupaten Bojonegoro Tahun 2018. Madiun: Skripsi Stikes Bhakti Husada Mulia Madiun.
Riskesdas, 2018. HASIL UTAMA RISKESDAS 2018. Jakarta : Badan Penelitian dan Pengembangan Kesehatan Kementerian RI.
Romadhona, Y. S. & Siregar, K. N., 2018. Analisis Sebaran Tenaga Kesehatan Puskesmas di Indonesia Berdasarkan Peraturan Menteri Kesehatan Nomor 75 Tahun 2014 Tentang Puskesmas. Jurnal Kesehatan Manarang, Volume 2, pp. 114 - 121.
Sondakh, G. F., Maramis, F. R. R. & Kolibu, F. K., 2017. Analisis Pemanfaatan dan Pengelolaan Dana Bantuan Operasional Kesehatan (Bok) di Puskesmas Sario Kota Manado. Manado: Universitas Sam Ratulangi Manado.
Sulistiyanto, A. D., Handayani, O. W. K. & Rustiana, E. R., 2017. Peran Petugas GIzi Dalam Memberikan Pelayanan Asuhan Gizi pada Pasien Rawat Inap. Unnes Journal of Public Health, Volume 6, pp. 75 - 83.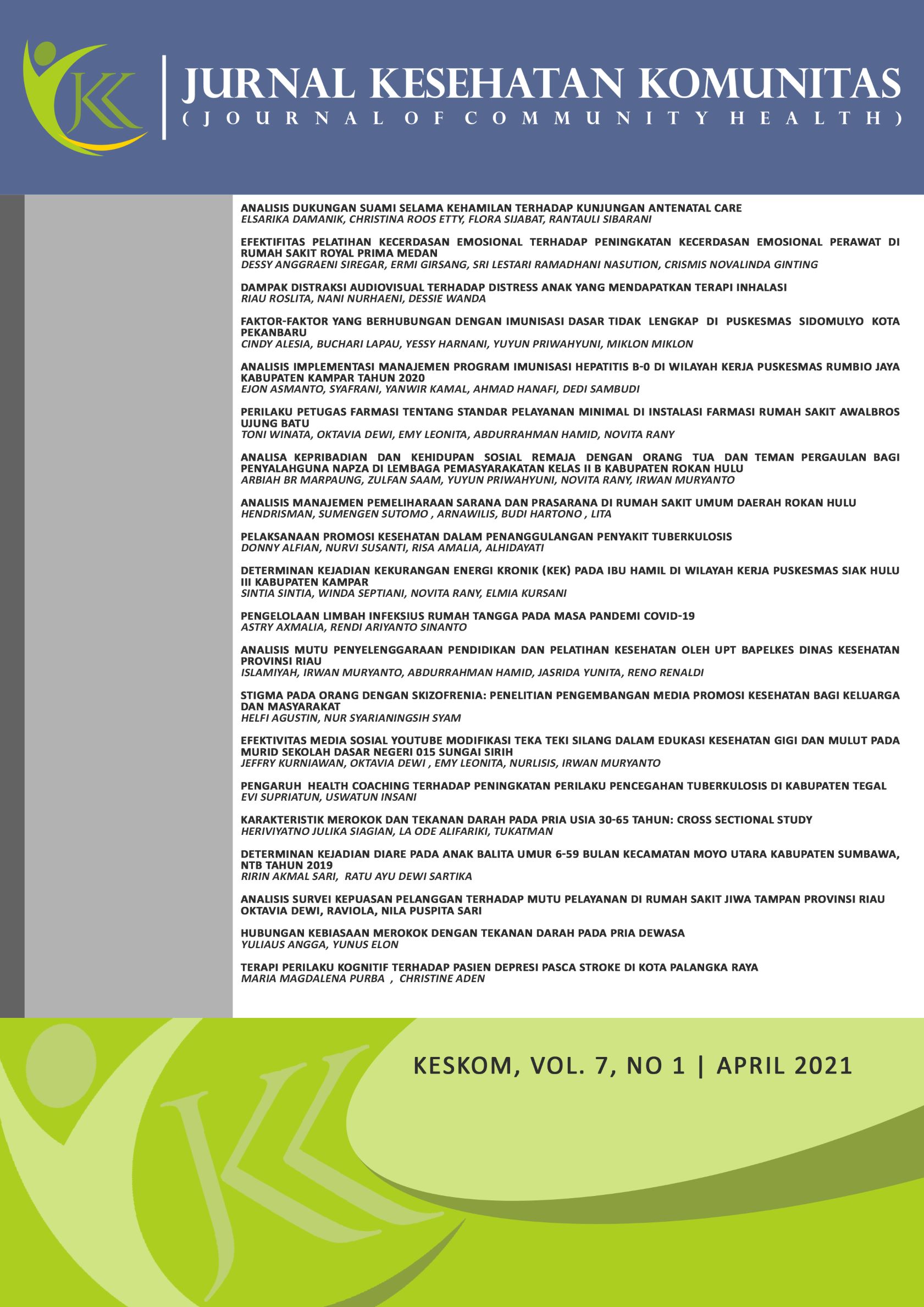 Downloads
How to Cite
1.
asmanto E, Syafrani S, Kamal Y, Hanafi A, Sambudi D. Management Implementation Analysis of Hepatitis B0 Immunization Program in Rumbio Jaya Health Centre, Kampar Regency 2020. J Keskom [Internet]. 2021 Apr. 30 [cited 2023 Oct. 4];7(1):24-32. Available from: https://jurnal.htp.ac.id/index.php/keskom/article/view/622
License
Copyright (c) 2021 Jurnal Kesehatan Komunitas
This work is licensed under a Creative Commons Attribution-NonCommercial-ShareAlike 4.0 International License.
Copyright @2017. This is an open-access article distributed under the terms of the Creative Commons Attribution-NonCommercial-ShareAlike 4.0 International License (http://creativecommons.org/licenses/by-nc-sa/4.0/) which permits unrestricted non-commercial used, distribution and reproduction in any medium