The Implementation Evaluation for Primary Health Care Management with'Utama' Accredited in KamparDistrict in 2020
Abstract
Every public health center in Indonesia has an accreditation level as a determinant of quality. Public health management is an effort to improve the quality and quality of health services. Accreditation of public health in Kampar District only 5 (five) public health have been utama accredited, while the others are accredited middle and basic. This shows that it is necessary to evaluate the implementation of public health management as a reference for other public health. This research aims to analyze how the management of the main accredited public health in Kampar District is implemented in 2020. This research used a qualitative method with the Positive Defiance (PD). The number of informants was 14 people consisting of the Head of the public health, the Head of the Administration of the public health and the Head of the Kampar District Health Office. Data collection methods by means of in-depth interviews and document review. In terms of quantity, the main accredited Primary Health Care in Kampar Regency has implemented health center management well, but in terms of quality it still needs to be improved both from human resource management, availability of funds, methods / policies, materials, movement planning and implementation as well as supervision and control so that service quality can be improved. The support from the Kampar District Office greatly affects the performance of the public health in the Kampar district. Public health management is one of the main references in the operation of a public health. the implementation of good public health management in the Kampar district public health also gave good scores to the 5 main accredited public health in the Kampar district.
Downloads
Download data is not yet available.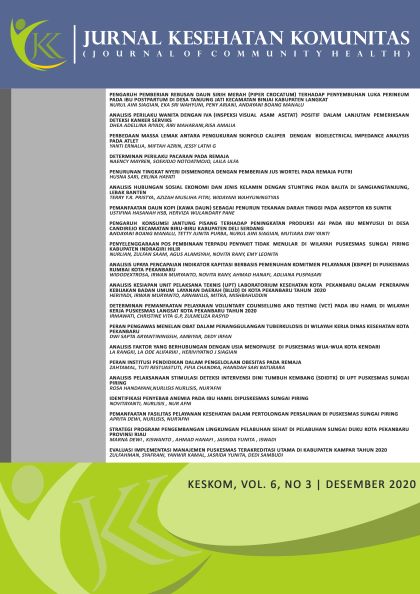 Downloads
How to Cite
1.
Zulfahman, Syafrani S, Kamal Y, Yunita J, Sambudi D. The Implementation Evaluation for Primary Health Care Management with'Utama' Accredited in KamparDistrict in 2020. J Keskom [Internet]. 2021 Feb. 26 [cited 2023 Jun. 5];6(3):393-402. Available from: https://jurnal.htp.ac.id/index.php/keskom/article/view/636
License
Copyright (c) 2021 Jurnal Kesehatan Komunitas
This work is licensed under a Creative Commons Attribution-NonCommercial-ShareAlike 4.0 International License.
Copyright @2017. This is an open-access article distributed under the terms of the Creative Commons Attribution-NonCommercial-ShareAlike 4.0 International License (http://creativecommons.org/licenses/by-nc-sa/4.0/) which permits unrestricted non-commercial used, distribution and reproduction in any medium