THE IMPLEMENTATION OF THE PREVENTION AND IMPROVEMENT PROGRAM OF MALNUTRITION IN CHILDREN UNDER FIVE YEARS AT SIAK HULU III PUBLIC HEALTH CENTER
winda septiani

Dosen STIKes Hang Tuah Pekanbaru
Downloads
Download data is not yet available.
Abstract
Prevention and tackling malnutrition is an effort to anticipate potential problem of malnutrition before incident malnutrition and combat cases of malnutrition has happebed. Puskesmas Siak Hulu III has happened malnutrished cases for three years successive.
The aim of this research is aware of the problem of malnutrition program of prevention and tacking Puskesmas Siak Hulu III the program implementation so far, and wich has operated community health center. The reseach a qualitative method being used.
This research executed in june until july 2015. An analysis of the data done is analysis before in the feald, during analysis in the field, and analysis of after in a fieldwork constisting of an analysis of the domain, taxonomic analysis, componencial analysis and the theme of it's cultural analysis. Informants in this research is 8 of a person taken based in the principle of sufficiency (Adequasy).
The research result obtained important themes of human resources, financing system, as well as advice remains a big problem in achieving the program. Most being considerate in the research is not stead a source of the national budget in the form of vehicle operational cost calculation in the program implementation. While the implementation of the program against the technical level is still experiencing a sumber of problems that could actualy be solved well namely coordination between health workers (midwives) cadres parents with toddkers and of health worker was recommended to all community health center head, the program nutrition and holders the village midwives priority heath to be more effort to promote compared with the effort to curative is cases of malnutrition.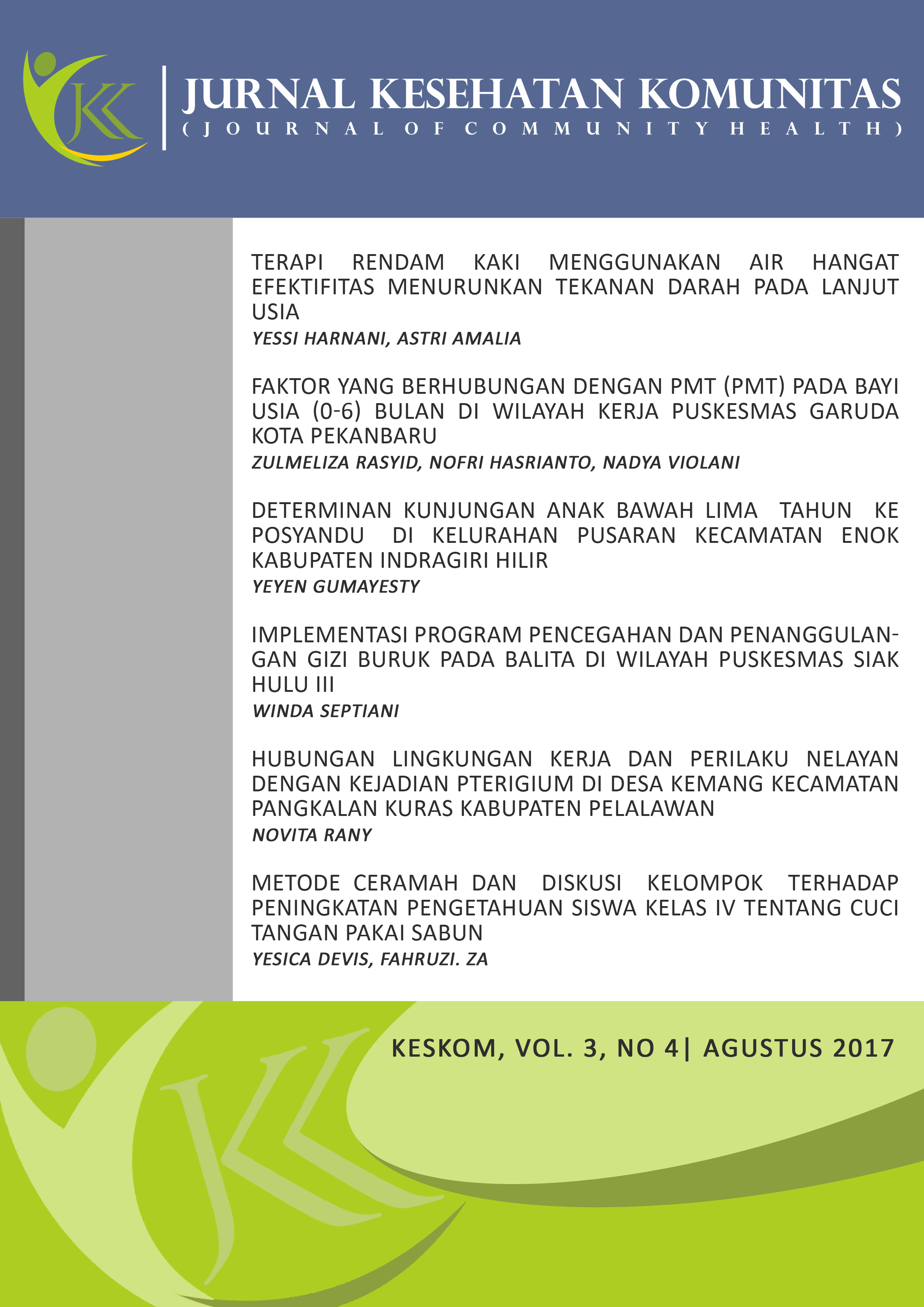 How to Cite
1.
septiani winda. THE IMPLEMENTATION OF THE PREVENTION AND IMPROVEMENT PROGRAM OF MALNUTRITION IN CHILDREN UNDER FIVE YEARS AT SIAK HULU III PUBLIC HEALTH CENTER. KESKOM [Internet]. 31Dec.2017 [cited 20Oct.2018];3(4):145-52. Available from: http://jurnal.htp.ac.id/index.php/keskom/article/view/155
This work is licensed under a Creative Commons Attribution-NonCommercial-ShareAlike 4.0 International License.
Copyright @2017. This is an open-access article distributed under the terms of the Creative Commons Attribution-NonCommercial-ShareAlike 4.0 International License (http://creativecommons.org/licenses/by-nc-sa/4.0/) which permits unrestricted non-commercial used, distribution and reproduction in any medium