Family Support with Diabetes Self-Management in Type 2 Diabetes Mellitus Patients: A Systematic Review
Keywords:
Self-Management; Family support; uncontrolled glycemia; DM Type 2
Abstract
Diabetes mellitus (DM) is a chronic disease in the form of metabolic disorders characterized by blood sugar levels increase more than the normal threshold and is the top 10 cause of death globally. Ongoing DM care requires effective self-management education and support for patients and family members. The objective is to review family support interventions as a basic concept to improve people's self-management of diabetes. Using the PRISMA (Preferred Reporting Items for Systematic Review and Meta-Analysis) method from three databases, PubMed, Google Scholar, and Scopus were reviewed for relevant articles. Results found that overall, family support had a positive impact on a healthy diet, increased perceived support, higher self-efficacy, improved psychological well-being, and better glycemic control. This systematic review found evidence that DSME with family support improves self-management behaviors and health outcomes among uncontrolled glycemic T2D patients. It is concluded demonstrating a DSME model that includes family involvement could be a useful direction for improving diabetes care.
Downloads
Download data is not yet available.
References
Andersen, J. A., Felix, H., Selig, J., Rowland, B., Bing, W., Hudson, J., Niedenthal, J., Otuafi, H., Riklon, S., Azures, E., George, A., & McElfish, P. A. (2021). Feasibility and efficacy of a pilot family model of diabetes self-management intervention in the Republic of the Marshall Islands. Contemporary Clinical Trials Communications, 23(July), 100824. https://doi.org/10.1016/j.conctc.2021.100824
Andriyanto, A., & Hidayati, R. N. (2018). LITERATURE REVIEW: PEMANFAATAN MEDIA PROMOSI KESEHATAN (SMARTPHONE) DALAM MENCEGAH DAN MENGENDALIKAN KADAR GULA DIABETES TIPE 2 (Literature Review: Utilization of Health Promotion Media (Smartphone) To Prevent and Control Glucose Type 2 Diabetes). Jurnal Ners Dan Kebidanan, 5(2), 172–177. https://doi.org/10.26699/jnk.v5i2.ART.p172
Baig, A. A., Benitez, A., Quinn, M. T., & Burnet, D. L. (2015). Family interventions to improve diabetes outcomes for adults. Annals of the New York Academy of Sciences, 1353(1), 89–112. https://doi.org/10.1111/nyas.12844
Bingga, I. A. (2021). Kaitan kualitas tidur dengan diabetes melitus tipe 2.
Brunisholz, K. D., Briot, P., Hamilton, S., Joy, E. A., Lomax, M., Barton, N., Cunningham, R., Savitz, L. A., & Cannon, W. (2014). Diabetes self-management education improves quality of care and clinical outcomes determined by a diabetes bundle measure. Journal of Multidisciplinary Healthcare, 7, 533–542. https://doi.org/10.2147/JMDH.S69000
International Diabetic Association. (2017). Eighth edition 2017. In IDF Diabetes Atlas, 8th edition.
L. Norris, S., Joseph, L., S.Jay, S., H. Schmid, C., & M. Engelgau, M. (2010). Self-Management Education for Adults With Type 2 Diabetes A meta-analysis of the effect on glycemic control. Diabetes Care, 25(7), 1159–1171.
Lyles, C. R., Ratanawongsa, N., Bolen, S. D., & Samal, L. (2017). mHealth and health information technology tools for diverse patients with diabetes. Journal of Diabetes Research, 2017. https://doi.org/10.1155/2017/1704917
Moradi, G., Shokri, A., Mohamadi-Bolbanabad, A., Zareie, B., & Piroozi, B. (2021). Evaluating the quality of care for patients with type 2 diabetes mellitus based on the HbA1c: A national survey in Iran. Heliyon, 7(3), e06485. https://doi.org/10.1016/j.heliyon.2021.e06485
Nugroho, W. (2008). Keperawatan Gerontik & Geriatri (EGC (ed.); 3). EGC.
Nuraini, F., Yogyakarta, R., Laksda, J., Km, A., Sleman, D., & Abstrak, Y. (2016). Rancang Bangun Sistem Informasi Diagnosa Keperawatan Aktual Pada Penderita Diabetes Melitus. Jurnal Teknologi Informasi, 31, 7.
Riyadi, A., & Muflihatin, S. K. (2020). Hubungan Penerimaan Diri dengan Manajemen Diri pada Penderita Diabetes Melitus Tipe II di Wilayah Kerja Puskesmas Palaran Kota Samarinda. Borneo Student Research, 2(1), 144–150.
Umar, R., Mariana, A. R., & Purnamasari, O. (2017). Perancangan Sistem Pakar Diagnosa Penyakit Diabetes Melitus Menggunakan Metode Forward Chaining Berbasis Web. Jurnal Sisfotek Global, 7(1), 108–113.
Wulandari, I., Kusnanto, K., Wibisono, S., & Puspitasari, T. (2020). Family Experience of Caring for a Diabetes Mellitus Patient : A Qualitative Study. Jurnal Ners, 15(2), 75–81.
Yun, Q., Ji, Y., Liu, S., Shen, Y., Jiang, X., Fan, X., Liu, J., & Chang, C. (2020). Can autonomy support have an effect on type 2 diabetes glycemic control? Results of a cluster randomized controlled trial. BMJ Open Diabetes Research and Care, 8(1), 1–8. https://doi.org/10.1136/bmjdrc-2019-001018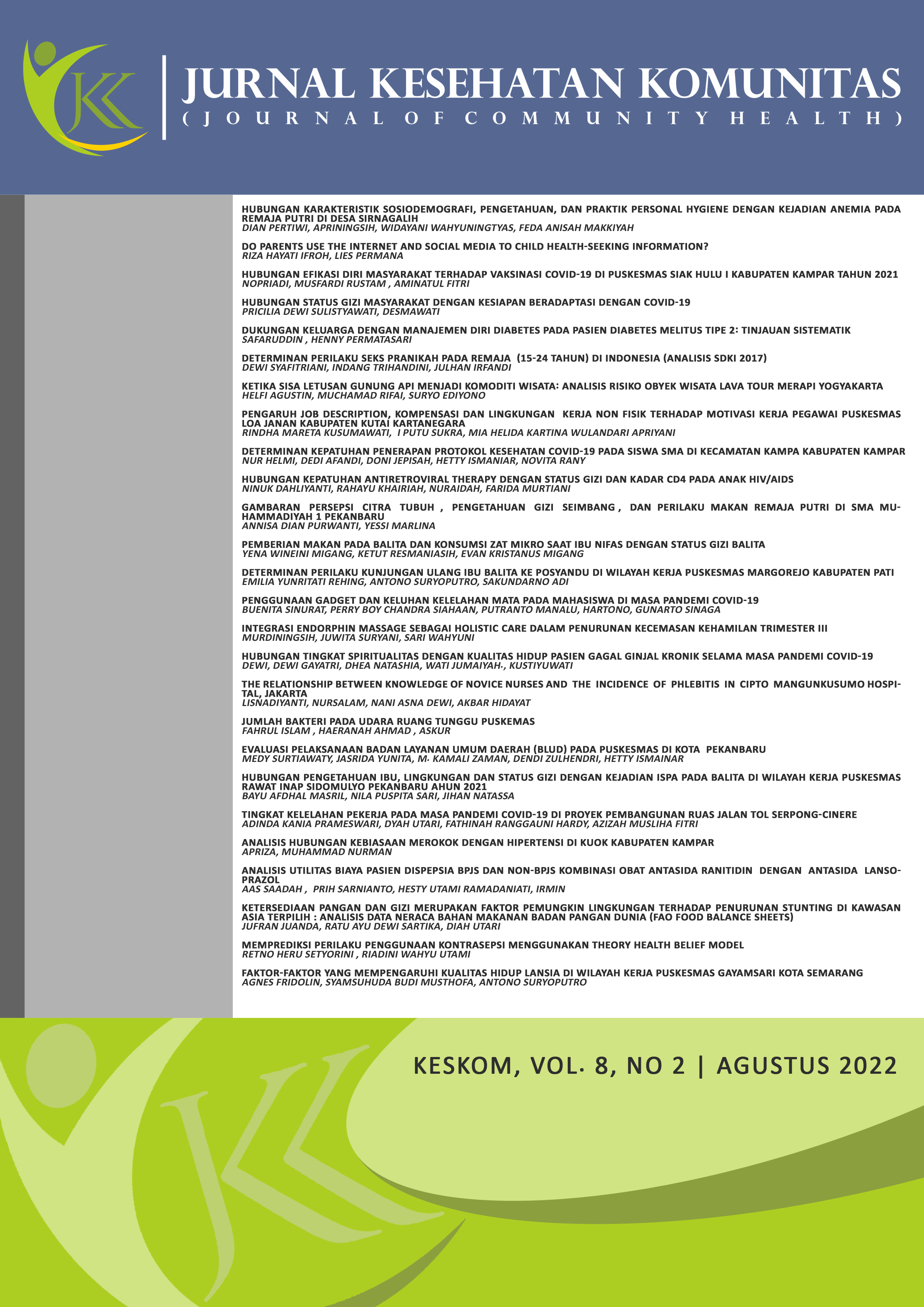 Downloads
How to Cite
1.
Safaruddin S, Permatasari H. Family Support with Diabetes Self-Management in Type 2 Diabetes Mellitus Patients: A Systematic Review. J Keskom [Internet]. 2022 Jun. 17 [cited 2023 Jan. 28];8(2):195-204. Available from: https://jurnal.htp.ac.id/index.php/keskom/article/view/1148
License
Copyright (c) 2022 Jurnal Kesehatan Komunitas
This work is licensed under a Creative Commons Attribution-NonCommercial-ShareAlike 4.0 International License.
Copyright @2017. This is an open-access article distributed under the terms of the Creative Commons Attribution-NonCommercial-ShareAlike 4.0 International License (http://creativecommons.org/licenses/by-nc-sa/4.0/) which permits unrestricted non-commercial used, distribution and reproduction in any medium