The Comparison of Diabetes Self Management Education Using Lecturing Method with Booklet and Whatsapp Group Method Against Self Care Behavior of Diabetes Mellitus Patients
Perbandingan Diabetes Self Management Education Metode Ceramah Menggunakan Booklet dengan Metode Group Whatsapp terhadap Self Care BehaviorPasien Diabetes Mellitus
Keywords:
diabetes mellitus, DSME, lecturing, Self Care Behavior, social media (WhatsApp group)
Abstract
ABSTRACT
Diabetes mellitus is a chronic metabolic disease that requires self-management education to prevent acute complications and reduce the risk of long-term complications. Diabetes Self Management Education (DSME) can be used as an effective method in improving self-care of patient with diabetes mellitus when discharged from the hospital. In the implementation of education in patients, many methods can be done. The lecturing method is one of the most commonly used methods in conducting health education, one of which is to used a booklet. Another method can be used is to use the whatsapp group application. The purpose of this study was to find out the differences between DSME method by using booklet and social media method on care behavior of diabetes mellitus patients. The research design of this study was quantitative by using quasy-experiment approach with two groups pretest-posttest. Sample in this research are diabetes patient in the outpatient room, the collecting sample was used concecutive sampling with 30 people divided into 2 groups. The analysis used was univariate and bivariate analysis using paired sample t-test and independent sample t-test. The independent t-test result were obtained p value = 0.001 is smaller than alpha value (p < 0.05) with different mean, namely -15,33. It can be concluded that diabetes self management education by using social media (whatsapp group) was more inluential in improving self care behavior than diabetes self management education by using lecturing method with booklet. From the results of this study, it is expected that hospitals can educate DM patients by following the DSME principle with the WhatsApp group method.
Keys             : diabetes mellitus, DSME, lecturing, Self Care Behavior, social media (WhatsApp group)
Downloads
Download data is not yet available.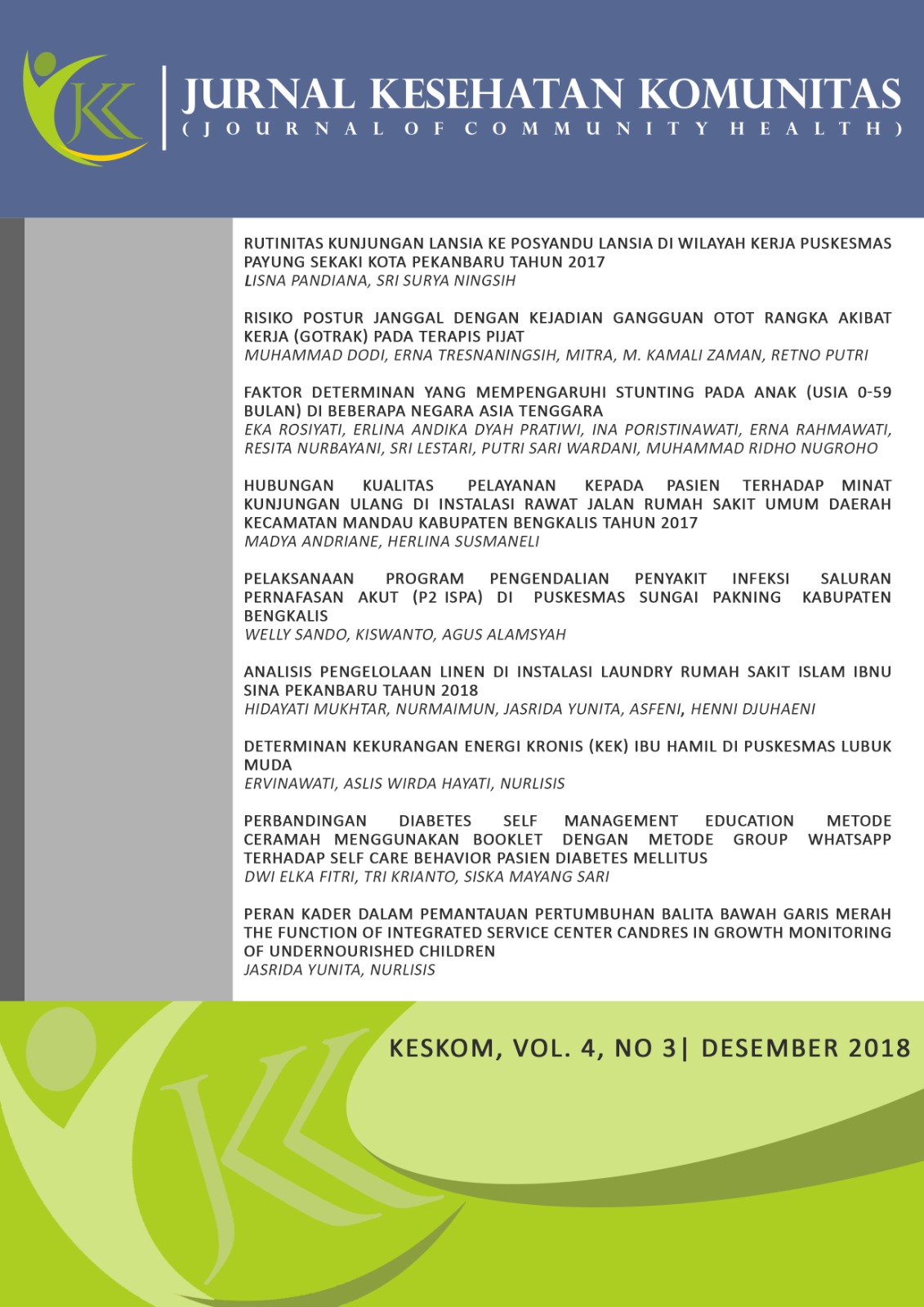 Downloads
How to Cite
1.
Fitri DE, Sari SM, Krianto T. The Comparison of Diabetes Self Management Education Using Lecturing Method with Booklet and Whatsapp Group Method Against Self Care Behavior of Diabetes Mellitus Patients: Perbandingan Diabetes Self Management Education Metode Ceramah Menggunakan Booklet dengan Metode Group Whatsapp terhadap Self Care BehaviorPasien Diabetes Mellitus. J Keskom [Internet]. 2019 Feb. 2 [cited 2023 Jun. 2];4(3):126-31. Available from: https://jurnal.htp.ac.id/index.php/keskom/article/view/294
License
Copyright @2017. This is an open-access article distributed under the terms of the Creative Commons Attribution-NonCommercial-ShareAlike 4.0 International License (http://creativecommons.org/licenses/by-nc-sa/4.0/) which permits unrestricted non-commercial used, distribution and reproduction in any medium