The Utilization of Media in Marketing Strategy in the Syafira Pekanbaru Hospital on 2016
Pemanfaatan Media Dalam Strategi Pemasaran di Rumah Sakit Syafira Pekanbaru Tahun 2016
Keywords:
Media Promosi, Pemasaran, Menentukan Tujuan, Jumlah Anggaran, Menentukan Pesan, Pemilihan Media
Abstract
Use of media in the marketing strategy is an element of marketing tactics in an attempt to capture the market. Indicators of success are increased traffic promotions. Based on a survey conducted through interviews known that since the beginning of the Hospital stood own promotional programs, such as promotion through print media (brochures, leaflets, banners), electronic media (TV) and online media (official site). The purpose of this study is to obtain in-depth information about the use of media in the marketing strategy at the Hospital Syafira 2016.
This study was descriptive qualitative. The study was conducted at Hospital Syafira Pekanbaru. Subject of the study consisted of 3 main informant, 3 people informant support. With the method of collecting data through observation, interviews dam has the document. To maintain the validity of the data is done by means of triangulation.
The results of the study, targeted communication of the Hospital is the whole society is in need of health services as well as the expected response from the target of the media campaign is limited only to find out the services that exist at the hospital. In setting the amount of the budget into the specific factors that need to be considered, namely in terms of the frequency of advertising and market share. Determining the message is done by involving the community or visitors. Selection of the budget available media that is using print media such as brochures, leaflets, banners, billboards, online media and social media such as facebook, twitter, instagram, specific media type is most effective is to use the brochure.
Suggestions to the hospital, to determine the target of communication. Paying attention to the message, not just to provide information services, but the message may cause awareness or attention, interest, create desire, and encourage action. Managing back rssyafira.com website which until now have been inaccessible again
Downloads
Download data is not yet available.
References
Gahayu, S.A (2014). Metodologi Penelitian Kesehatan. Pekanbaru : Buku Ajar
Hartono, B. (2010). Manajemen Pemasaran untuk Rumah Sakit.Jakarta : PT Rineka Cipta.
Profil Rumah Sakit Syafira Pekanbaru. (2016). Pekanbaru. (Tidak diterbitkan)
Putra, A. (2010). Analisis Strategi Promosi Majalah Cita Cinta. Bogor: Skripsi (Tidak diterbitkan) Depatemen Manajemen Fakultas Ekonomi dan Manajemen Institut Pertanian Bogor.
STIKes Hang Tuah.(2015). Panduan Skripsi. Pekanbaru: Program Studi Ilmu Kesehatan STIKes Hang Tuah.
Triton, PB (2008). Marketing Strategic : Meningkatkan Pangsa Pasar dan Daya Saing. Yogyakarta : Tugu Publisher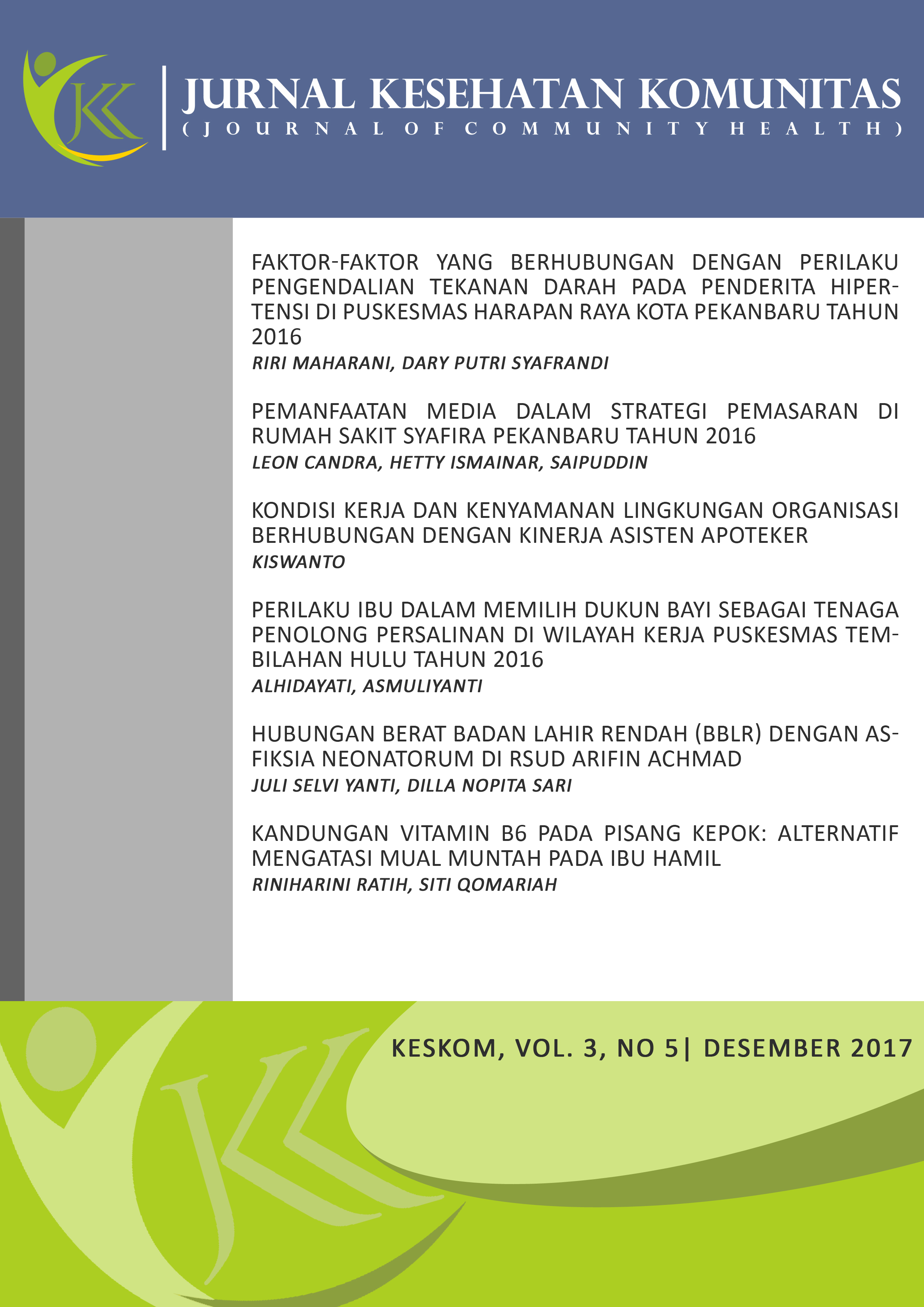 Downloads
How to Cite
1.
candra leon. The Utilization of Media in Marketing Strategy in the Syafira Pekanbaru Hospital on 2016: Pemanfaatan Media Dalam Strategi Pemasaran di Rumah Sakit Syafira Pekanbaru Tahun 2016. J Keskom [Internet]. 2018 Mar. 27 [cited 2022 Aug. 14];3(5):172-5. Available from: https://jurnal.htp.ac.id/index.php/keskom/article/view/161
License
Copyright @2017. This is an open-access article distributed under the terms of the Creative Commons Attribution-NonCommercial-ShareAlike 4.0 International License (http://creativecommons.org/licenses/by-nc-sa/4.0/) which permits unrestricted non-commercial used, distribution and reproduction in any medium