Knowledge Relationship With The Employees 'attitude About Radiation In PT. PLN PLTD/G Teluk Lembu Pekanbaru
Keywords:
Pengetahuan, Sikap, Radiasi
Abstract
Radiasi adalah suatu perambatan energi dari sumber energi kelingkungannya tanpa membutuhkan perantara.. Penelitian ini bertujuan untuk mengetahui hubungan pengetahuan dengan sikap karyawan terhadap radiasi. Desain ini adalah analitik kuantitatif dengan pendekatan cross sectional. Penelitian ini diakukan pada bulan Februari di PT. PLN PLTD/G Teluk Lembu Pekanbaru. Data  primer diperoleh dari populasi 55 responden dengan sample 55 renponden menggunakan teknik total sampling. Instrumen penelitian ini menggunakan kuosioner, data univariat disajikan dalam bentuk tabel distribusi frekuensi diikuti dengan analisis bivariat menggunakan spss chisquare disajikan dengan software spss. Hasil survei menunjukan bahwa mayoritas responden berpengetahuan baik dengan sikap positif sebanyak 15 responden (62,5%). Dari hasil uji chisquare diketahui nilai ρ value (0,003) <  nilai α (0,05) berarti ada hubungan signifikan antara pengetahuan dengan sikap karyawan tentang radiasi PT. PLN PLTD/G Teluk Lembu Pekanbaru. Melalui penelitian ini diharapkan dapat terus menambah informasi dan menerapkan dalam kehidupan sehari-hari.
Downloads
Download data is not yet available.
References
Anonim. 2011. Definisi Pengetahuan serta Faktor-faktor yang Mempengaruhi Pengetahuan. Tersedia di: http://duniabaca.com/definisi-pengetahuan-serta-faktor-faktor-yang-mempengaruhi-pengetahuan.html.
Fransandika. 2012. Pengaruh radiasi gelombang elektromagnetik
Ida, A. Y, 2012, Hubungan Pengetahuan, Sikap, Umur, Masa Kerja Dengan Praktek Menggunakan Film Badge Pada Pekerja Instalasi Radiodiagnostik Di Rumah Sakit Telogorejo Semarang
IRPA/INIRC. Interm GUIDLINTES on Limits of Exposure to 50/60 Hz Electric and Magnetic Fields. Health Physics Vol. 58, No. 1, January 1990, Page 115
Reza, K.Y. 2013. Hubungan Antara Pengetahuan, Sikap, Dan Kenyamanan Dengan Penggunaan Alat Pelindung Wajah Pada Pekerja Las Listrik Kawasan Simongan Semarang
Siregar. D. I. S. 2014. Faktor-Faktor Yang Berhubungan Dengan Kecelakaan Ringan Di PT Aqua Golden Mississipi Bekasi Tahun 2014.Jakarta: Program Studi Kesehatan Masyarakat Fakultas Kedokteran
Yanuarius, W. 2011. Program Keselamatan dan Kesehatan Kerja ( Studi Kasus di di PT. PLN (Persero) Area Semarang )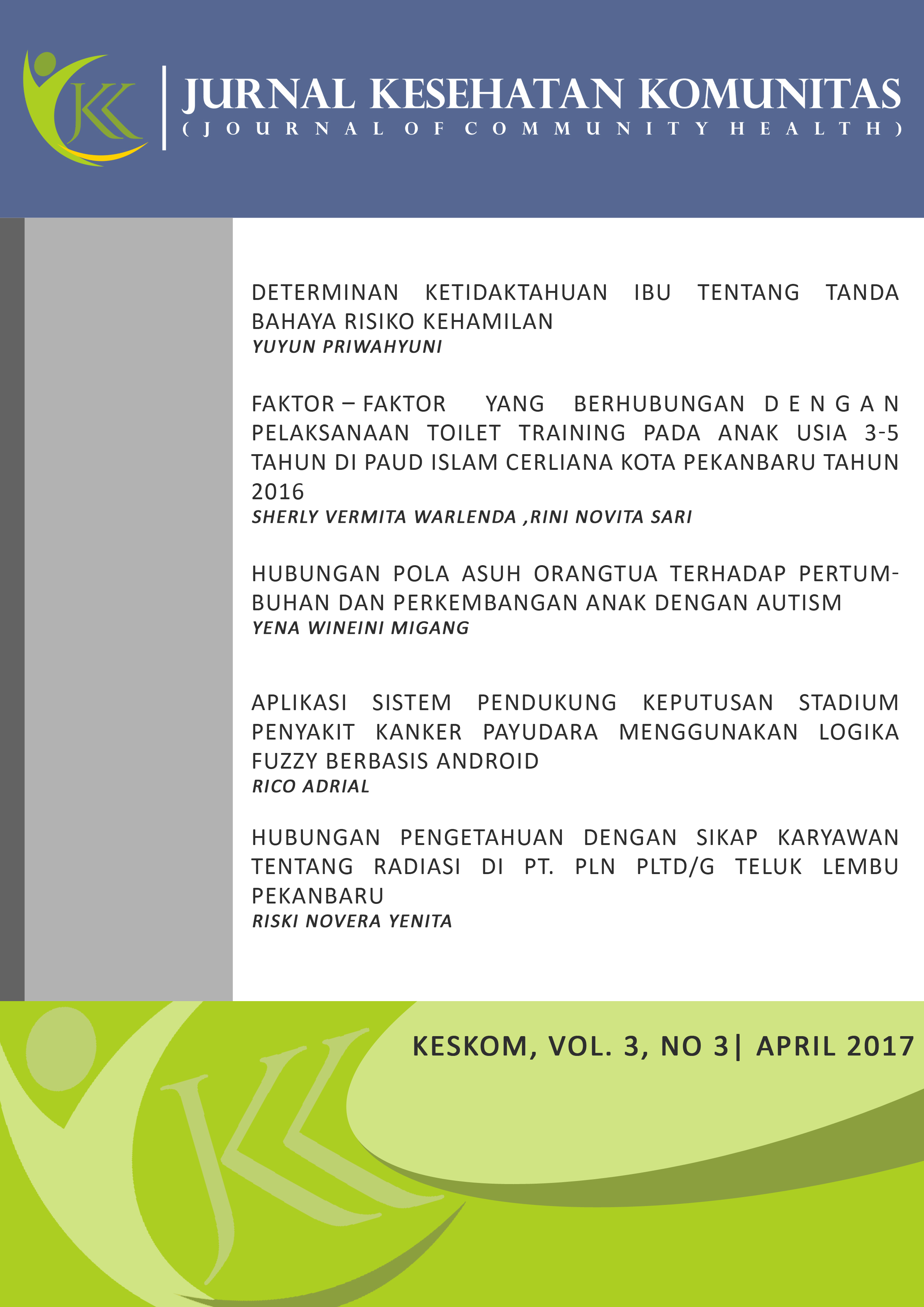 Downloads
How to Cite
1.
Yenita RN. Knowledge Relationship With The Employees 'attitude About Radiation In PT. PLN PLTD/G Teluk Lembu Pekanbaru. J Keskom [Internet]. 2017Aug.24 [cited 2021Oct.26];3(3):123-6. Available from: https://jurnal.htp.ac.id/index.php/keskom/article/view/137
License
Copyright @2017. This is an open-access article distributed under the terms of the Creative Commons Attribution-NonCommercial-ShareAlike 4.0 International License (http://creativecommons.org/licenses/by-nc-sa/4.0/) which permits unrestricted non-commercial used, distribution and reproduction in any medium