The Implementation of Diseases Control for Acute Respiratory Infection (DC-ARI) Program's at Sungai Pakning's Public Health Centre, Bengkalis Regency
Pelaksanaan Program Pengendalian Penyakit Infeksi Saluran Pernafasan Akut (P2 ISPA) di Puskesmas Sungai Pakning Kabupaten Bengkalis
Keywords:
Partnership, Disease control program, Intensificaon Program, Human resources
Abstract
Disease control program for Acute Respiratory Infection is a program for infectious diseases. Aims of this program is to lowering the number of toddler's pain and death  that caused by Acute Respiratory Infection or Pneumonia. The implementation program of this program at Sungai Pakning's Community Health Centre, Bengkalis Regency, was still not effective. It shown that pneumonia discovery was still low          ( 2,64%) and it's still far from the target of national policy for pneumonia control (100%). Aim of this study was to know how is the implementation program of diseases control for acute respiratory infection at Sungai Pakning's Community Health Centre, Bengkalis Regency, based on indicators of achievement process (intensification program, improvement and development of human resources, and partnerships). This research was qualitative study. There were eight persons as a sample consists of Head of Disease Control Program for Acute Respiratory Acute, Head of Community Health Centre, Doctor, Nurse, midwife of Integrated Management of The Sick Toddler, Cadre of Health, Community Leader, and Religious Figures. It used triangulation of sources, method, and data. The results shown that there's no fund for disease control program of ISPA, less human resources is caused the lack of trained personnel for Pneumonia implication thru integrated management of the sick toddler nor verbal autopsy. Then the partnership of cross program or sectoral was not so good. Even the internal of Community Health Centre has policy to used BPJS services as a scape goat to rise the fund. Availability of facilities and infrastructure of integrated management of the sick toddler policlinic should be completed. Increases of human resources capacity by given a training for integrated management of the sick toddler and verbal autopsy. Building partnership and involving the community participation in the middle of disease control program for acute respiratory infection.
Downloads
Download data is not yet available.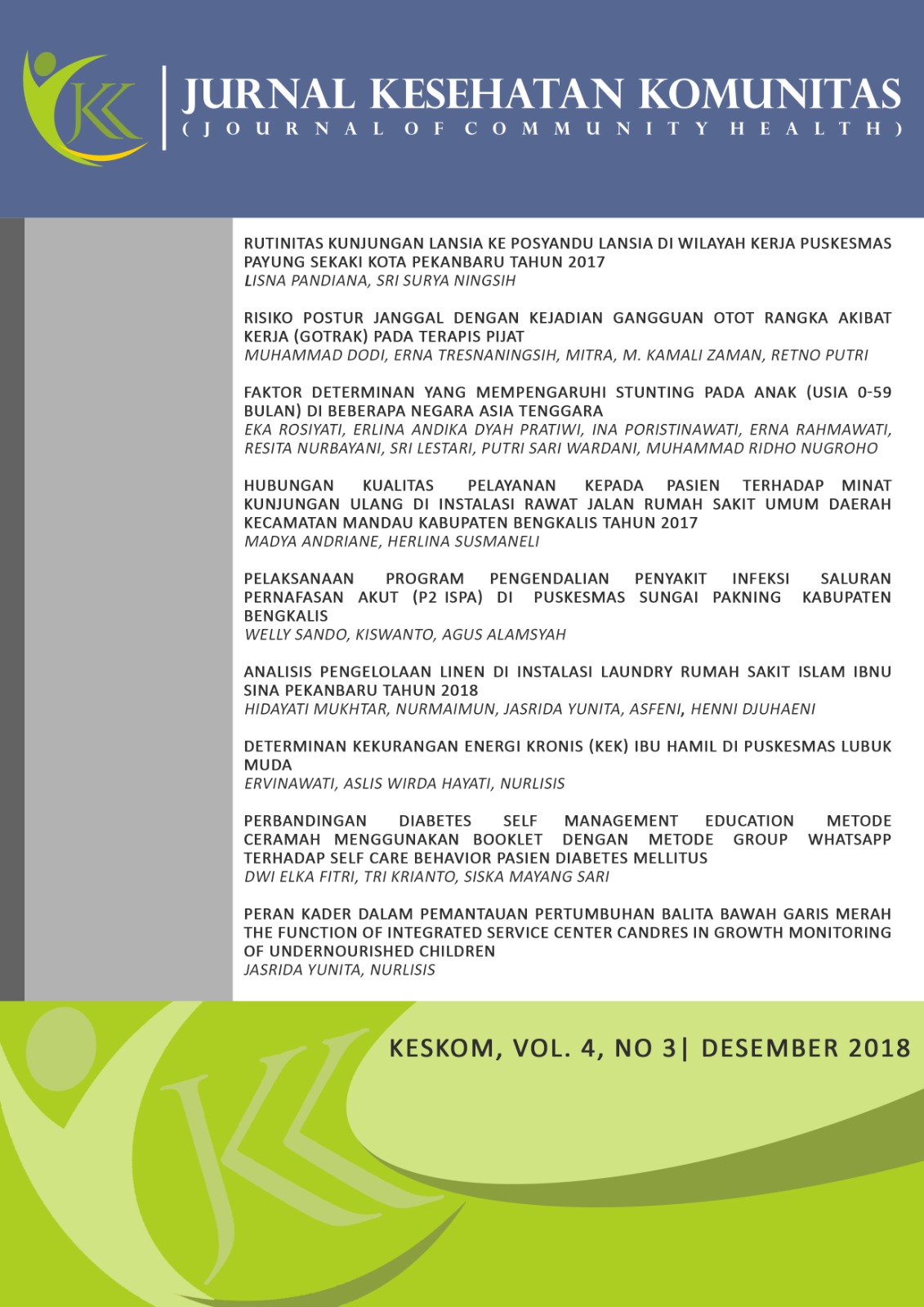 Downloads
How to Cite
1.
Sando W, Kiswanto K, Alamsyah A. The Implementation of Diseases Control for Acute Respiratory Infection (DC-ARI) Program's at Sungai Pakning's Public Health Centre, Bengkalis Regency: Pelaksanaan Program Pengendalian Penyakit Infeksi Saluran Pernafasan Akut (P2 ISPA) di Puskesmas Sungai Pakning Kabupaten Bengkalis. J Keskom [Internet]. 2019 Feb. 2 [cited 2023 Mar. 21];4(3):102-11. Available from: https://jurnal.htp.ac.id/index.php/keskom/article/view/269
License
Copyright @2017. This is an open-access article distributed under the terms of the Creative Commons Attribution-NonCommercial-ShareAlike 4.0 International License (http://creativecommons.org/licenses/by-nc-sa/4.0/) which permits unrestricted non-commercial used, distribution and reproduction in any medium