Correlation of Knowledge, Nutritional Status, and Physical Activity with Incidents of Dysmenorrhea on Female Students of YLPI Pekanbaru tahun 2018
Hubungan Pengetahuan, Status Gizi dan Aktivitas Fisik dengan Kejadian Dismenorea pada Siswi SMA YLPI Pekanbaru tahun 2018
Abstract
Dysmenorrhoea is pain when menstruation is felt in the lower part of the abdomen that comes from cramps in uterus. Dysmenorrhoea is divided into primary dysmenorrhoea and secondary dysmenorrhoea Based on early survey, that always there are students going to UKS every month and permission not to attend the learning process because they have dysmenorrhea, and most of the students prefer to go home because of unbearable pain. Based on interviews, from 15 female students, 26.67% of them have never experienced dysmenorrhoea. 73.77% said they had different menstrual pain complaints.This researchh purpose is to knowing correlation of nutrition status , physic activity, and knowledge toward incidents of dysmenorrhea on female students of YLPI Pekanbaru senior high school in 2018. This research type is qualitative analytic with cross sectional design. The sample in this reseach were XI and XII grade, totaling 143 peoples. Data collection was conducted by distributing questionnaires for variables of dysmenorrhea, physical activity and knowledge. Measuring height and weighing female students was conducted for nutritional status variables. The research result show that, there are meaningful correlation among nutritional status (Pvalue= 0,016) andPR (95% CI)= 5,600 (1,449-21,641), physical activity (P value = 0,003) andPR (95% CI)= 6,587 (2,000-21,695), knowledge (P value = 0,004)andPR (95% CI)= 6,000 (1,887-18,083) with incidents of dysmenorrhea on female students of YLPI Pekanbaru Senior High School in 2018.Suggestions for the school to form Youth Counseling Information Center in environment of YLPI Senior High School that is useful as a forum for giving or educating information such as adolescent health, especially regarding dysmenorrhoea
Downloads
Download data is not yet available.
References
Achamadi,U.F. (2014). Kesehatan Masyarakat Teori dan Aplikasi. Jakarta: PT Rajagrafindo Persada

Almatsier, S. (2004). Prinsip Dasar Ilmu Gizi. Jakarta: Gramedia Putaka Utama.

Beddu, S., Mukarramah,S., & Lestahulu, V (Oktober 2015). Hubungan Status Gizi Dan Usia Menarche Dengan Dismenore Primer Pada Remaja Putri, 1 (1), 16-21.

Benson C. 2008. Buku saku obstetrik dan Ginekologi. Jakarta: EGC

Cakir M, Mungan I, Karakas T, Girisken I, Okten A. Menstrual Pattern And Common Menstrual Disorders Among University Students In Turkey. Pediatrics International. 2007. 49(6):938-42.

Dieny, F. (2014). Permasalahan Gizi Pada Remaja Putri. Yogyakarta: Graha Ilmu.

Febriana, K.T.M., Andayani, N.L.N., Purnawati, S (2015) Hubungan Tingkat Aktivitas Fisik dengan Dysmenorrhea Primer Pada Remaja Umur 13-15 Tahun di SMP. K. Harapan Denpasar

Februanti, S (2017). Pengetahuan remaja putri tentang penanganan Dismenore di SMPN Tasikmalaya.. Jurnal Kesehatan Bakti Tunas Husada Volume 17(1)

(FAO) Food and Agriculture Organization of United Nations. 2001. Human Energy requirement. Report of a joint FAO/WHO/UNU Expert Consultation; 2001 October 17-24; Rome (TT): Food and Agriculture Organization of United Nations.

Jacoeb. 2006. "Dismenorea aspek patofisiologi dan penatalaksanaan". Jakarta:
Subbagian Endokrinologi Reproduksi bagian Obstetri dan Ginekologi
Fakultas Kedokteran Universitas Indonesia
Ju H, Jones M, Mishra G. The prevalence and risk of dysmenorrhea. Oxford University Press .2013. 36(1) :104-13. Tersedia dari: http://epirev.oxfordjournals.org/

Judha, M. & dkk. (2012). Teori Pengukuran Nyeri dan Nyeri Persalinan. Yogyakarta: Nuha Medika.

KEMENKES (2016). Data dan Informasi Profil Kesehatan Indonesia. Kementerian Kesehatan Republik Indonesia. Jakarta: Kementerian Kesehatan RI.

Kemenkes RI. 2010. Standar Antropometri Penilaian Status Gizi Anak,p.40

Kumalasari, I., &Andhyantoro,I.(2012). Kesehatan Reproduksi untuk mahasiswa kebidanan dan keperawatan. Jakarta: Salemba Medika.

Kusmiran,E. (2012). Kesehatan Reproduksi Remaja dan Wanita. Jakarta: Salemba Medika.

Larasati, T.A., Alatas, F. (September 2016). Dismenore Primer Dan Faktor Resiko Dismenore Primer Pada Remaja, 5 (3) 79-84.

Lubis, N.L. (2013). Psikologi Kespro Wanita & Perkembangan Reproduksinya Ditinjau Dari Aspek Fisik dan Psikologinya. Jakarta: Kencana.

Marlina E. Pengaruh minuman kunyit terhadap tingkat nyeri dismenore primer pada remaja putri di SMA Negeri 1 Tanjung Mutiara Kabupaten Agam [disertasi]. Padang: Universitas Andalas; 2012.

Notoatmodjo.S (2007).Kesehatan Masyarakat Ilmu dan Seni. Jakarta: Rineka cipta.

Notoatmodjo.S (2010). Metode Penelitian Kesehatan. Jakarta: Rineka cipta.

Notoatmodjo.S (2012). PromosiKesehatan dan Perilaku Kesehatan. Jakarta: Rineka cipta

Nurwana, Sabilu, Y, & F,A.F (Mei 2017). Analisis Faktor Yang Berhubungan Dengan Kejadian Dismenorea Pada Remaja Putri Di SMA Negeri 8 Kendari Tahun 2016, 2 (6), ISSN: 250-731.

Olivia, F. 2013. Mengatasi Gangguan Haid. Redaksi health secret. PT. Gramedia: Jakarta

Purba, E.P.N., Rompas S., Karundeng M. Hubungan Pengetahuan dengan Perilaku Penanganan dismenorea di SMA Negeri 7 Manado

Proverawati, A., & Misaroh, S. (2009). Menarche Menstruasi Pertama Penuh Makna. Yogyakarta: Nuha Medika.

Rahmadhani, L.S & Widayati, R.S (2016). Hubungan Status Gizi dengan Kejadian Dismenorea pada Remaja Putri di SMA MTA Surakarta

Shita, N.K.D.S.S., Purnawati, S. ( Maret 2016). Prevalensi Gangguan Menstruasi dan faktor-faktor yang mempengaruhi pada siswi peserta ujian nasional di SMA Negeri 1 Melaya Kabupaten Jembrana, 5 (3). ISSN: 2303-1395.

Sudjana, C. 2005. Buku Kuliah 2 Kesehatan Reproduksi. Jakarta : SKMUI

Supariasa (2012), Penilaian Status Gizi. Jakarta: EGC.

Sophia, F .& dkk. (2013). Faktor-faktor Yang Berhubungan Dengan Dismenorea Pada Siswi SMK Negeri 10 Medan

Surmiasih, Priyati, D (1 Januari 2018). Pengetahuan Tentang Menstruasi Dengan Upaya Penanganan Dismenorea Pada Siswi MTS Al-Hidayah Tunggul Pawenang Kecamatan Adiluwih Kabupaten Pringsewu, 3 (1), 48-53, ISSN: 2503-4340.

Tjokronegoro.(2004). Buku Ajar Ilmu Penyakit Dalam Jilid I. Jakarta: Gaya Baru.
Utami A.N.R., Ansar, J., & Sidik, D. Faktor Yang Berhubungan Dengan Kejadian Dismneorea Pada Remaja Putri Di SMAN 1 Kahu Kabuapaten Bone.

Wawan, A., & (2011). Teori & Pengukuran Pengetahuan, Sikap, dan Perilaku Manusia.Yogyakarta: Nuha Medika.

Waryana (2010). Gizi Reproduksi. Yogyakarta: Pustaka Rihama

Wati L.R., Arfiandi M.D., Prastiwi, F. Hubungan Aktifitas Fisik Dengan Derajat Dysmenorrhea Primer Pada Remaja, 1(2), E-ISSN: 2549-6581.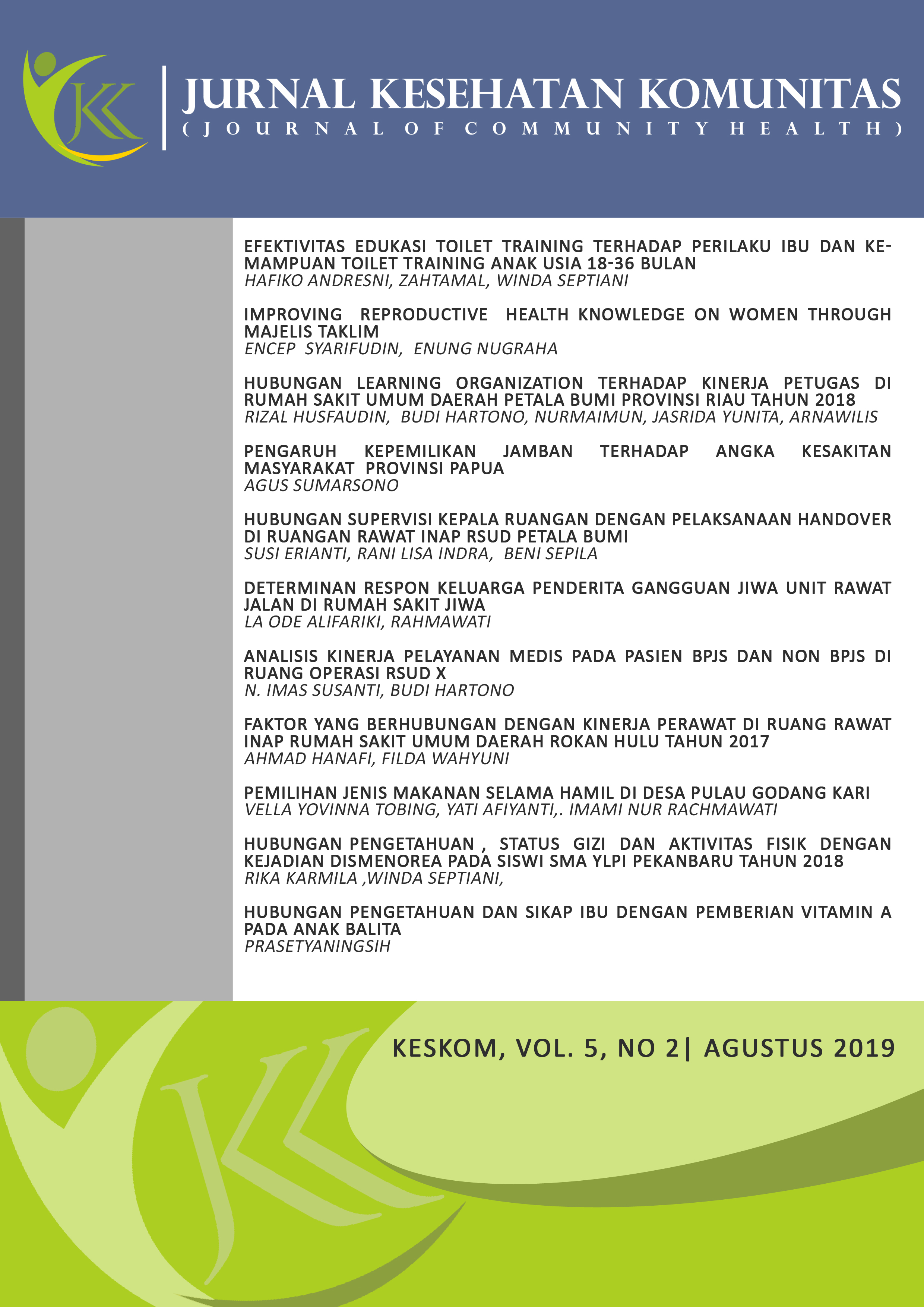 Downloads
How to Cite
1.
Karmila R, Septiani W. Correlation of Knowledge, Nutritional Status, and Physical Activity with Incidents of Dysmenorrhea on Female Students of YLPI Pekanbaru tahun 2018: Hubungan Pengetahuan, Status Gizi dan Aktivitas Fisik dengan Kejadian Dismenorea pada Siswi SMA YLPI Pekanbaru tahun 2018 . J Keskom [Internet]. 2019 Sep. 3 [cited 2023 Jun. 2];5(2):101-5. Available from: https://jurnal.htp.ac.id/index.php/keskom/article/view/346
License
Copyright @2017. This is an open-access article distributed under the terms of the Creative Commons Attribution-NonCommercial-ShareAlike 4.0 International License (http://creativecommons.org/licenses/by-nc-sa/4.0/) which permits unrestricted non-commercial used, distribution and reproduction in any medium