Affects of Latrine Ownership to the Community Morbidity in Papua Province
Pengaruh Kepemilikan Jamban terhadap Angka Kesakitan Masyarakat Provinsi Papua
Keywords:
Environmental Sanitation, Morbidity,
Abstract
Papua Revives Mandiri and Prosperity is the aspiration of All Communities in Papua Province, Independence and prosperity can only be realized if the Community Has a Healthy Body and Soul. The degree of health is not only realized by the level of health services, but also influenced by environmental sanitation, including the ownership of latrines as a place to defecate. The Papua Central Bureau of Statistics has presented data related to the Environmental Health and Morbidity Figures data.This study uses a quantitative descriptive approach, with analytical statistics, utilizing available secondary data. The method is used to determine the average latrine ownership number and the average value of morbidity rates according to Kabuopaten City in Papua Province. Furthermore, looking for 3 (three) districts that have the highest and lowest numbers both in terms of toilet ownership and morbidity rates. Furthermore, with the average value of the two variables, you want to know the relationship between the two variables with simple linear regression using the Exel Toolpack. Results: The absence of latrines is related to the number of morbidity obtained by the equation Y = -0.085X + 10.04 and the value of R² = 0.021. Regression test results obtained df = 1 value F = 5.58 with a significant level of 0.025559 which means there is a significant relationship between toilet ownership and morbidity rates
Downloads
Download data is not yet available.
References
Burhanudin Muhamad, KOEFIESIEN KORELASI, SIGNIFIKANSI DAN DETERMINASI, WORDPRESS, 2012.

Badan Pusat Statistik Papua, PRESENTASE RUMAH TANGGA MENURUT FASILITAS BUANG AIR BESAR KABUPATEN KOTA DI PROVINSI PAPUA, 2007 -2017, https://papua.bps.go.id/subject/159/lingkungan-hidup.html#subjekViewTab3

Badan Pusat Statistik Papua, ANGKA KESAKITAN MENURUT KABUPATEN KOTA DI PROVINSI PAPUA 2013 – 2017, 2018 https://papua.bps.go.id/subject/30/kesehatan.html#subjekViewTab3

Rahma Ayu Pebriani¹, Surya Dharma², Evi Naria³. "FAKTOR - FAKTOR YANG BERHUBUNGAN DENGAN PENGGUNAAN JAMBAN KELUARGA DAN KEJADIAN DIARE DI DESA TUALANG SEMBILAR KECAMATAN BAMBEL KABUPATEN ACEH TENGGARA TAHUN 2012 ." Lingkungan dan Keselamatan Kerja, 2013 - neliti.com, 2012: 1.

Sulistyorini, Dya Candra MS Putranti dan Lilis. "HUBUNGAN ANTARA KEPEMILIKAN JAMBAN DENGAN KEJADIAN DIARE DI DESA KARANGAGUNGKECAMATAN PALANG KABUPATEN TUBAN." kesehatan Lingkungan, 2013: 62.

Wijaya, Yulianto. "FAKTOR RISIKO KEJADIAN DIARE BALITA DI SEKITAR TPS BANARAN KAMPUS UNNES." journal.unnes.ac.id, 2012: 2.

Zein, Umar. "Diare Akut Infeksius Pada Dewasa ." Library USU, 2004: 1.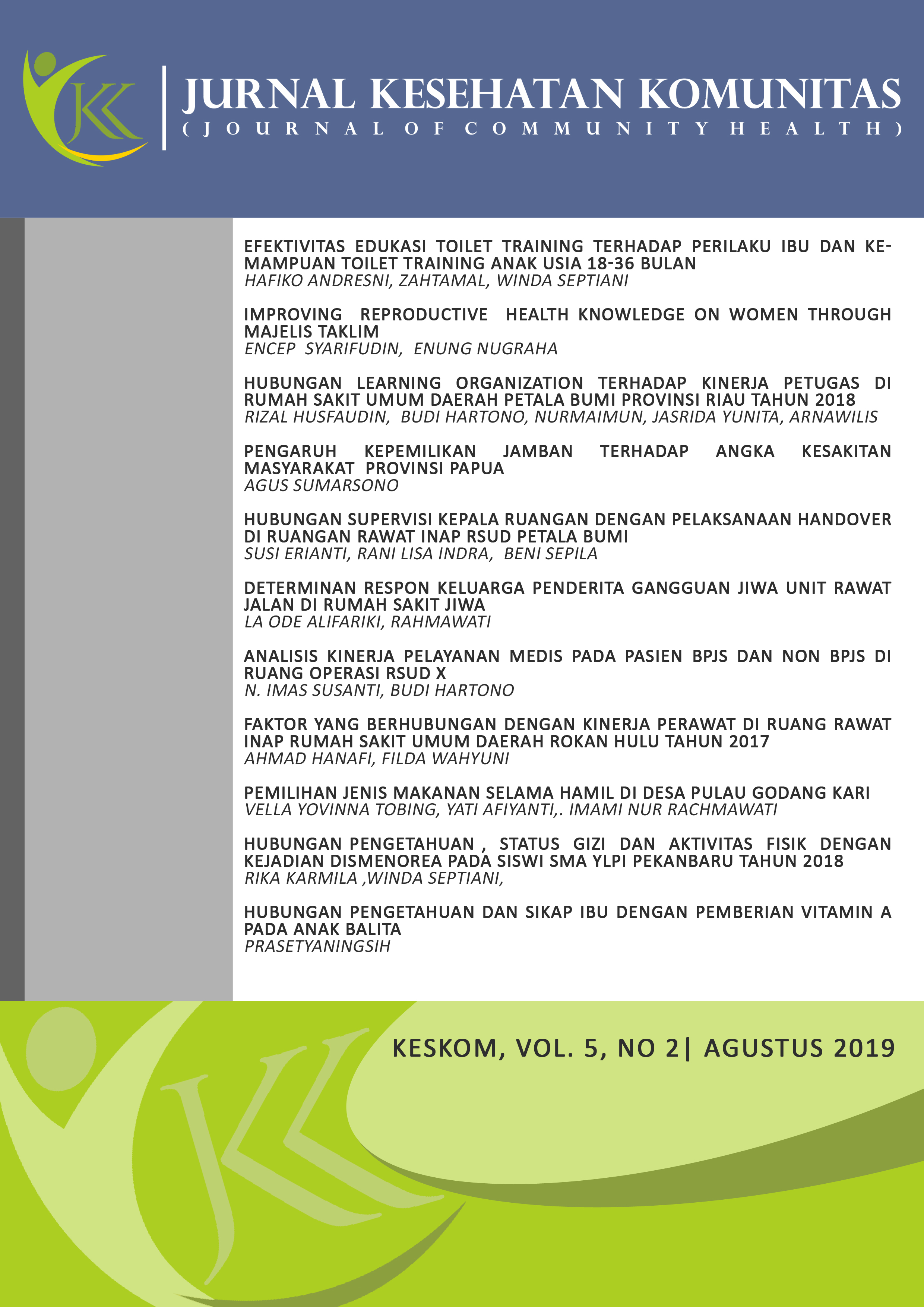 Downloads
How to Cite
1.
Sumarsono A. Affects of Latrine Ownership to the Community Morbidity in Papua Province: Pengaruh Kepemilikan Jamban terhadap Angka Kesakitan Masyarakat Provinsi Papua . J Keskom [Internet]. 2019 Sep. 3 [cited 2022 Sep. 25];5(2):67-70. Available from: https://jurnal.htp.ac.id/index.php/keskom/article/view/353
License
Copyright @2017. This is an open-access article distributed under the terms of the Creative Commons Attribution-NonCommercial-ShareAlike 4.0 International License (http://creativecommons.org/licenses/by-nc-sa/4.0/) which permits unrestricted non-commercial used, distribution and reproduction in any medium