Correlation between Knowledge and Attiude of Mother with Giving Vitamin A to Toddlers
Hubungan pengetahuan dan sikap ibu dengan pemberian vitamin A pada anak balita di puskesmas pariaman kota pariaman tahun 2017
Abstract
Background: Vitamin A is one of the important nutrients that are fat-soluble and stored in the liver, cannot be made by the body, so it must be fulfilled from the outside (essential). 40 million children suffer from vitamin A deficiency and 13 million children show clinical symptoms of eye disorders. Pariaman Health Center is the region with the lowest coverage of vitamin A, which is 74% of 1546 toddlers. The purpose of this study was to determine the correlation between the level of knowledge and attitudes of mothers with giving vitamin A for toddler in Pariaman Health Center, pariaman city, 2017.
Methods: This type of analytic descriptive research using the approach is cross sectional. The study was conducted in Pariaman Health Center in September 2017. The study population was mothers who had toddler who were in the work area of Pariaman Health Center totaling 1,546 people, 93 samples were obtained using accidental sampling method Data processing was Univariate and Bivariate using Chi Square analysis computerized.
Results: Univariate results showed that 51.6% had low knowledge, 64.5% had a negative attitude, 64.5% gave vitamin A capsules for toddlers. There is a significant relationship between the knowledge of mothers with giving vitamin A for toddlers, p value 0.001 <0.05. There was a significant correlation between the attitudes of mothers with giving vitamin A, p value 0.001 <0.05.
Conclusion: The low coverage of vitamin A in Pariaman Health Center was apparently influenced by a lack of knowledge and also a negative mother's attitude. It is expected that the health center will further improve health services to the community, should counseling about vitamin A be held every month so that mothers' understanding of vitamin A increases
Downloads
Download data is not yet available.
References
Arikunto, S. 2012. Manfaat Penelitian. Jakarta: Rineka Cipta.
Asrico. 2009. Hubungan Pengetahuan dan Sikap Ibu dengan Pemberian Vitamin A pada Balita di wilayah kerja Puskesmas Mandiangin
Depkes RI. 2012. Pedoman Pemberian Kapsul Vitamin A Dosis Tinggi, Jakarta
Devi Hasnur. 2009 Hubungan Pengetahuan dan Sikap Ibu Balita tentang Kapsul Vitamin A dengan Pemberian Kapsul Vitamin A di Puskesmas Kurai Taji
Dinkes Kota Pariaman, 2017. Laporan Tahunan Kesehatan.
Frida. 2017. Hubungan Tingkat Pengetahuan Ibu tentang Vitamin A dengan Kepatuhan Ibu Memberikan Kapsul Vitamin A pada Balita Usia 12-59 Bulan di Wilayah Kerja Puskesmas Rowosari Kota Semarang. Maternal Vol II No. 1 April 2017
Irianto Kus. 2014. Gizi dan pola hidup sehat Bandung. Irama Widya.
Khomsan A. 2014. Peranan Pangan dan Gizi untuk Kualitatif Hidup. Jakarta : Gramedi
Nasoetion AH dan Karyadi D. 2012. Pengetahuan Gizi Mutakhir Mineral. Jakarta: PT Gramedia.
Notoatmodjo. 2012. Pendidikan dan Perilaku Kesehatan. Jakarta Rineka Cipta
Nursalam. 2013. Konsep dan Penerapan Metedologi Penelitian Ilmu Keperawatan
Pressman, 2010. Pemanfaatan Sayur dan Buah-buahan untuk Peningkatan Konsumsi Vitamin A
Puspitorini, 2016.Tingkat pengetahuan ibu dan anak tentang kapsul vitamin A pada anak umur bawah lima tahun. STIKES Aisyiyah Jogjakarta, vol. 1 no 4
Susangka, Hariyani, Andriyani. 2016. Evaluasi Nilai Gizi Limbah Sayuran Produk Cara Pengolahan Berbeda dan Pengaruhnya terhadap Pertumbuhan Ikan Nila. Di dalam: Laporan Penelitian, Bandung: Universitas Padjajaran
Sutanto, 2011. Basic Data Analysis For Health Research. Jakarta. FKUI
Triana V. 2016. Macam-macam vitamin dan fungsinya dalam tubuh manusia. Jurnal Kesehatan Masyarakat 1 (1): 41-47
Winarno FG. 2013. Kimia Pangan dan Gizi. Jakarta: PT. Gramedia Pustakaaka Utama.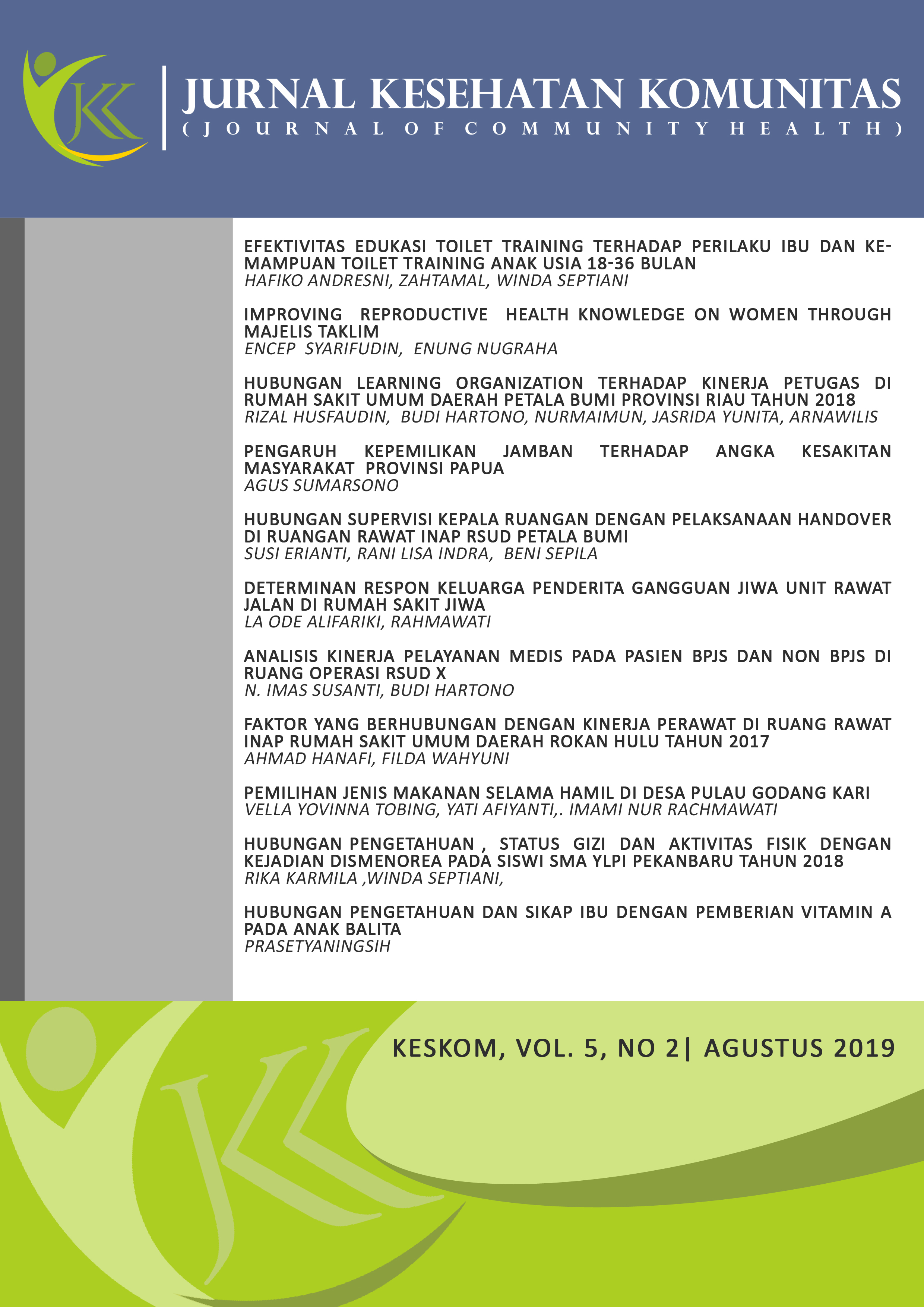 Downloads
How to Cite
1.
Prasetyaningsih P. Correlation between Knowledge and Attiude of Mother with Giving Vitamin A to Toddlers: Hubungan pengetahuan dan sikap ibu dengan pemberian vitamin A pada anak balita di puskesmas pariaman kota pariaman tahun 2017. J Keskom [Internet]. 2019 Sep. 3 [cited 2022 Oct. 7];5(2):106-9. Available from: https://jurnal.htp.ac.id/index.php/keskom/article/view/358
License
Copyright @2017. This is an open-access article distributed under the terms of the Creative Commons Attribution-NonCommercial-ShareAlike 4.0 International License (http://creativecommons.org/licenses/by-nc-sa/4.0/) which permits unrestricted non-commercial used, distribution and reproduction in any medium