Analysis Of Husband's Support During Pregnancy Against Antenatal Care Visits
Abstract
Husband's support is a form of assistance or assistance that a husband can provide to his wife as a manifestation of his attention and affection in conducting antenatal care visits during pregnancy. This study aims to determine the relationship between husband supports for antenatal care visits at the Wanti Mabar Hilir Clinic, Medan Deli District in 2019. This study uses a cross sectional approach. Data analysis was performed using Fisher's Exact Test, found p-value (0.032), OR (5,487), CI (95%). Based on the research, it was found that the husband was less supportive (70%), 22 respondents did not regularly make antenatal care visits (73.3%). There is a relationship between husband supports for antenatal care visits. It is hoped that the husband will play an active role in providing support for mothers in making ANC visits.
Downloads
Download data is not yet available.
References
Bobak. (2012). Buku Ajar Keperawatan Maternitas. EGC.
Dinas Kesehatan Provinsi Sulawesi Tenggara. (2016). Profil Kesehatan Sulawesi Tenggara Tahun 2015. https://dinkes.sultraprov.go.id/wp-content/uploads/Profile-Dinkes-2016-1.pdf
Evayanti, Y. (2015). Hubungan Pengetahuan Ibu dan Dukungan Suami Pada Ibu Hamil Terhadap Keteraturan Kunjungan Antenatal Care (ANC) di Puskesmas Wates Lampung Tengah Tahun 2014. Jurnal Kebidanan, 1(2), 81–90. https://doi.org/https://doi.org/10.33024/jkm.v1i2.550
Faktor-Faktor yang Mempengaruhi Kehamilan. (n.d.). Retrieved December 8, 2020, from https://acehmidwife.blogspot.com/2011/05/faktor-faktor-yang-mempengaruhi.html
Handayani, R. (2018). Hubungan Dukungan Suami Terhadap Kepatuhan Ibu Melakukan Kunjungan ANC Di Poliklinik RSUD Kota Jakarta Utara. Jurnal Online Keperawatan Indonesia, 2(1), 157–164.
Ichda Masrianto, Moh. Hakimi, M. A. (2001). Hubungan Pengetahuan, Sikap Ibu Hamil Terhadap Kunjungan Pelayanan Antenatal di Kecamatan Kalimanah Kabupaten Purbalingga. Media Penelitian Dan Pengembangan Kesehatan. http://ejournal.litbang.kemkes.go.id/index.php/MPK/article/view/909
Kusmiyati, Y. (2009). Perawatan Ibu Hamil (Asuhan Ibu Hamil). Fitramaya.
Maternal mortality. (2019). WHO. https://www.who.int/news-room/fact-sheets/detail/maternal-mortality
Pengaruh Dukungan Suami Terhadap Istri yang Mengalami Kecemasan Kehamilan. (n.d.). Retrieved December 8, 2020, from https://www.curhatbidan.com/kehamilan/pengaruh-dukungan-suami-terhadap-istri-yang-mengalami-kecemasan/
Sarwoko. (2016). Pengaruh Dukungan Suami Terhadap Kunjungan Antenatal Care pada Ibu Hamil. Jurnal Kebidanan, 8(01). https://doi.org/10.35872/jurkeb.v8i01.336
Siti Rini Handajani. (2016). Komunikasi dalam Praktik Kebidanan. Kementerian Kesehatan Republik Indonesia. http://bppsdmk.kemkes.go.id/pusdiksdmk/wp-content/uploads/2017/08/Komunikasi-dalam-Praktik-Kebidanan.pdf
Suryani, Utama, S. Y., & Suryanti, Y. (2017). Hubungan Pengetahuan dan Dukungan Keluarga dengan Kunjungan Antenatal Care pada Ibu Hamil di Wilayah Kerja Puskesmas Olak Kemang Kota Jambi. Jurnal Bahana Kesehatan Masyarakat, 1(1), 8–17.
Syafrudin & Hamidah. (2009). Kebidanan Komunitas. ECG.
Wahyuningsih, H. P., & Tyastuti, S. (2018). Praktikum Asuhan Kebidanan Kehamilan. In Kementrian Kesehatan Republik Indonesia.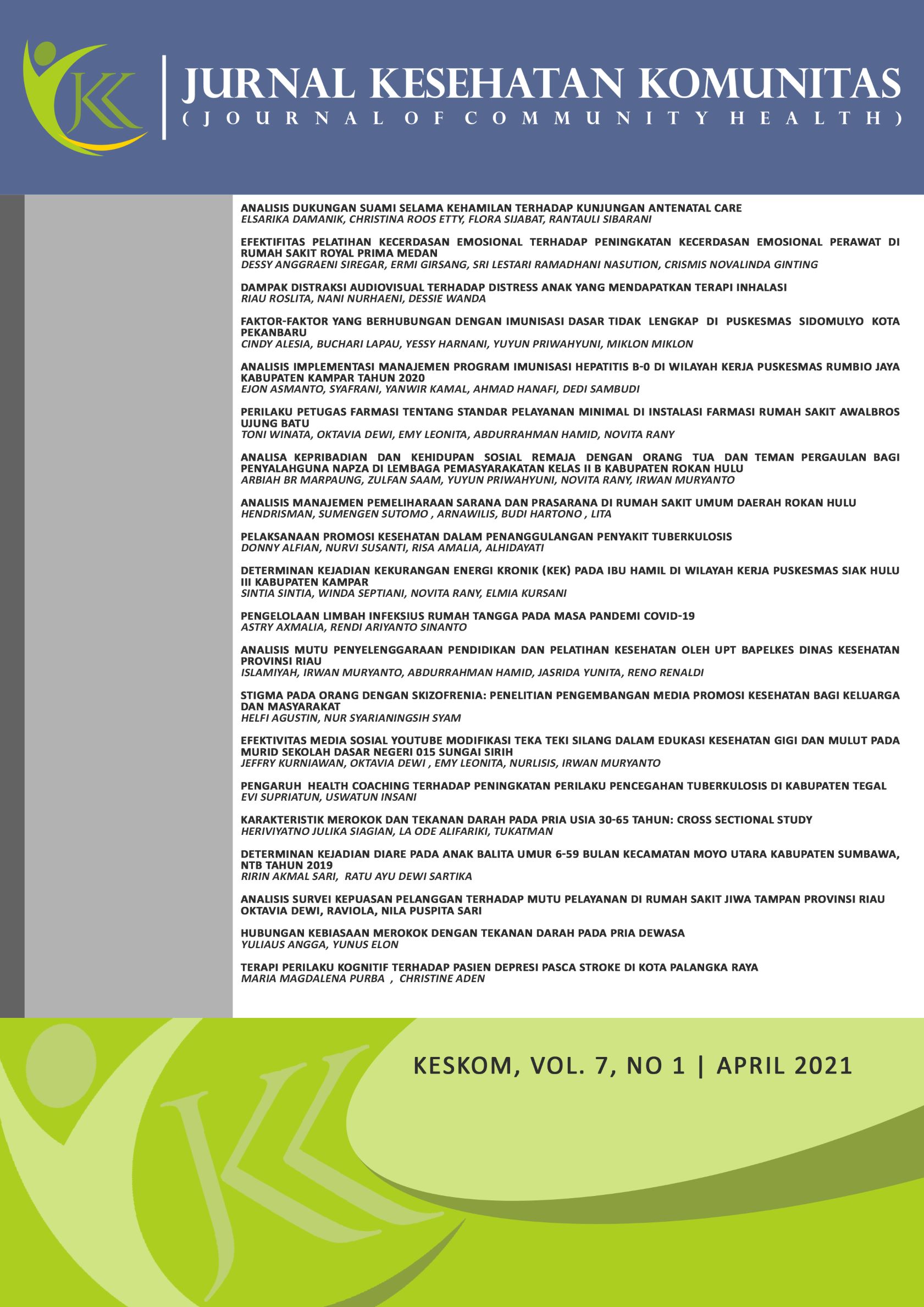 Downloads
How to Cite
1.
Christina Roos Etty, Elsarika Damanik, Flora Sijabat, Rantauli Sibarani. Analysis Of Husband's Support During Pregnancy Against Antenatal Care Visits. J Keskom [Internet]. 2021 Apr. 30 [cited 2022 Aug. 14];7(1):01-6. Available from: https://jurnal.htp.ac.id/index.php/keskom/article/view/530
License
Copyright (c) 2021 Jurnal Kesehatan Komunitas
This work is licensed under a Creative Commons Attribution-NonCommercial-ShareAlike 4.0 International License.
Copyright @2017. This is an open-access article distributed under the terms of the Creative Commons Attribution-NonCommercial-ShareAlike 4.0 International License (http://creativecommons.org/licenses/by-nc-sa/4.0/) which permits unrestricted non-commercial used, distribution and reproduction in any medium