The Effect Of Audiovisual Distraction On The Distress Children Receiving Inhalation Therapy
Abstract
Inhalation therapy as one of the management of children with respiratory system disorders often causes distress, especially in young children. Distress when administering inhaled therapy may decrease the effectiveness of the given treatment. The goal of this innovation project is to identify the effectiveness of audiovisual distraction on distress in children with respiratory system disorders and inhalation therapy. This innovation project method used PICO. The sample was 15 people consisting of 8 controls and 7 intervention groups. The results of the innovation project showed a significant difference between the children's distress score in the control group and the intervention (p = 0.001). Conclusions: Audiovisual distraction interventions are expected to be applied to children with oxygen distress disorder during inhalation therapy.
Downloads
Download data is not yet available.
References
Ari, A. and Fink, J. B. (2011) 'Guidelines for aerosol devices in infants, children and adults: Which to choose, why and how to achieve effective aerosol therapy', Expert Review of Respiratory Medicine, 5(4), pp. 561–572. doi: 10.1586/ers.11.49.
Cardinale, F. et al. (2013) 'Community-Acquired Pneumonia in Children', Elsevier, 89, pp. 0378–3782. Available at: http://dx.doi.org/10.1016/j.earihumdev.2013.07.023.
DiBlasi, R. M. (2015) 'Clinical controversies in aerosol therapy for infants and children', Respiratory Care, 60(6), pp. 894–914. doi: 10.4187/respcare.04137.
Emukule, G. O. et al. (2014) 'Predicting mortality among hospitalized children with respiratory illness in Western Kenya, 2009-2012', PLoS ONE, 9(3), pp. 2009–2012. doi: 10.1371/journal.pone.0092968.
Ferkol, T. and Schraufnagel, D. (2014) 'The global burden of respiratory disease', Annals of the American Thoracic Society, 11(3), pp. 404–406. doi: 10.1513/AnnalsATS.201311-405PS.
Hillgrove-Stuart, J. et al. (2013) 'Toy-mediated distraction: Clarifying the role of distraction agent and preneedle distress in toddlers', Pain Research and Management, 18(4), pp. 197–202. doi: 10.1155/2013/392125.
Hockenberry, M. and Wilson, D. (2013) Wong's Essential of Pediatric Nursing (9th ed).
Kamin, W. et al. (2015) 'A Handling Study to Assess Use of the Respimat® Soft MistTM Inhaler in Children under 5 Years Old', Journal of Aerosol Medicine and Pulmonary Drug Delivery, 28(5), pp. 372–381. doi: 10.1089/jamp.2014.1159.
Koller, D. and Goldman, R. D. (2012) 'Distraction Techniques for Children Undergoing Procedures: A Critical Review of Pediatric Research', Journal of Pediatric Nursing, 27(6), pp. 652–681. doi: 10.1016/j.pedn.2011.08.001.
Laube, B. L. et al. (2011) 'What the pulmonary specialist should know about the new inhalation therapies', European Respiratory Journal, 37(6), pp. 1308–1331. doi: 10.1183/09031936.00166410.
MacLaren, J. E. and Cohen, L. L. (2005) 'A comparison of distraction strategies for venipuncture distress in children', Journal of Pediatric Psychology, 30(5), pp. 387–396. doi: 10.1093/jpepsy/jsi062.
McCarthy, M. et al. (2013) 'Comfort First: An evaluation of a procedural pain management programme for children with cancer', Psycho-Oncology, 22(4), pp. 775–782. doi: 10.1002/pon.3061.
Sörqvist, P. and Marsh, J. E. (2015) 'How Concentration Shields Against Distraction', Current Directions in Psychological Science, 24(4), pp. 267–272. doi: 10.1177/0963721415577356.
Taddio, A. and McMurtry, M. (2015) 'Psychological Interventions for Needle-Related Procedural Pain and Distress in Children and Adolescents: Summary of a Cochrane Review', Paediatr Child Health, 15(1), pp. 74–75. doi: 10.1016/j.explore.2018.10.014.
The British Psychological Society (2010) 'Evidence-based Guidelines for the Management of Invasive and/or Distressing Procedures with Children', The British Psychological Society, (March), pp. 1–48. Available at: https://www.bps.org.uk/sites/www.bps.org.uk/files/Member Networks/Divisions/DCP/Evidence Based Guidelines for the Management of Invasive and or Distressing Procedures with Children.pdf.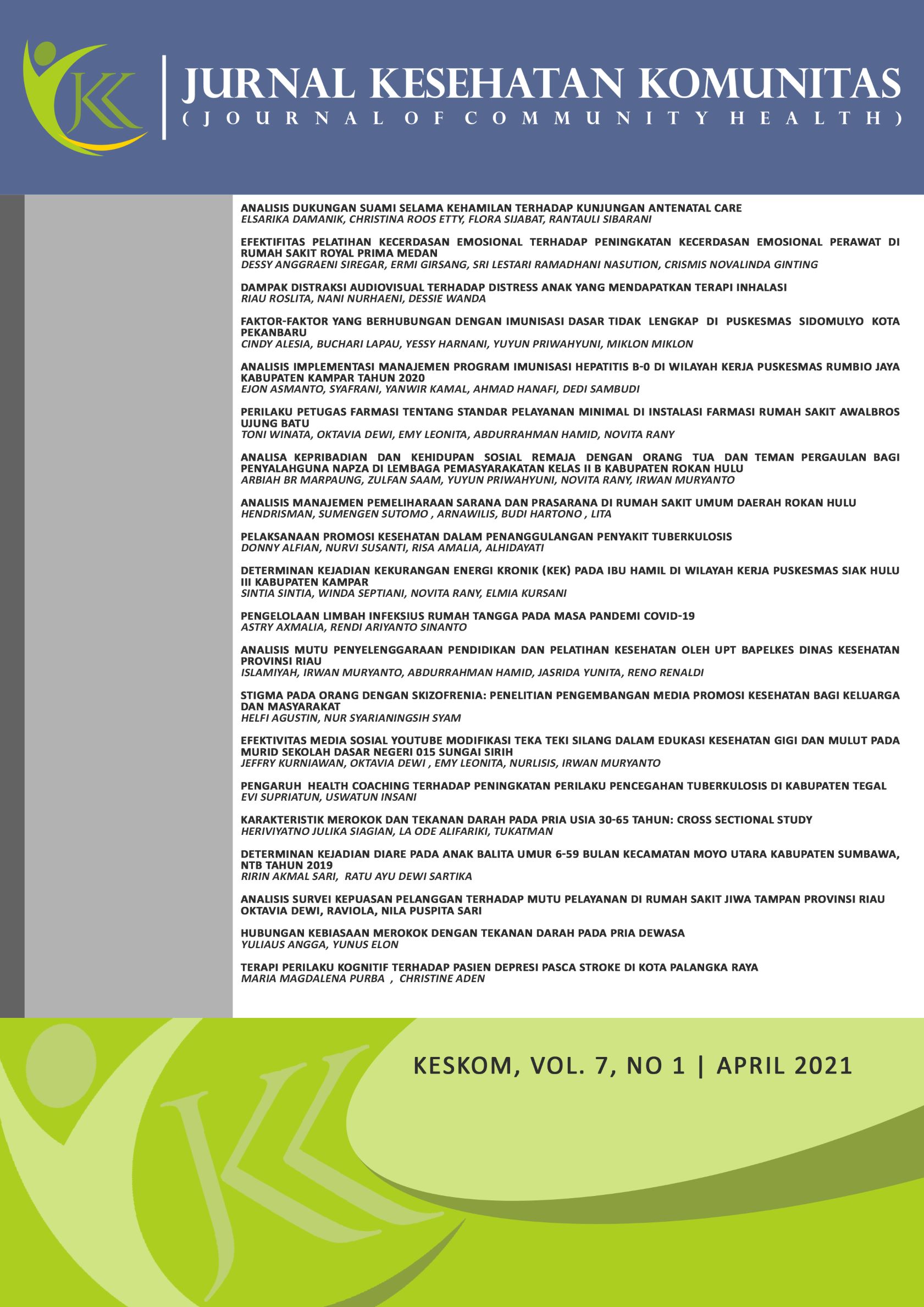 Downloads
How to Cite
1.
Roslita RR, Nurhaeni N, Wanda D. The Effect Of Audiovisual Distraction On The Distress Children Receiving Inhalation Therapy. J Keskom [Internet]. 2021 Apr. 30 [cited 2022 Oct. 7];7(1):13-7. Available from: https://jurnal.htp.ac.id/index.php/keskom/article/view/582
License
Copyright (c) 2021 Jurnal Kesehatan Komunitas
This work is licensed under a Creative Commons Attribution-NonCommercial-ShareAlike 4.0 International License.
Copyright @2017. This is an open-access article distributed under the terms of the Creative Commons Attribution-NonCommercial-ShareAlike 4.0 International License (http://creativecommons.org/licenses/by-nc-sa/4.0/) which permits unrestricted non-commercial used, distribution and reproduction in any medium