The Effect of Giving Red Betel Leaves (Piper Crocatum) on Healing of Perineum Woes in Postpartum Women in Desa Tanjung Jati Kecamatan Binjai Kabupaten Langkat
Abstract
Nearly 90% of labor experienced perineal tears, either with or without episiotomy. The incidence of perineal tears occurred almost 90% in normal labor. Red betel leaf or Piper crocatum is known to have chemical properties that have antiseptic and antibacterial effects. The aim of this study was to assess the duration of healing of postpartum mothers' perineal wounds using red betel leaf decoction and anti-septic drugs. The research method was quasi experimental, the population of postpartum mothers with perineal wounds. The sample of the experimental group was given red betel leaf stew as much as 4-5 pieces for 7 days 18 people and the control group 18 people. Samples were taken by consecutive sampling which was conducted in the village of Tanjung Jati Kec. Binjai Kab. Langkat in April-July 2020. The results of this study were the average healing time in the control group was 5.28 ± 0.958 with a Min-Max 3-6 days, while in the intervention group the average healing time was 3.00 ± 1.372 with a Min-Max 2 -5. There was a significant difference (p-value = 0.001) in the length of days of healing between the control and intervention groups. The conclusion of this study is the effect of giving red betel leaf stew (piper crocatum) on the healing of perineal wounds in postpartum mothers.
Downloads
Download data is not yet available.
References
Anggeriani, R. and Lamdayani, R. (2018) 'Efektifitas Pemberian Air Daun Sirih (Piper Betle L) Terhadap Kecepatan Penyembuhan Luka Perineum Pada Ibu Post Partum', Akademi Kebidanan Abdurahman Palembang, 9, pp. 80–87.
Anggraini, V. and Masfufatun, M. (2017) 'EFEKTIVITAS KOMBINASI EKSTRAK DAUN SIRIH MERAH (Piper Crocatum) DAN EKSTRAK BIJI ALPUKAT (Persea americana) DALAM MENGHAMBAT PERTUMBUHAN Candida albicans', Jurnal Kimia Riset, 2(2), p. 86. doi: 10.20473/jkr.v2i2.6196.
Ari Kurniarum, A. K. (2015) 'Keefektifan Penyembuhan Luka Perineum pada Ibu Nifas Menggunakan Daun Sirih', Jurnal Terpadu Ilmu Keperawatan, 4(2), p. 163.
Dalimartha, S. (2005) Tanaman Obat di Lingkungan Sekitar. Jakarta: Penerbit Puspa Swara.
Damarini, S. (2013) 'Efektivitas Sirih Merah dalam Perawatan Luka Perineum di Bidan Praktik Mandiri The Effectiveness of Red Betel in Healing Perineal Wound in Independent', Jurnal Kesehatan Masyarakat Nasional, 8(03), pp. 39–44.
Dewi, M. and Irawati, N. (2014) 'Artikel Penelitian Pengaruh Pelvic Floor Muscle dan Training Defekasi terhadap pada Ibu Pengembalian Fungsi Miksi Postpartum Spontan', 3(3), pp. 304–310.
Feri Manoi (2007) 'Warta Puslitbangbun', 13(2).
Fithriyah, N., Arifin, S. and Santi, E. (2013) 'Lumatan Daun Sirih Merah (Piper crocatum) Terhadap Lama Penyembuhan Luka Bakar Derajat II pada Kulit Kelinci (Cavia cobaya)', Dk, 01(01), pp. 24–31. Available at: http://ppjp.unlam.ac.id/journal/index.php/JDK/article/download/1650/1424.
Fitriyani, A. et al. (2011) 'Uji Antiinflamsi Ekstrak Metanol Daun Sirih Merah ( Piper crocatum Ruiz & Pav) Pada Tikus Putih', Majalah Obat Tradisional, 16(1), pp. 34–42.
Lia Yulianti, Maemunah, Lilik Susilawati, A. Y. R. (2014) Asuhan Kebidanan II. Jakarta: Trans Info Media.
Manuaba (2012) Ilmu Kebidanan Penyakit Kandungan dan KB. Jakarta: EGC.
Marmi (2014) Asuhan Kebidanan Pada Masa Nifas Peureperium Care. Yogyakarta: Pustaka Belajar.
Musrifatul, H. & (2014) Ilmu Kebidanan. Jakarta.
Parfati, N. and Windono, T. (2016) 'Sirih merah (Piper crocatum Ruiz & Pav) kajian pustaka', Media Pharmaceutica Indonesiana, 1(2), pp. 106–15.
Prawiharjo, S. (2016) Ilmu Kebidanan. Jakarta: Yayasan Bina Pustaka.
Putriningrum, R., Khoiriyah, A. and Umarianti, T. (2015) 'Analisis Tingkat Pengetahuan Pada Ibu Hamil Trimester III Menuju proses', (33), pp. 2012–2014.
Wisdyana Saridewi, Dini Marlina, S. P. M. (2018) 'PIPER CROCATUM DALAM PERCEPATAN PENYEMBUHAN LUKA PERINEUM DI PMB NIA ROSMAWATI A.MD.KEB KOTA CIMAHI', 1(1), pp. 473–479.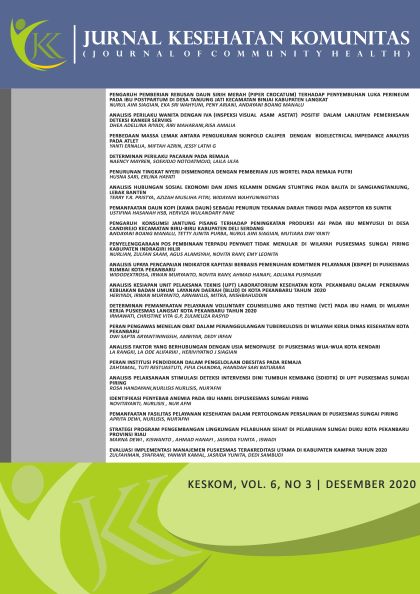 Downloads
How to Cite
1.
Siagian NA, Wahyuni ES, Ariani P, Manalu AB. The Effect of Giving Red Betel Leaves (Piper Crocatum) on Healing of Perineum Woes in Postpartum Women in Desa Tanjung Jati Kecamatan Binjai Kabupaten Langkat. J Keskom [Internet]. 2021Feb.26 [cited 2021Apr.13];6(3):255-9. Available from: https://jurnal.htp.ac.id/index.php/keskom/article/view/599
License
Copyright (c) 2021 Jurnal Kesehatan Komunitas
This work is licensed under a Creative Commons Attribution-NonCommercial-ShareAlike 4.0 International License.
Copyright @2017. This is an open-access article distributed under the terms of the Creative Commons Attribution-NonCommercial-ShareAlike 4.0 International License (http://creativecommons.org/licenses/by-nc-sa/4.0/) which permits unrestricted non-commercial used, distribution and reproduction in any medium