Sistem Management Of Medical Solid Waste In The Midwife In The Puskesmas Pangkalan Kasai Districts Seberida Districts Indragiri Hulu Year 2020
Keywords:
Sistem Pengelolaan Limbah Medis Padat, Puskesmas
Abstract
Medical waste is the result of the activities of a hospital,clinic. The purpose of this research in figuring out how the management medical waste which in done in every puskesmas. This research is qualitative research descriptive research design, Data collection by conductor health service unit that is dangerous and can cause health probelms for the community, patients, visitors and officers who contribute to control in the community health center.ing in-depth interviews and observations with the leader puskesmas, environmenral health, nourse,clenaing service. The study was conducted in july 2020 at the Puskesmas Pangkalan Kasai Kecamatan Seberida Kabupaten Indragiri Hulu. Research's outcome has showed that system management of medical waste has not been standart yet, that one is happaned caused by the limitation of infrastructure as well as there is no keman'rule in every Puskesmas that should banish their own medical waste. Then this research's outcomethat has been done by the researcher givean advice to Puskesmas Pangkalan Kasai to carry out the banishing their own medical waste to a health service having a incinerator.
Downloads
Download data is not yet available.
References
Asmadi. 2013. Pengelolaan Limbah Medis Rumah Sakit, Yogyakarta: Goysen Publishing.
Amrizal. 2015. Sistem Pengelolaan Limbah Medis Padat Pada 3 Puskesmas Di Kabupaten Rokan Hulu Tahun 2015. Skripsi. Peminatan Kesehatan Lingkungan, Program Studi Ilmu Kesehatan Masyarakat, STIKes Hang Tuah. Pekanbaru.
Depkes, R.I, 2018. Data dan informasi Profil kesehatan Indonesia, Jakarta: Depkes RI.
Dinas Kesehatan Pekanbaru. 2019. Profil Dinas Kesehatan Provinsi Riau Tahun 2019. Pekanbaru: Dinkes Provinsi.
Dwi A.F., dkk. 2019. Kepuasan Pasien Tentang Mutu Pelayana Di Puskesmas. Pustaka Katulistiwa, Vol.1, Nomor 1, Januari 2020.
N. Himayati, T. Joko, and H. L. Dangiran. 2018. "EVALUASI PENGELOLAAN LIMBAH MEDIS PADAT BAHAN BERBAHAYA DAN BERACUN (B3) DI RUMAH SAKIT TK. II 04.05.01 dr. SOEDJONO MAGELANG," Jurnal Kesehatan Masyarakat (Undip), vol. 6, no. 4, pp. 485 - 495, Jul. 2018. [Online].
Manila, Riang L., and Sarto Sarto. 2017. Evaluasi Sistem Pengelolaan Limbah Medis Puskesmas di Wilayah Kabupaten Bantul. Berita Kedokteran Masyarakat, Vol. 33, no. 12, 2017, pp. 587-594, doi:10.22146/bkm.25948
Ngambut, K. (2017). Pengelolaan Limbah Medis Puskesmas Di Kabupaten Kupang Provinsi Nusa Tenggara Timur, Indonesia. Jurnal Info Kesehatan, 15(2),417-427.
Permen LHK. 2015. Peraturan Menteri LHK No 56 Tahun 2015, Tentang Pengelolaan Limbah B3 Dan Fasyankes.
Purnama, A. (2015). Pengelolaan limbah medis padat pada Puskesmas Siak.
Pratiwi, D. (2013). Pengelolaan Limbah Medis Padat pada Puskesmas Kabupaten Pati. Jurnal Kemas Vol 9, No 1 (2013) , Universitas Negeri Semarang http://journal.unnes.ac.id/nju/indexx.php/kesmas
Sitepu Br, P.Y, dkk. 2015. Sistem Pengelolaan Limbah Medis Padat dan Cair Serta Faktor-Faktor yang Berkaitan dengan Pelaksanaan Pengelolaan Limbah Medis Padat dan Cair di Rumah Sakit Umum Kabanjahe Kabupaten Karo Tahun 2015. Repository USU.
Rahno D, dkk.2015. Pengelolaan Limbah Medis Padat Di Puskesmas Borong Kabupaten Manggarai Timur Propinsi Nusa Tenggara Timur. pengelolaan limbah medis padat. 2015;6(1):22-32.
Ronald T. Pengelolaan Limbah Medis Padat Bahan Berbahaya Beracun (B3) Di Rumah Sakit Umum Daerah (RSUD) Piru Kabupaten Seram Bagian Barat, Provinsi Maluku Pada Tahun 2018. Jurnal Kesmas. 2018. Vol 7, No. 5.
Yulianto B, Kursani E, Aristi riska indri. 2017 manajemen pengelolaan limbah medis padat di rumah sakit umum daerah kota dumai. bahana Kesehat Masy. 2017;1(2):96-105.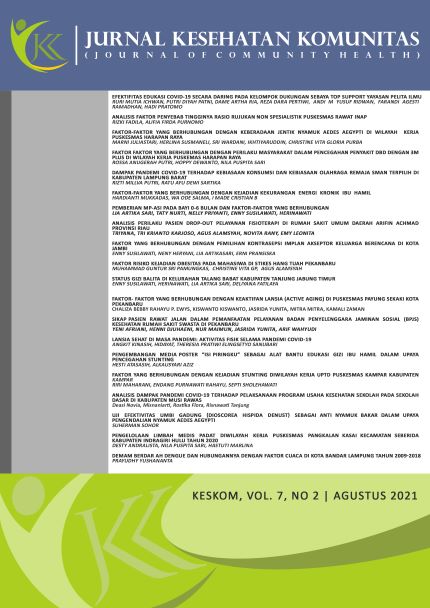 Downloads
How to Cite
1.
andrialista DAL, Sari NP, Marlina H. Sistem Management Of Medical Solid Waste In The Midwife In The Puskesmas Pangkalan Kasai Districts Seberida Districts Indragiri Hulu Year 2020. J Keskom [Internet]. 2021 Oct. 1 [cited 2023 Jun. 9];7(2):254-62. Available from: https://jurnal.htp.ac.id/index.php/keskom/article/view/770
License
Copyright (c) 2021 Jurnal Kesehatan Komunitas
This work is licensed under a Creative Commons Attribution-NonCommercial-ShareAlike 4.0 International License.
Copyright @2017. This is an open-access article distributed under the terms of the Creative Commons Attribution-NonCommercial-ShareAlike 4.0 International License (http://creativecommons.org/licenses/by-nc-sa/4.0/) which permits unrestricted non-commercial used, distribution and reproduction in any medium