The Association between Smoking Habits and Blood Pressure Of Adult Men
Keywords:
Smoke, Systolic Blood Pressure, Diastolic Blood pressure, Duration of Smoking
Abstract
Blood pressure is one of the vital signs that can provide an overview of a person's health status. One of the factors that can affect blood pressure is smoking. The purpose of this study was to analyze smoking habits with blood pressure in adult men in Sebunga Village, Sambas Regency, West Kalimantan. This study used a correlational design with a cross-sectional analytic study approach. Samples were taken using a non-probability technique, namely convenience sampling. A total of 50 young adult men and young adults, were willing to determine in this study, with informed consent. Bivariate analysis results showed that there was a significant relationship between smoking duration and an increase in systolic and diastolic blood pressure p-value <.05. This study concluded, the longer a person smoked, the higher the risk for experiencing increased blood pressure.
Downloads
Download data is not yet available.
References
Angraini, N. D. (2016) 'Benarkah Merokok Sebabkan Hipertensi?', Klik dokter. Available at: https://www.klikdokter.com/info-sehat/read/2654799/benarkah-merokok-sebabkan-hipertensi.
Fikriana, R. (2016) 'Faktor – Faktor Yang Diduga Menjadi Prediktor Terjadinya Peningkatan Tekanan Darah Sistolik Pada Penderita Hipertensi', Jurnal Kesehatan Mesencephalon, 2(4), pp. 285–291. doi: 10.36053/mesencephalon.v2i4.14.
Hasanah, H. (2014) 'Baby Smoker: Perilaku Konsumsi Rokok Pada Anak Dan Strategi Dakwahnya', Sawwa: Jurnal Studi Gender, 9(2), p. 253. doi: 10.21580/sa.v9i2.635.
Hikmah, N. (2017) HUBUNGAN LAMA MEROKOK DENGAN DERAJAT HIPERTENSI DI DESA RANNALOE KECAMATAN BUNGAYA KABUPATEN GOWA, Universitas Islam Negeri Makasar. Universitas Islam Negeri Makasar. Available at: http://repositori.uin-alauddin.ac.id/2370/1/NUR HIKMAH.PDF.
Janah, M. and Martini, S. (2017) 'Hubungan Antara Paparan Asap Rokok Dengan Kejadian Prehipertensi Relationship Between Secondhand Smoke And Prehypertension', Jurnal Manajemen Kesehatan Yayasan RS.Dr. Soetomo, 3(2), p. 131. doi: 10.29241/jmk.v3i1.75.
Kementrian Kesehatan RI (2018) Lapran kesehatan RISKESDAS 2018. Jakarta. Available at: https://dinkes.acehprov.go.id/uploads/Lap._Riskesdas_2018_.pdf.
Linda, D. A. and Kirnantoro (2017) HUBUNGAN ANTARA PEROKOK DENGAN KEJADIAN HIPERTENSI PADA LANSIA DI DUSUN GATAK DESA TAMAN TIRTO KASIHAN BANTUL YOGYAKARTA. Universita Almaata. Available at: http://elibrary.almaata.ac.id/11/.
Malinti, E. et al. (2020) 'Factors Associated With Blood Pressure Of Adult Clients', Dunia Keperawatan: Jurnal Keperawatan dan Kesehatan, 8(November), pp. 425–434. doi: 10.20527/dk.v8i3.8277.
Mufidah, S. (2019) 'HUBUNGAN IMT, USIA DAN KEBIASAAN MEROKOK TERHADAP KEJADIAN HIPERTENSI PADA NELAYAN KUB PONDOK LAYAR', Journal of community mental health and Public Polici, 1(2). Available at: http://cmhp.lenterakaji.org/index.php/cmhp/article/view/29.
Setyanda, Y. O. G., Sulastri, D. and Lestari, Y. (2015) 'Hubungan Merokok dengan Kejadian Hipertensi pada Laki-Laki Usia 35-65 Tahun di Kota Padang', Jurnal Kesehatan Andalas, 4(2), pp. 434–440. doi: 10.25077/jka.v4i2.268.
WHO (2019) WHO report on the global tobacco epidemic 2019: offer help to quit tobacco use. Available at: https://www.who.int/teams/health-promotion/tobacco-control/who-report-on-the-global-tobacco-epidemic-2019#:~:text=The %22WHO report on the,bans to no smoking areas.
Widyatama, H. G. et al. (2020) 'Usia dan jumlah rokok meningkatkan tekanan darah', Ilmiah Kesehatan IQRA, 8(2), pp. 69–76. Available at: Peningkatan tekanan darah; Usia,Periode merokok; Jumlah batang rokok; Jenis rokok.
Wulandari, T. and Abriani, N. G. (2020) 'Analisis Karakteristik Pasien Hipertensi Rawat Jalan Rsud Karanganyar Tahun 2019', Maternal, IV(1), pp. 51–56. Available at: https://ejurnal.stikesmhk.ac.id/index.php/jurnal_ilmiah_maternal/article/view/772/685.
Yunus, E. and Malinti, E. (2019) 'FENOMENA MEROKOK PADA ANAK USIA REMAJA: STUDI KUALITATIF', 1(1). doi: https://doi.org/10.37771/kjn.v1i1.385.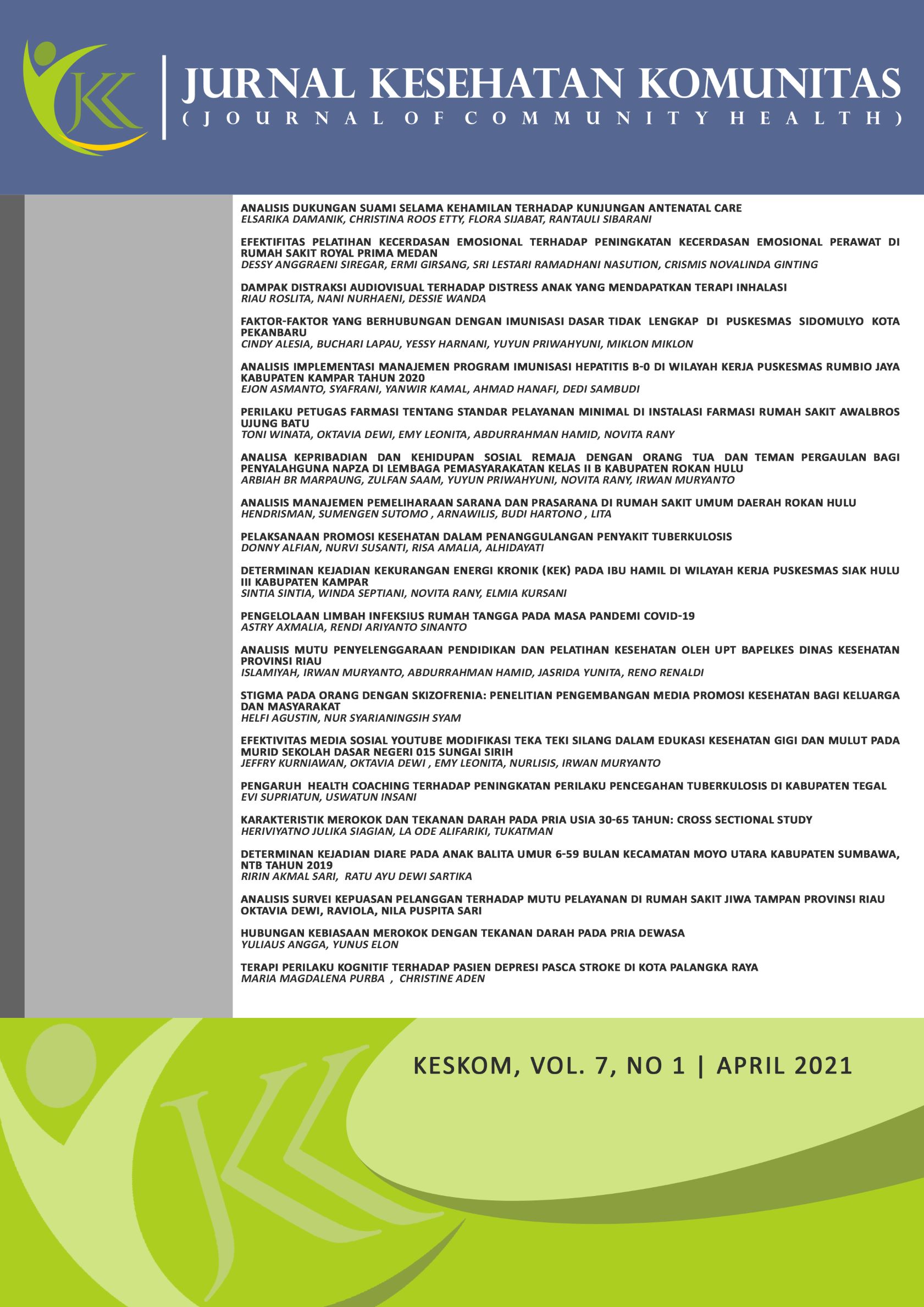 Downloads
How to Cite
1.
Angga Y, Elon Y. The Association between Smoking Habits and Blood Pressure Of Adult Men. J Keskom [Internet]. 2021Apr.30 [cited 2021Oct.26];7(1):124-8. Available from: https://jurnal.htp.ac.id/index.php/keskom/article/view/861
License
Copyright (c) 2021 Jurnal Kesehatan Komunitas
This work is licensed under a Creative Commons Attribution-NonCommercial-ShareAlike 4.0 International License.
Copyright @2017. This is an open-access article distributed under the terms of the Creative Commons Attribution-NonCommercial-ShareAlike 4.0 International License (http://creativecommons.org/licenses/by-nc-sa/4.0/) which permits unrestricted non-commercial used, distribution and reproduction in any medium