Education And Simulation Of Emergency Assistance Splint Bandages, Evacuation, And Transportation On Case Of Injury For PMR SMAN 1 Sei Ambawang
Edukasi Dan Simulasi Bantuan Kegawatdaruratan Balut Bidai, Evakuasi Dan Transportasi Pada Kasus Cidera Bagi PMR SMAN 1 Sei Ambawang Kubu Raya
Keywords:
booklet, simulasi, balut bidai, evakuasi, simulation, splint, evacuation
Abstract
The increase in the number of deaths caused by traffic accidents usually occurs, partly because Indonesian people do not know how to provide the right first aid when the victim is found. However, the first aid given to the victim is often inappropriate, so education on the evacuation of first aid in traffic accidents is needed, which emergency victims from the beginning of the scene and during the journey to health facilities, to achieve a quality of life of the victim. The method used is public education carried out at SMAN I Ambawang, Kubu Raya Regency, West Kalimantan. The activity began with socialization regarding splint dressing, evacuation, and transportation education, then continued with a simulation held at SMA I Ambawang. The results of the evaluation of pre and post-test knowledge, as well as evaluation of pre and post-test skills. The results of the evaluation of pre-test knowledge obtained an average value of 40.48 while the average value of post-test knowledge was 92.04. The results of the evaluation of pre-test skills obtained an average of 30.55 while the average of post-test skills was 87.61. Community service on education and simulation of emergency assistance for PMR SMAN 1 Sungai Ambawang Kubu Raya can improve knowledge and skills of splint dressing, evacuation, and transportation in cases of injury
Abstrak
Peningkatan angka kematian yang disebabkan oleh kecelakaan lalu lintas biasanya terjadi salah satunya karena masyarakat Indonesia yang tidak mengetahui cara memberikan pertolongan pertama yang tepat saat korban ditemukan. Namun pertolongan pertama yang diberikan kepada korban sering tidak tepat sehingga perlu edukasi evakuasi pertolongan pertama pada kecelakaan lalu lintas yang merupakaan korban gawat darurat dari awal tempat kejadian dan selama perjalanan menuju sarana kesehatan, tercapainya kualitas hidup korban. Metode yang digunakan adalah pendidikan masyarakat dilaksanakan di SMAN I Ambawang Kabupaten Kubu Raya Kalimantan Barat. Kegiatan di awali dengan sosialisasi terlebih dahulu terkait edukasi balut bidai, evakuasi dan transportasi kemudian dilanjutkan dengan simulasi yang dilaksanakan di SMA I Ambawang. Hasil evaluasi pengetahuan pre dan post test, serta evaluasi keterampilan pre dan post test. Hasil evaluasi pengetahuan pre test didapatkan rerata nilai 40,48 sedangkan nilai pengetahuan post test reratanya 92,04. Hasil evaluasi keterampilan pre test didapatkan rerata 30,55 sedangan rerata keterampilan post test adalah 87,61. Pengabdian masyarakat tentang edukasi dan simulasi bantuan kegawatdaruratan bagi PMR SMAN 1 Sungai ambawang Kubu Raya dapat meningkatkan pengetahuan dan keterampilan balut bidai, evakuasi dan transportasi pada kasus cedera
Downloads
Download data is not yet available.
References
Data Lakalantas Polda Kalbar, (2018). Data Kecelakaan Lalu Lintas di KalimantanBarat
Dawanti, Eka Ellyn & R.G Wahyu Pria, dkk. 2018. Effectiveness Of "CERDEVID" Method On Community Ability Doing Traffic Accident Evacuation Using Home Made Streecher. Kediri : STIKES Karya Husada Kediri. Joint International Conference All Right Reserved. ISBN : 978-602-5842-03-0. Tersedia di https://proceeding.tenjic.org/jic2/index.php/jic2/article/view/163 (Diakses 20 Maret 2020)
Endrawan. 2016. Jangan Anggap Sepele Evakuasi Korban Kecelakaan Ada Panduannya. Semarang.Tribun News tersedia di https://www.tribunnews.com/regional/2016/03/20/jangan-anggap-sepele-evakuasi-korban-kecelekaan-ada-panduannya (Diakses 20 Maret 2020)
Fatimah & Wulandari, Subekti Ika dkk. 2018. Kesiapan Penanganan Gawat Darurat Pre-Hospital Pada Mahasiswa KNC-E Di STIKES Kusuma Husada. Surakarta
Kase, Rawindi Ferly & Prastiwi Swito dkk. 2018. Hubungan Pengetahuan Masyarakat Awam Dengan Tindakan Awal Gawat Darurat Kecelakaan Lalu Lintas Di Kelurahan Tlogomas Kecamatan Lowokwaru. Malang. Nursing New. Volume 3. Nomor 1. Tersedia di https://publikasi.unitri.ac.id/index.php/fikes/article/view/838 (Diakses 20 Maret 2020)
Saputro, W. W., (2017). Pengaruh Pendidikan Kesehatan Dengan Metode SimulasiTerhadap Pengetahuan dan Sikap Tentang Pertolongan Pertama Pada Kecelakaan Di SMK Negeri 1 Mojosongo Boyolali.
Thygerson,A.(2011). Pertolongan Pertama PenangananCedera. Jakarta :Erlangga
WorldHealthOrganization(WHO),(2011) Penyebab Kematian Terbesar Ketiga Disebabkan Oleh KecelakaanLalu Lintas. Badan Intelijen Negara. Tersedia dihttp://www.bin.go.id/awas/detil/197/4/21/03/2013/kecelakaan-lalu-lintas-menjadi-pembunuh-terbesarketiga (Diakses 16 November 2019)
WorldHealthOrganization(WHO),(2013).Cause-SpecificMortalityandMorbidity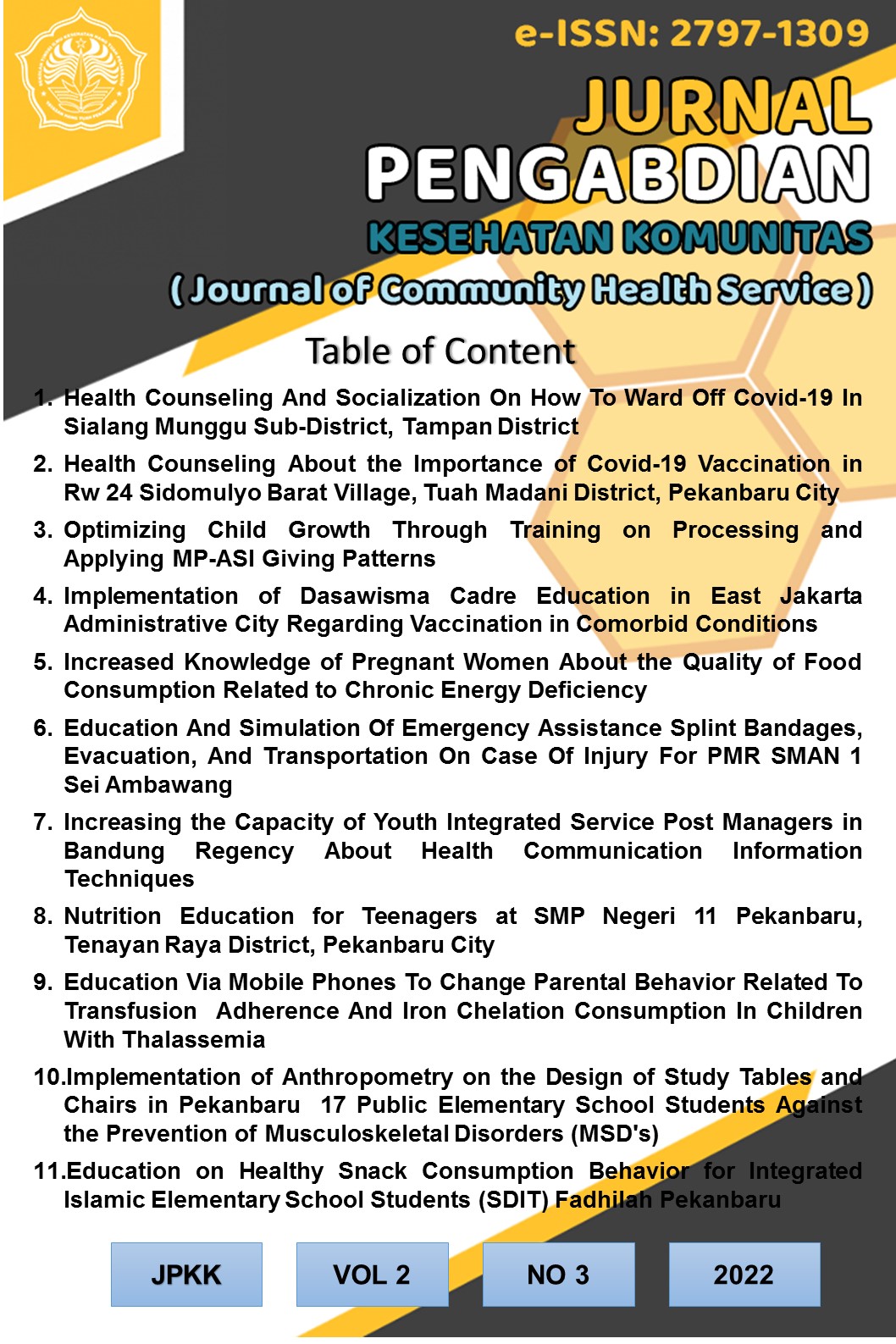 Downloads
How to Cite
Ardiansyah, F., Mather, M., & Sudarto, S. (2023). Education And Simulation Of Emergency Assistance Splint Bandages, Evacuation, And Transportation On Case Of Injury For PMR SMAN 1 Sei Ambawang: Edukasi Dan Simulasi Bantuan Kegawatdaruratan Balut Bidai, Evakuasi Dan Transportasi Pada Kasus Cidera Bagi PMR SMAN 1 Sei Ambawang Kubu Raya. Jurnal Pengabdian Kesehatan Komunitas, 2(3), 224–229. https://doi.org/10.25311/jpkk.Vol2.Iss3.1391
License
Copyright (c) 2022 Jurnal Pengabdian Kesehatan Komunitas
This work is licensed under a Creative Commons Attribution-NonCommercial-ShareAlike 4.0 International License.