Use of Injectable Contraceptives Relation with Menstrual Disorders on Family Planning Program Acceptors in Lubuk Buaya Public Health Center Padang 2018
Keywords:
Family Planning Program, Injectable Contracepves, Menstrual Disorders
Abstract
Contraception is an attempt to prevent pregnancy. According to the World Health Organization (WHO) use of injectable contraceptives amounted to 38.35%, in Indonesia as much as 58%. PHC LubukBuaya is a coverage number of new KB and KB active 21766 people couples of reproductive age (EFA), which uses as many as 7,028 types of injectable contraceptives (42.3%). The use of injectable contraceptives in health centers Lubuk Buaya field as much as 9,689 (30.29%) acceptor. The purpose of this study was to determine the relationship with the use of injectable contraceptive menstrual disorders in family planning acceptors in Lubuk Buaya Puskesmas Padang 2018. Type of analytical research with cross sectional design.studies have been conducted in Puskesmas Lubuk Buaya Padang. The study population was all active Acceptors by injecting as many as 601 people, the total sample of 86 people, in a way Proportional Sampling. The data obtained were analyzed by univariate and bivariate frequency distribution with the statistical test Chi-Square. The results showed that of the 86 respondents, 69.8% acceptors using injectable contraceptives, 60.5% acceptors experiencing menstrual disorders. Chi-Square test there is a significant association between the use of contraceptive injections with menstrual disorders, with a value of 0.003 pvalue. The conclusion from this study is there a relationship between the use of injectable contraceptives with menstrual abnormalities acceptors. It is suggested to investigators in order to make this study as experience and add insight in doing research, for a study that this research can be used as material information in an effort to improve service.
Keywords: Injectable Contraception, Menstrual Disorders
Downloads
Download data is not yet available.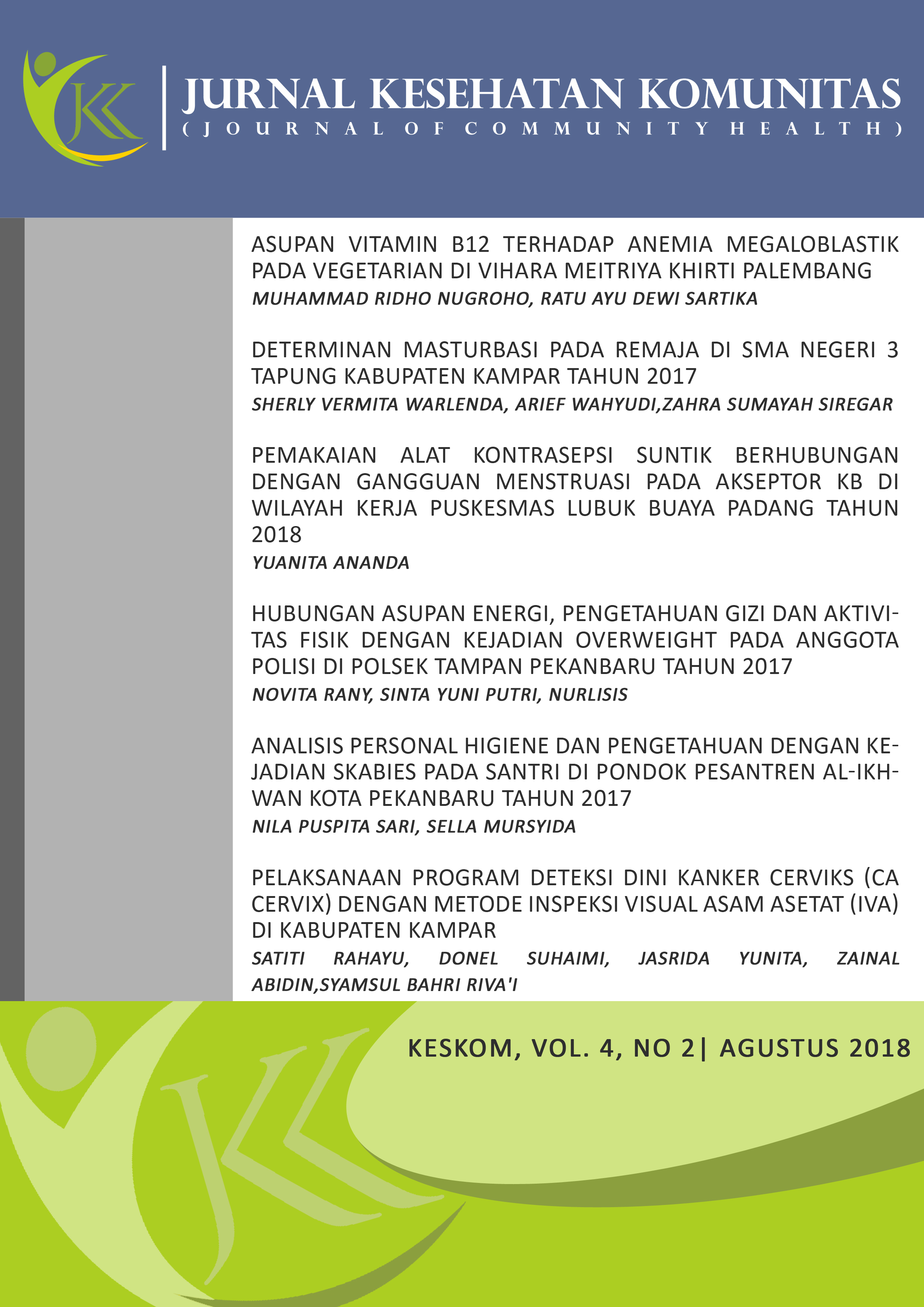 Downloads
How to Cite
1.
Ananda Y. Use of Injectable Contraceptives Relation with Menstrual Disorders on Family Planning Program Acceptors in Lubuk Buaya Public Health Center Padang 2018. J Keskom [Internet]. 2018 Dec. 30 [cited 2023 Jun. 9];4(2):52-6. Available from: https://jurnal.htp.ac.id/index.php/keskom/article/view/245
License
Copyright @2017. This is an open-access article distributed under the terms of the Creative Commons Attribution-NonCommercial-ShareAlike 4.0 International License (http://creativecommons.org/licenses/by-nc-sa/4.0/) which permits unrestricted non-commercial used, distribution and reproduction in any medium