Effectiveness Of Toilet Training Education On Mother's Behavior And Toddler Age Toilet Training Ability (18-36 Months)
EFEKTIVITAS EDUKASI TOILET TRAINING TERHADAP PERILAKU IBU DAN KEMAMPUAN TOILET TRAINING ANAK USIA TODDLER (18-36 BULAN)
Abstract
ABSTRACT
Toilet training is an effort to train children to be able to control and urinate (BAK) and defecate (BAB). Toilet training is one of the main tasks of children at toddler age. Toilet training is one of the main tasks of children in toddler age which is very important to be done to create independence in children in controlling BAK and BAB and children know the parts of the body and their functions. Data in 2012 shows that ± 60% of parents do not teach toilet training to children from an early age. The aim of the study was to find out the effectiveness of toilet training education on maternal behavior and toilet skills in toddler age training (18-36 months). The study was conducted in July-August 2018. This type of quantitative research used the design of the Quasy pretest and posttest experiment with non-equivalent control group design. Samples were 36 mothers and 36 children with purposive sampling technique. Data analysis used Paired t test, Wilcoxon test, Man-Whitney test an Independent t test. The results showed that toilet training education through lecture methods, modules and maze games was more effective than toilet training education through lecture and leaflet methods on children's knowledge and abilities. Conversely, for the role of mothers in supervision there is no significant difference in effectiveness. Health education is recommended in health promotion programs to increase maternal knowledge, the role of mothers and the ability of toilet training children independently.
Keywords: Toilet training, Lecture method, Module, Maze game, Leaflet, Knowledge, Role of mother, Children's ability.
Downloads
Download data is not yet available.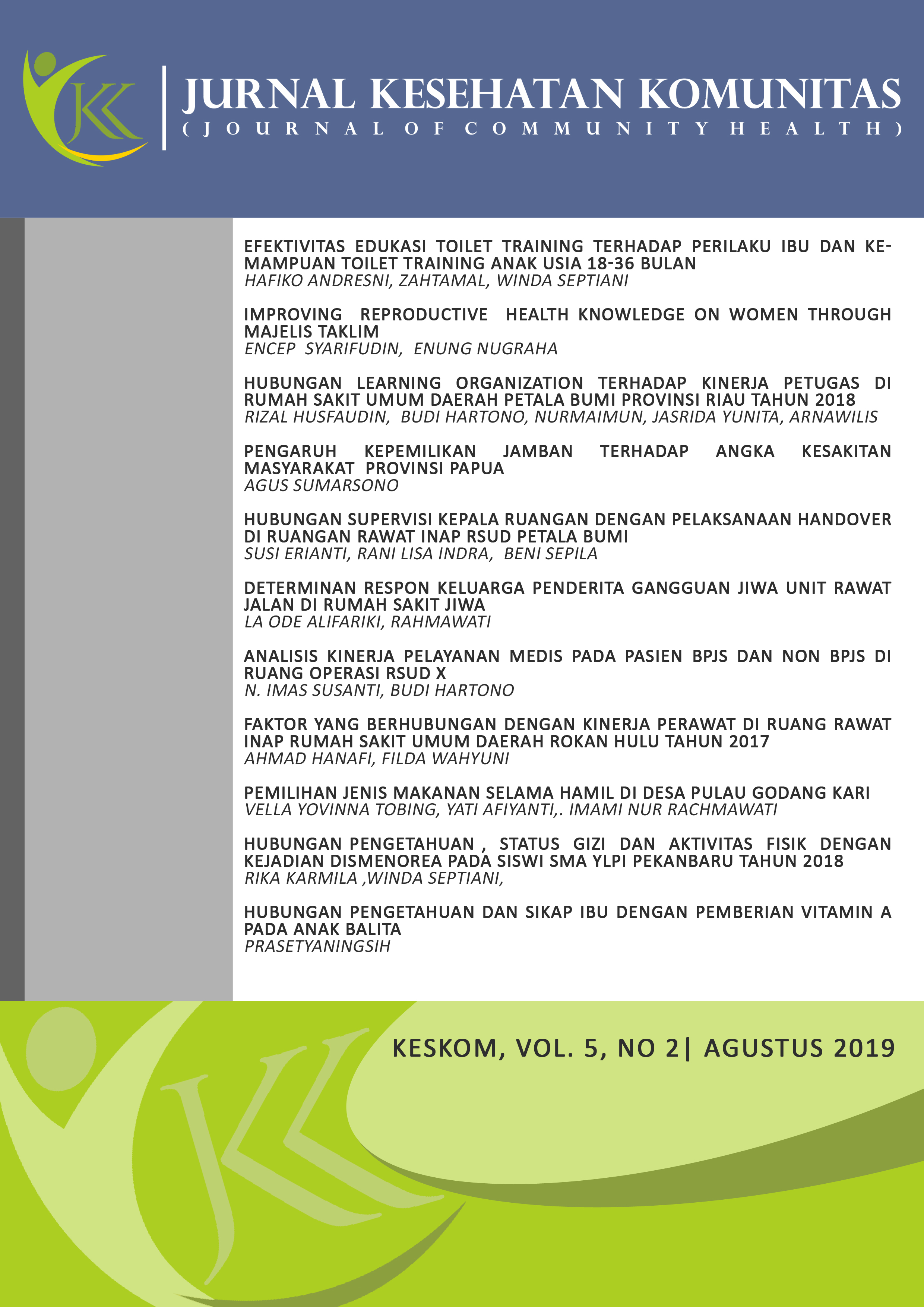 Downloads
Published
2019-09-03 — Updated on 2020-10-19
How to Cite
1.
Andresni H, Zahtamal Z, Septiani W, Mitra M, Lita L. Effectiveness Of Toilet Training Education On Mother's Behavior And Toddler Age Toilet Training Ability (18-36 Months): EFEKTIVITAS EDUKASI TOILET TRAINING TERHADAP PERILAKU IBU DAN KEMAMPUAN TOILET TRAINING ANAK USIA TODDLER (18-36 BULAN). J Keskom [Internet]. 2020 Oct. 19 [cited 2023 Jun. 5];5(2):49-55. Available from: https://jurnal.htp.ac.id/index.php/keskom/article/view/288
License
Copyright (c) 2019 Jurnal Kesehatan Komunitas
This work is licensed under a Creative Commons Attribution-NonCommercial-ShareAlike 4.0 International License.
Copyright @2017. This is an open-access article distributed under the terms of the Creative Commons Attribution-NonCommercial-ShareAlike 4.0 International License (http://creativecommons.org/licenses/by-nc-sa/4.0/) which permits unrestricted non-commercial used, distribution and reproduction in any medium