The Influence of Classical Music Therapy at Physiological Response to Patients Who Have Orthopedics Praoperatif Anxiety
Keywords:
Musik Klasik, Respon Fisiologis, Kecemasan Praoperatif Ortopedi
Abstract
Persiapan mental pasien sebelum dilakukan operasi sangat diperlukan. Apabila pasien mengalami kecemasan berat dan panik rencana operasi akan tertunda, hal tersebut memungkinkan resiko infeksi akan lebih besar. Dari berbagai penelitian menunjukan bahwa musik memiliki pengaruh yang kuat terhadap kesehatan, terutama dalam menenangkan pikiran, menurunkan ketegangan fisik dan menciptakan keadaan rileks, apabila pasien dalam keadaan rileks diharapkan dapat mempengaruhi respon fisiologis. Tujuan penelitian ini adalah untuk mengetahui pengaruh terapi musik klasik terhadap respon fisiologis pada pasien yang mengalami kecemasan praoperatif ortopedi. Desain penelitian adalah pra-eksperiment dengan jumlah sampel 30 orang menggunakan purposive sampling. Terapi musik diberikan selama ±30 menit. Analisis yang digunakan adalah Paired Sample T Test dan Wilcoxon. Didapatkan mean tekanan darah sistol sebelum terapi adalah 120,2 mmHg, setelah terapi 119,6 mmHg, p value= 0,227. Mean tekanan darah diastol sebelum terapi adalah 74,1 mmHg, setelah  terapi adalah 73,2 mmHg, p value= 0,133. Mean frekuensi denyut jantung sebelum terapi adalah 81,8 x/menit, setelah terapi adalah 79 x/menit, p value= 0,005. Median frekuensi pernafasan sebelum terapi adalah 23 x/menit, setelah dilakukan terapi adalah 21 x/menit, nilai p value = 0,001. Hal ini menunjukkan terapi musik klasik memiliki pengaruh terhadap frekuensi denyut jantung dan frekuensi pernafasan pada pasien yang mengalami kecemasan praoperatif ortopedi.  Peneliti menyarankan pemberian terapi musik klasik dengan frekuensi 2 sampai 3 kali sehari sebelum pasien menjalani operasi agar mendapatkan efek relaksasi yang optimal.
Downloads
Download data is not yet available.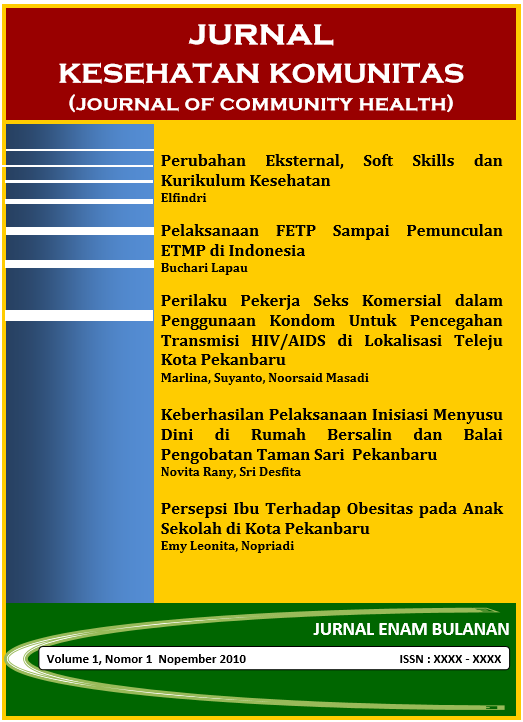 Downloads
How to Cite
1.
. A, Anggreny Y. The Influence of Classical Music Therapy at Physiological Response to Patients Who Have Orthopedics Praoperatif Anxiety. J Keskom [Internet]. 2012May16 [cited 2021Dec.9];1(4):205-9. Available from: https://jurnal.htp.ac.id/index.php/keskom/article/view/30
License
Copyright @2017. This is an open-access article distributed under the terms of the Creative Commons Attribution-NonCommercial-ShareAlike 4.0 International License (http://creativecommons.org/licenses/by-nc-sa/4.0/) which permits unrestricted non-commercial used, distribution and reproduction in any medium