A COLLABORATION OF NURSES AND DOCTORS IN THE INPATIENT ROOM AT ARIFIN ACHMAD GENERAL HOSPITAL OF RIAU PROVINCE
KOLABORASI PERAWAT DOKTER DI RUANG RAWAT INAP RUMAH SAKIT UMUM DAERAH ARIFIN ACHMAD PROVINSI RIAU
Keywords:
COLLABORATION OF NURSES AND DOCTORS IN THE INPATIENT ROOM AT ARIFIN ACHMAD GENERAL HOSPITAL OF RIAU PROVINCE
Abstract
collaboration is a form of collaboration between nurses and doctors for the same purpose of providing health services in order to increase patient recovery efforts. collaboration between nurses and doctors is limited to recording the doctor's instructions given without discussing and giving opinions or suggestions about the patient's health problems. the result of this study was to identify collaboration between nurses doctors in the inpatient hospital Arifin Ahmad Riau. this type of research is quantitative with descriptive design. the population in this research are all nurses in the inpatient room 196 nurses as populations. the type of samlping technique used in this research was purposive sampling. data collection tools using questionnaires with data processing using computerization and data analysis is done univariately. the results showed that more than half the population (66.8%) of nurses stated that the collaboration of nurses and doctors was not good. based on the results of this study it is suggested to nurses to improve the education, knowledge, and competence of nurses in the implementation of nursing care
Downloads
Download data is not yet available.
References
Alligood & Tomey. (2010). Nursing Theory Utilization And Application, St. Missouri: Elsevier Mosby, Inc.
American Paychiartric Nurse Association's (1994). A Statement on Psychiatric– Mental Healt Clinical Nursing Practice and Standart of Psychiatric–Mental Healt Clinical Practice.Washington, DC .
American Psychological Association. (2001). Publication Manual Of The American Association. (5th ed.). Washington: American Psychological Association.
Badjo, G.E, (2003). Kontribusi Karakteristik Perawat dan Metoda Keperawatan Primer terhadap Kolaborasi Perawat Primer dengan Dokter dan Klien di unit penyakit dalam dan bedah,P.K Carolus Jakarta tidak di publikasikan.
Baggs, J.G. & Scmitt,M.H. (1998). Collaboration Between Nurses and Physicians, 20 (3), 145-149
Bailey, K.P. & Snyder, M,E .(1995). The Implementation Of Advancd Practice Psychiatric Nurse Prescribes: A Comprehensive Model. Jurnal of The American Pssychiatric Nurse Association 1,183-189
Baiyekusi. (2010) Nurse-Physician Relationships: Nurse Perception In Internal Medicine and Surgical Units. Cental Ostrobothnia University of Applied Sciences.
Berger, K,J. & Williams, M.B. (1992). Fundamental of Nursing: Collaborating For Optimal Healt. Connecticut: Appleto &large
Braley, J.(1982). Communication in the nursing contex. Connecticud : Appleton- Century Crofts.
Chahal, H., & Mehta, S. (2014). Developing Patient Satisfaction Construct For Public and Private Health Care Sectors. Journal of Services Research, 13(2), 7-30.
Chang, RY. (2001). Sukses Melalui Kerja Sama Tim. Jakarta. Ppm City, MO: American Nurse Association.
Congeniality. (1999) Communication, Collegiality and Collaboration Can Improve Realtionshp between MDs: RNs and patients. Nurse week: 01-07.
Cytrin, A, Syander, R, Brand, D,A.. (2006) Relationships: A Comparision Of Attitusdes Of Nurse/ Physician: Journal Nurse: 26-42
Eugenia L. Siegler, MD, Fay W. Whitnakety. (2000) Kolaborasi Perawat-Dokter Perawatan Orang Dewasa dan Lansia. Penerbit Buku Kedokteran EGC Jakarta.
Feigi, L. & Smith. ( 1979) The Doctor–Nurse Relationship, Advanced in Psychiatric Treatment 10: 227-286
Gillies, D, 1996. Nursing management: a system approach. Philadelphia: Saunders Company.
Hastono. S, (2010). Statistik kesehatan. Jakarta: Raja Grafindo Persada.
Hidayat, Aziz A. (2007). Metode penelitian keperawatan dan teknik analisa data. Jakarta: Salemba Medika.
Keliat BA, Herawati N, Panjaitan RU, Helena CDN (1999) Proses Keperawatan Kesehatan Jiwa, Jakarta: EGC.
Kurniadi, A. (2013). Manajemen keperawatan dan prospektifnya: teori, konsep dan aplikasi. Jakarta – FKUI
Kreitner, R. and Kinicki, A. (2004). Organizational Behavior. Fifth Edition. New York: McGraw Hill.
Kramer. M & Schamalenberg, C. (2003) Securing Good Nurse-Physician Relationships: Explore the link between collaboration and quality patient care. Nursing Management: 34-38
Marquis B. L., & Huston C. J. (2012). Management and leadership in nursing health care. New York: Springer Pub.

Mathis, Robert L & Jhon H Jakson, (2006). Human Resource Management, Jakarta: Salemba Empat.
Mathis, I, M. (2011) Manajenen Sunber Daya Manusia, PT.Salemba Empat Jakarta.
Nisya, R & Hartanti, S. (2013) Prinsip-Prinsip Dasar Keperawatan, Jakarta Timur: Dunia Cerdas.
Nelson. A, G & King. L ,M.& Brodine. S, (2008) Nurse-Physician Collaboration On Medical-
Surgical Unit, Research For Practice: Medsurg Nursing vol 17.
Notoatmojo, S. (2010). Metodologi penelitian kesehatan. Jakarta: Rineka Cipta
.
Nursalam, (2008). Proses dan dokumentasi keperawatan: konsep dan praktik. Jakarta: Salemba
Medika.
Nursalam, (2011). Manajemen keperawatan: aplikasi dalam praktik keperawatan profesional.
Jakarta: Salemba Medika.
Pagano & Gaureau, (1993). Principle of bio statistics. California : Duxbury Press. An Imprint of
Wadsworth Publishing Company.
Parianto, A. (2007) Aspek Strategi Manajemen Rumah Sakit, Yogyakarta: Andi Cipta.
Poli, DF., & Hungler, B.p. (1999). Nurding research, principles and methods (6th ed). Philadelphia :
Lippioncot Company.
Polit & Hungler. (1999). Essential of nursing reseach. Philadelphia: Lippincot Company.

Potter, P. A., & Perry, A. G. (2009). Buku ajar fundamental: konsep, proses dan praktik. Jakarta: EGC.
Robbin, S. (1996). Perilaku Organisasi : konsep-kontroversi-aplikasi. Jilid 1&2, edisi bahasa
Indonesia,. Terjemahan oleh Hadyana Pujaatmaka. Jakarta: PT Prenhalindo.
Rumanti, E. (2009) Analisis Pengaruh Pengetahuan Perawat Tantang Indikator Kolaborasi Terhadap
Praktek Kolaborasi Perawat dan Dokter di Unit Rawat Inap RSJD Dr. Amino Gondohuromo
Semarang. Universitas Diponegoro.
Sayuti, (2007). Motivasi dan Faktor-faktor yang Mempengaruhi. Jakarta: Ghalia Indonesia.
Sopiyudin Dahlan (2009). Statistik untuk Kedokteran dan Kesehatan. Edisi empat. Jakarta: Salemba Medika.
Stephen P.Robbins & Thimothy A. Judge. (2009). Perilaku Organisasi, Jakarta: Salemba Empat
Shortridge, LM., Me Lain, B.R & Gillis, C.R. (1986). Nurses, Nurse protitioners: The evolution of
primary care. Boston : Little Brown.
Siegler & Whitney. (1994) Nurse-Physician Collaboration: Care Of Adults and the Elderly New York.
Sirota, T. (2002) Nursing / Physician Relationships: Impact on Nursing Satisfaction and Retention,
American Jurnal: 26-34.
Susanto, L. (2006) Memahami penggunaan ilmu ekonomi dalam manajemen rumah sakit. Yogyakarta:
Gadjah Mada University Press.
Suyanto. (2008). Mengenal kepemimpinan dan manajemen keperawatan di rumah sakit. Yogyakarta : Mitra Cendikia Press.
Tabak, N & Koprak, O. (2007) Relationship Between How Nurses Resolve Their Conflicts With Doctors, Their Stress and Job Satisfaction. Journal of Nursing Management: 135-331.

Weber, D. (2011). Leadership and nursing care management. 2nd ed. Philadelphia: W.B. Saunders Company.

Zuraidah. (2005) Analisis Faktor-Faktor yang BerHubungan dengan Kolaborasi Perawat-Dokter di Tinjau dari Perspektif Perawat di RSUD Tarakan Jakarta , Universitas Indonesia.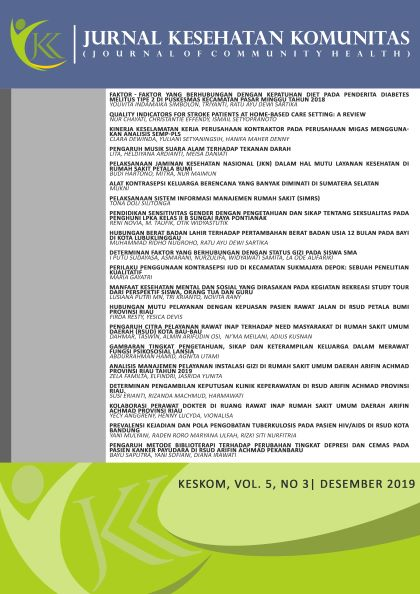 Downloads
How to Cite
1.
anggreny yecy, Lucyda H, Vionalisa V. A COLLABORATION OF NURSES AND DOCTORS IN THE INPATIENT ROOM AT ARIFIN ACHMAD GENERAL HOSPITAL OF RIAU PROVINCE: KOLABORASI PERAWAT DOKTER DI RUANG RAWAT INAP RUMAH SAKIT UMUM DAERAH ARIFIN ACHMAD PROVINSI RIAU. J Keskom [Internet]. 2019 Dec. 31 [cited 2022 Jun. 25];5(3):235-40. Available from: https://jurnal.htp.ac.id/index.php/keskom/article/view/469
License
Copyright @2017. This is an open-access article distributed under the terms of the Creative Commons Attribution-NonCommercial-ShareAlike 4.0 International License (http://creativecommons.org/licenses/by-nc-sa/4.0/) which permits unrestricted non-commercial used, distribution and reproduction in any medium