The association of pregnant women trimester I knowledge with genesis abortion in RSUD Arifin Achmad Pekanbaru
Keywords:
knowledge, genesis abortion, RSUD Arifin Achmad
Abstract
Abortionis the result of conceptions pending prematurely. Abortion can be caused bylack of knowledge oftheir mother. The most frequent causes of maternal mortality are hemorrhage. As has been previously known that bleeding is a complication of abortion. There are many women's health issues, especially onthe background pregnancy problems or complications of pregnancy and thecauseof maternal mortality, one of whichisabortion. Data from Riau province Arifin Achmad abortion case in 2011 reached 94 pregnant women, abortion case in 2012 decreased to 90 cases. Then in the year 2013 as many as109 people. The purpose of this study was to determine the relationship of knowledge of pregnant women with a first trimester abortion at Arifin Achmad Pekanbaru 2015. This research methodusing aquantitative analytical research type and cross sectional Desaign. This research was conducted at Arifin Achmad Riau province on April 4 to May 4 2015. The population in this study were all first trimester pregnant women who cometo Arifin Achmad and obtaineda sample of 34 respondents, the sampling technique that is by accidental sampling. Retrieving data using primary data using questionnaires, data processing is computerized and data analysis done by univariate and bivariate. The results obtained by the majority of respondents have less knowledge as much as 28 people (82.4%) and experienced abortion as many as 21 people (61.8%). While the results of the chi square test results obtained significant correlation between knowledge with abortion with p = 0.007 <0.05. Expected to health workers cannot give information about the factors associated with the incidence of abortion to pregnant women who visit each other to hospitals, so that the mother can knowandbe able totake reasonable precautions against abortion. 
Downloads
Download data is not yet available.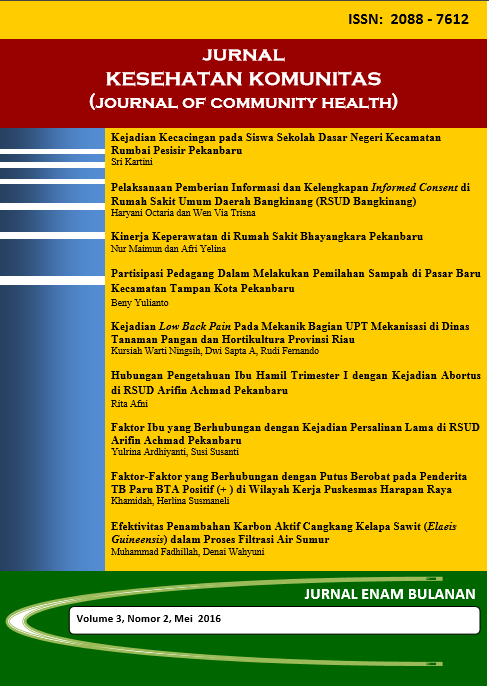 Downloads
How to Cite
1.
Afni R. The association of pregnant women trimester I knowledge with genesis abortion in RSUD Arifin Achmad Pekanbaru. J Keskom [Internet]. 2016May1 [cited 2021Dec.9];3(2):79-82. Available from: https://jurnal.htp.ac.id/index.php/keskom/article/view/107
License
Copyright @2017. This is an open-access article distributed under the terms of the Creative Commons Attribution-NonCommercial-ShareAlike 4.0 International License (http://creativecommons.org/licenses/by-nc-sa/4.0/) which permits unrestricted non-commercial used, distribution and reproduction in any medium