Factors of The Mother Related to Obstructed Labour Case at RSUD Arifin Achmad Pekanbaru
Keywords:
Obstructed Labour, His, Parity, Age
Abstract
Obstructed labour is one cause of the death  mother and fetus. On the mother, it can cause an infection, exhaustion, dehydration and post partum hemorrhage. On the fetus, it can cause an infection, injured and asphyxia. Obstructed labour is influenced by maternal factors, fetal factors, and factors of the birth canal. The purpose of research was to determine the maternal factors associated with the incidence of obstructed labour. This research was conducted at RSUD Arifin Achmad in 2013. This research is a quantitative research with case control study design. The samples used in this study were 24 mothers who experience as obstructed labour and 24 mother with normal birth as control. The sampling procedure for this case done by total population and sampling as control using Systematic Random Sampling technique. Collecting data methods using a checklist sheet with the dependent variable of obstructed labour, as known as: prolonged labour which last > 18 hours starting from the signs of labour that are listed in the diagnosis of file / status of the mother, the independent variables include age, parity and his. Data analysis was performed using univariate and bivariate with chi–square test. The result showed that there is a relationship between age with the incidence of obstructed labour (OR : 4,000; 95% CI : 1,583–46,277),  relationship between parity with the incidence of obstructed labour (OR : 3,400; 95% CI : 1,027–11,257) and relationship between his with the incidence of obstructed labour (OR : 9,308; 95% CI : 1,778–48,723). We recommend that RSUD Arifin Achmad as the leading healthcare facilities in public health services is expected to improve health services, especially with the immediate response of labour with complications that require immediate action in order to reduce Maternal Mortality Rate and Infant Mortality Rate. 
Downloads
Download data is not yet available.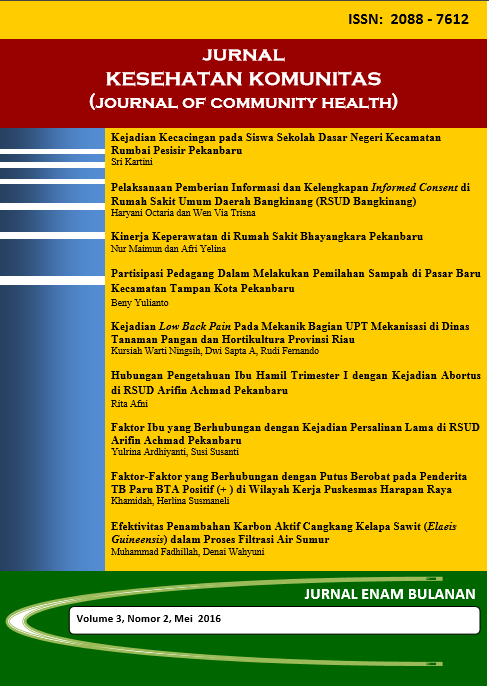 Downloads
How to Cite
1.
Ardhiyanti Y, Susanti S. Factors of The Mother Related to Obstructed Labour Case at RSUD Arifin Achmad Pekanbaru. J Keskom [Internet]. 2016 May 1 [cited 2023 Dec. 10];3(2):83-7. Available from: https://jurnal.htp.ac.id/index.php/keskom/article/view/108
License
Copyright @2017. This is an open-access article distributed under the terms of the Creative Commons Attribution-NonCommercial-ShareAlike 4.0 International License (http://creativecommons.org/licenses/by-nc-sa/4.0/) which permits unrestricted non-commercial used, distribution and reproduction in any medium