Influence The Role of Parents of Adolescent about Reproductive Health Knowledge
Keywords:
Role of parents, Knowledge of Adolescent Reproductive Health, Pekanbaru City
Abstract
Knowledge of adolescents on reproductive health in the city of Pekanbaru is quite low as evidenced by the data obtained from the Pekanbaru city PKBI abortions among teenagers as much as 21.2%. Cases of HIV/AIDS, Pekanbaru is the highest AIDS case and HIV cases in the group is the third highest teen. This study was conducted to determine the factors associated with adolescents about reproductive health knowledge in all high school in Pekanbaru in 2013. This study is a quantitative research with cross sectional research design study. Number of samples is 250 teens high school in Pekanbaru. The sampling procedure by systematic random sampling, data collection and analysis of data using questionnaires univariate, bivariate chi–square test, multivariate multiple logistic regression. The results obtained most of the knowledge of adolescents about reproductive health is not good as much as 161 people (64.4%), variables related to the knowledge of adolescents about reproductive  health is the role of parents (OR : 1.982; 95% CI : 1.127–3.487), the variable which is not related to knowledge of adolescents about reproductive health is the influence of peers and teachers who become confounding variables with other variables. Parents should be pursued in order to increase knowledge about reproductive health, attachment to the child and determine when it is appropriate to provide knowledge about reproductive health so that the information obtained is the first before the child got it from the others
Downloads
Download data is not yet available.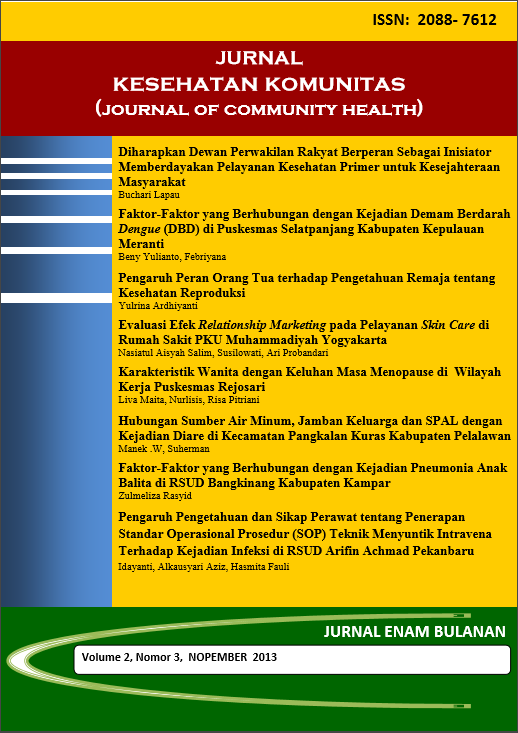 Downloads
How to Cite
1.
Ardhiyanti Y. Influence The Role of Parents of Adolescent about Reproductive Health Knowledge. J Keskom [Internet]. 2013 Nov. 1 [cited 2022 Oct. 5];2(3):117-21. Available from: https://jurnal.htp.ac.id/index.php/keskom/article/view/57
License
Copyright @2017. This is an open-access article distributed under the terms of the Creative Commons Attribution-NonCommercial-ShareAlike 4.0 International License (http://creativecommons.org/licenses/by-nc-sa/4.0/) which permits unrestricted non-commercial used, distribution and reproduction in any medium