Analysis of The Readiness of The Technical Unit (UPT) Health Laboratory of Pekanbaru City in Implementing the Policy of The Regional Public Service Agency(BLUD) in Pekanbaru CityIn 2020
Abstract
The health laboratory is a public service institution that has an important role in improving public health status. With the increasing demands for health laboratories in improving services, many problems have arisen related to the lack of human resources, budgeting, long bureaucratic flows of disbursement of funds, long process of procuring facilities and infrastructure, and financial management regulations that hinder the smooth running of services. Through the Regional Public Service Agency (BLUD), the technical unit (UPT) health laboratory of Pekanbaru city is expected to have flexibility in managing finances independently, increasing professionalism, entrepreneurship, transparency, and accountability that can improve services to the community. The purpose of this study was to analyze the readiness of UPT health laboratory of Pekanbaru city in the Implementation of BLUD policy in Pekanbaru city in 2020. The study was qualitative. 6 informants were consisting of 5 main informants and 1 supporting informant. The triangulation used were the source, method, and data triangulation. The results showed that readiness in terms of input was still lacking in human resources in finance and administration. From a process point of view, the UPT health laboratory of Pekanbaru city has completed all the substantive, technical, and administrative requirements. And in terms of output, the UPT health laboratory of Pekanbaru city is ready to implement the BLUD policy. It is hoped that the UPT health laboratory of Pekanbaru city will immediately submit an assessment of the implementation of BLUD policies. Becoming a BLUD can fulfill their needs independently with a faster process.
Downloads
Download data is not yet available.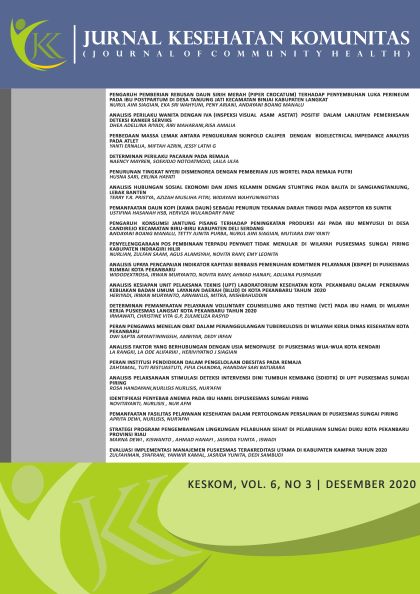 Downloads
How to Cite
1.
heriyadi heriyadi, Muryanto I, Arnawilis A, Mitra M, Mishbahuddin M. Analysis of The Readiness of The Technical Unit (UPT) Health Laboratory of Pekanbaru City in Implementing the Policy of The Regional Public Service Agency(BLUD) in Pekanbaru CityIn 2020. J Keskom [Internet]. 2021 Feb. 26 [cited 2023 Mar. 21];6(3):328-34. Available from: https://jurnal.htp.ac.id/index.php/keskom/article/view/615
License
Copyright (c) 2021 Jurnal Kesehatan Komunitas
This work is licensed under a Creative Commons Attribution-NonCommercial-ShareAlike 4.0 International License.
Copyright @2017. This is an open-access article distributed under the terms of the Creative Commons Attribution-NonCommercial-ShareAlike 4.0 International License (http://creativecommons.org/licenses/by-nc-sa/4.0/) which permits unrestricted non-commercial used, distribution and reproduction in any medium