Stunting Problems and Interventions to Prevent Stunting (A Literature Review)
Keywords:
Stunting, Scaling Up Nutrition, Intervention
Abstract
Stunting is the nutritional problems in the world, especially occurred indeveloping and poor countries. Stuntingcan increase the risk of morbidity and mortality, and suboptimal brain development so that delayed motor development and mental retardation. Stuntingis a form ofgrowth failuredue tothe accumulation of nutrientin sufficiency from the beginning of pregnancy until 24 months old. This situation is exacerbated by inadequate catchup growth. In Indonesia, based of Basic Health Research,there was an increase o f36.8% stunted children in 2010 to37.2% in 2013. Over the past 20 years,handling the problem of stunting is very slow. Globally, the percentage of children who were stunteddec lined by only 0.6 percent per year since 1990. WHO proposed a global target reduction in the incidence of stunting in children under five years old by 40% in 2025, but it was predictedonly1536  countries that meetthose targets. The purpose of this article was examined the incidence of stunting reduction and interventions of the policy. Focus on movement to improve nutrition to target the first 1,000 days of life, in the global order it was called Scaling Up Nutrition (SUN) and in Indonesia called the National Movement for Nutrition Improvementin 1000 First Day of Life. The intervention consisted of specific interventions (short-term) and sensitive intervention (long-term).
Downloads
Download data is not yet available.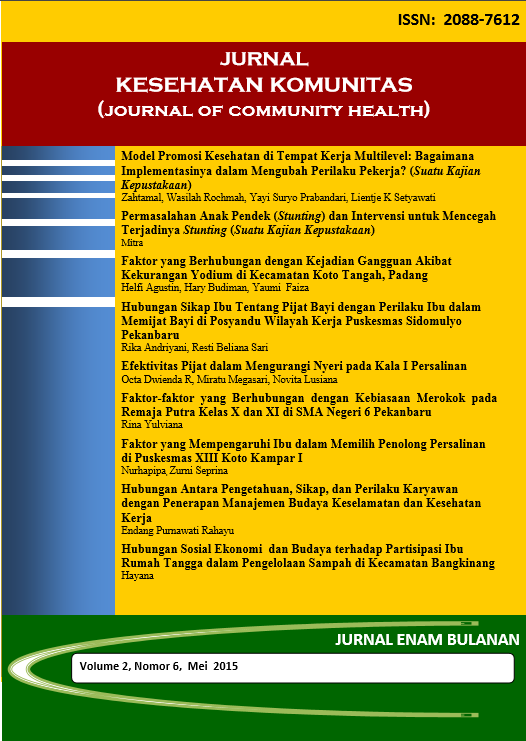 Downloads
How to Cite
1.
Mitra M. Stunting Problems and Interventions to Prevent Stunting (A Literature Review). J Keskom [Internet]. 2015 May 1 [cited 2023 Mar. 21];2(6):254-61. Available from: https://jurnal.htp.ac.id/index.php/keskom/article/view/85
License
Copyright @2017. This is an open-access article distributed under the terms of the Creative Commons Attribution-NonCommercial-ShareAlike 4.0 International License (http://creativecommons.org/licenses/by-nc-sa/4.0/) which permits unrestricted non-commercial used, distribution and reproduction in any medium