Risk Factors Incident Preterm Labor
Keywords:
Complications of pregnancy, maternal age, parity, incidence of preterm labor
Abstract
Preterm labor or parturition Prematurus is labor that occurs at age less than 37 weeks of pregnancy is calculated from the first day of last period. Data in hospitals Arifin Achmad Pekanbaru data obtained in 2010 obtained data on the number of labor as much as 2400 cases, with 190 cases of preterm labor (7.91%), in 2011 the number of births as 2287 cases with 279 cases of preterm labor (12%) and in the period January-April 2012 Number 780 cases of preterm labor (11.5%). The purpose of research is knowing the relationship of the complications of pregnancy, a history of preterm labor, anemia, age and parity with preterm labor. Type of research is a case-control study. The population in this study were all mothers giving birth at hospitals Arifin achmad Pekanbaru. Size of the sample consisted of 245 cases and 245 controls. Data analysis was performed by univariate, bivariate and multivariate Logistic Regression method Ganda. The results is a complication of pregnancy (95% CI: 4.09 to 9.21), age (95% CI: 1.58 to 3.69), and parity (95% CI: 1.05 to 2.36) associated with preterm labor. The conclusion that the dominant variables associated with the incidence of preterm birth is a complication of pregnancy and no variable counfounding. Advice to pregnant women who experience pregnancy complications during their pregnancy on a regular basis at least four times during pregnancy and high parity mothers are advised to use contraception; To health professionals to classify the status of patients at risk to facilitate the provision of IEC.
Downloads
Download data is not yet available.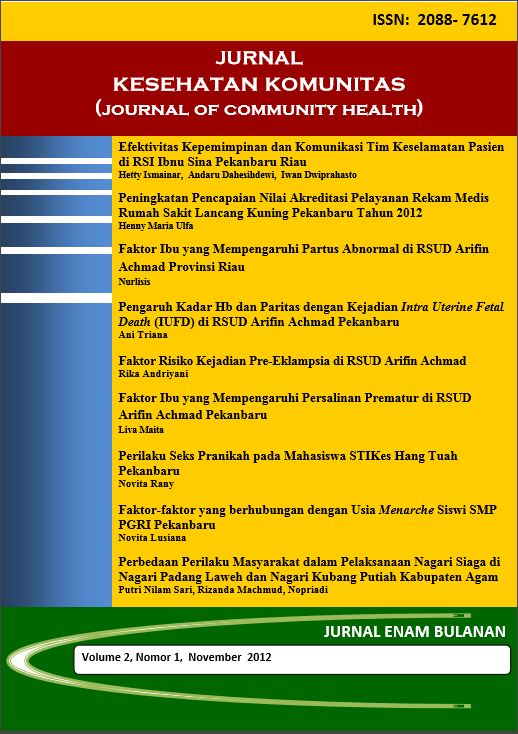 Downloads
How to Cite
1.
Maita L. Risk Factors Incident Preterm Labor. J Keskom [Internet]. 2012 Nov. 9 [cited 2023 Feb. 6];2(1):31-4. Available from: https://jurnal.htp.ac.id/index.php/keskom/article/view/39
License
Copyright @2017. This is an open-access article distributed under the terms of the Creative Commons Attribution-NonCommercial-ShareAlike 4.0 International License (http://creativecommons.org/licenses/by-nc-sa/4.0/) which permits unrestricted non-commercial used, distribution and reproduction in any medium