Factors Associated with the Incidence of Postpartum Hemorrhage in Arifin Achmad Riau Province Year 2009-2010
Keywords:
Postpartum Hemorrhage, RSUD Arifin Achmad Provinsi Riau
Abstract
Data from Health office of Riau Province Riau Provincial Health Office and the showed 34.13 % incidence of maternal mortality caused by bleeding maternity in 2009 had considerable proporsi (34.13%). The incidence of bleeding was the highestr among than most proporsi proporsi other causes of maternal mortality. From this data there is an increase in 69 cases of postpartum hemorrhage. This study aims to prove investigate the factors associated with the incidence of postpartum hemorrhage. This research method with a quantitative analytical study design was case control study conducted in May-June 2012 at the Arifin Achmad Hospital in Riau Province. Number of 446 samples consisting consist of 223 cases and 223 controls. Measuring instruments used is a checklist list. For bivariate data analysis analyzed using with Chi-square test and multivariate logistic regression Test Doubles. Results of this study showed women with age <20 and> 35 years 12 times more at risk than women with age 20-35 years with a value of 12 336 OR (95% CI 7094-21452), followed by maternal parity> 3 riskier 4 times than in women with parity 1-3 with 3,833 times the value of OR (95% CI 2.13-6.89), women with hemoglobin levels <11gr/100dl 2 times more at risk than women with Hb values 11gr/100dldengan OR 2,027 times (CI 95% 1144-3987), whose mother did not visit antenatal K4 2 times more at risk than women who did not visit dengaZZn with grades K4 OR 2.090 (95% CI 1002-4359), mothers with less than secondary education down 2 times more risky than the mothers who have a high school education up to 2,027 times the value of OR (95% CI 1144-3987), working mother with 2 times the risk of having a mother who does not work with nillai 1,966 times (95% CI 1136-3402) and the factor of labor history konfonding is variable in this study. This study suggest, mother with risk factors with Expected to pregnant women with risk factors who experienced postpartum hemorrhage in order have to increase their knowledge by information from healthcare, in a way that made listening extension health workers, newspaper and television about the importance of antenatal care to prevent postpartum hemorrhage
Downloads
Download data is not yet available.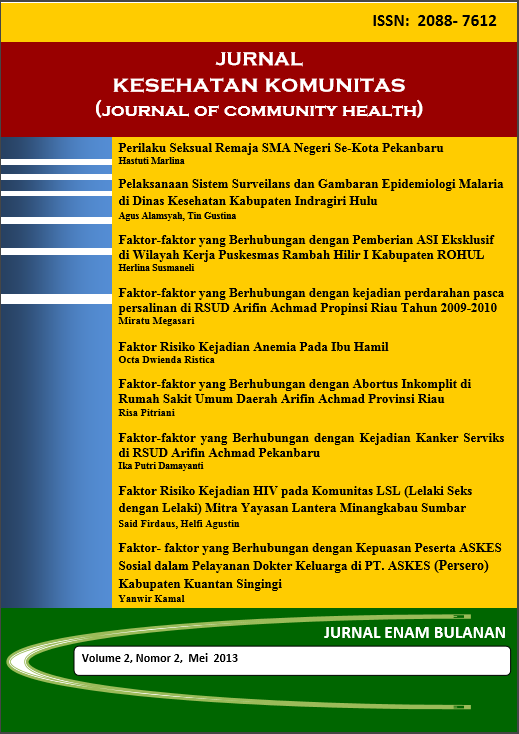 Downloads
How to Cite
1.
Megasari M. Factors Associated with the Incidence of Postpartum Hemorrhage in Arifin Achmad Riau Province Year 2009-2010. J Keskom [Internet]. 2013 May 9 [cited 2023 Mar. 21];2(2):72-7. Available from: https://jurnal.htp.ac.id/index.php/keskom/article/view/48
License
Copyright @2017. This is an open-access article distributed under the terms of the Creative Commons Attribution-NonCommercial-ShareAlike 4.0 International License (http://creativecommons.org/licenses/by-nc-sa/4.0/) which permits unrestricted non-commercial used, distribution and reproduction in any medium