The Relationship Between Low Birth Weight Neonates And Asphyxia Neonatorum at Arifin Achmad Hospital
Hubungan Berat Badan LahirRendah (BBLR) DenganAsfiksiaNeonatorumDiRSUDArifin Achmad
Keywords:
low birth weight,, asphyxia,, Arifin Achmad Hospital
Abstract
ABSTRACT
            Asphyxia is breathing difficulty that occurs in newborns. Low birth weight (LBW) neonates often suffer from asphyxia, this are due to surfactant deficiency, incomplete lung growth, weak respiratory muscles, and easily bent ribs, therefore it can not supply oxygen enough of the placenta. Data from Arifin Achmad Hospital showed that the number of neonatal asphyxia includes 15 largest disease as the cause of infant mortality. In 2014 from January to September there were 36 cases of asphyxia of 955 newborns (3.76%). The purpose of this study was to determine the relationship between LBW and asphyxia neonatorum at Arifin Achmad Hospital Riau Province in 2014. This research method used quantitative analytical research and the design was case control. This research was conducted at Arifin Achmad Hospital Riau Province on March 3 until May 3 2015. The population in this study was all newborn babies who born at Arifin Achmad Hospital and samples were 72 respondents which consisted of 36 cases and 36 control. The sampling technique was simple random sampling. Data collection used secondary data by using a checklist sheet, data was processed by computer and data analysis used univariate and bivariate. The results from the chi square test showed that there was a relationship between LBW and asphyxia indicated by p value = 0.002 <0.05. It is expected that health professionals can provide information about the factors related to asphyxia as low birth weight, risk factor of maternal nutritional status to the mother and fetus. In addition, to health workers are also expected to provide information to pregnant women about how to prevent LBW and asphyxia by providing brochures, leaflets and others.
Downloads
Download data is not yet available.
References
APN. (2008). Asuhan Persalinan Normal. Jakarta: JNPK-KR.

Amira (2012). Faktor – Faktor yang berhubungan dengan Bayi Asfiksia di RS Mitra Husada Medan. skripsi

Dimia (2011). Pengaruh bayi BBLR dengan Asfiksia di RS Bina Kasih. skripsi


Mitayani. (2010). Mengenal Bayi Baru Lahir dan Penatalaksanaannya. Padang : Badouse Media.

Notoatmodjo, S. (2009). Metodologi penelitian kesehatan. Jakarta : Rineka Cipta.

Sarwono, Prawihardjo. 2009). Ilmu Kebidanan. Jakarta: Bina Pustaka

Sarwono, Prawihardjo. 2010). Ilmu Kebidanan. Jakarta: Bina Pustaka

Sondakh, J. (2013). Asuhan kebidanan persalinan & bayi baru lahir. Jakarta : Erlangga.
Soresmi (2012) Hubungan BBLR dengan kejadian asfiksia neonaturum di RSUD Manggala. Lampung. skripsi

Zulhaida, L. (2008). Status Gizi Ibu Hamil Serta Pengaruhnya Terhadap Bayi Yang Dilahirkan. Erlangga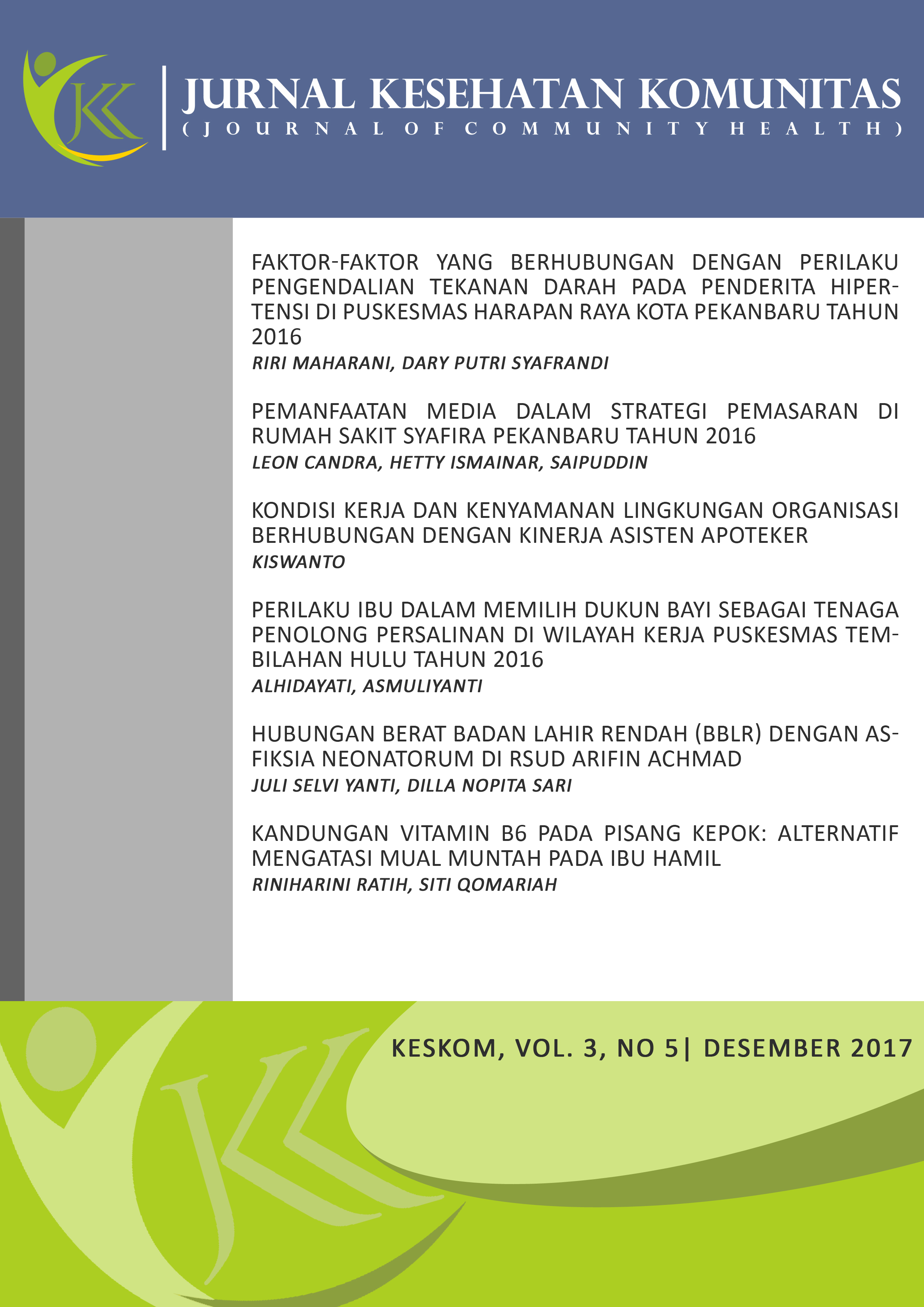 Downloads
How to Cite
1.
yanti juli selvi. The Relationship Between Low Birth Weight Neonates And Asphyxia Neonatorum at Arifin Achmad Hospital: Hubungan Berat Badan LahirRendah (BBLR) DenganAsfiksiaNeonatorumDiRSUDArifin Achmad. J Keskom [Internet]. 2018Mar.27 [cited 2021Oct.26];3(5):189-92. Available from: https://jurnal.htp.ac.id/index.php/keskom/article/view/115
License
Copyright @2017. This is an open-access article distributed under the terms of the Creative Commons Attribution-NonCommercial-ShareAlike 4.0 International License (http://creativecommons.org/licenses/by-nc-sa/4.0/) which permits unrestricted non-commercial used, distribution and reproduction in any medium