Relationship Between Birth Weight Against Weight Gain 12 Months of Age in Babies at Lubuklinggau City
Keywords:
Birth weight, body weight 12 months old, immunization
Abstract
The baby's weight gain is very rapid, but the rate of weight gain is getting less and less. At the age of 5 months, a baby weighs twice his birth weight, while at 1 year his weight reaches three times his birth weight, and at 2 years his weight weighs four times his birth weight. The purpose of this study was to determine the relationship between birth weight and factors influencing weight gain at the age of 12 months in babies born at the midwife independent practice clinic (BPM) in Lubuklinggu City, South Sumatra Province in 2019. Sample of 108, research design cross sectional. The results showed there was a relationship between birth weight (p value = 0.001) and immunization status (p value = 0.017) to the baby's weight gain at 12 months of age.
Downloads
Download data is not yet available.
References
1. Victora, C. G. et al. (2008) 'Maternal and Child Undernutrition 2 Maternal and child undernutrition : consequences for adult health and human capital', 371, pp. 340–357. doi: 10.1016/S0140-6736(07)61692-4.
2. The World Bank (2006) 'Repositioning Nutrition as Central to Development', (The International Bank for Reconstruction and Development/The World Bank 1818 H Street, NW Washington, DC 20433 USA).
3. Gupte S (2004) Panduan Perawatan Anak. Jakarta: Pustaka Populer Obor.
4. Indriastuti, P. and Susyanto, B. E. (2007) 'Faktor-Faktor Maternal yang Mempengaruhi Kenaikan Berat Badan Bayi Maternal Factors Affecting Baby ' s Weight Increase', Mutiara Medika, 7(2), pp. 95–104.
5. Karima, K. and Achadi, E. L. (2012) 'Status Gizi Ibu dan Berat Badan Lahir Bayi Nutrition Status and Infant Birth Weight', Jurnal Kesehatan Masyarakat (e- Journal), 7(3), pp. 111–119.
6. Hadi, H. (2005) Beban Ganda Masalah Gizi dan Implikasinya Terhadap Kebijakan Pembangunan Kesehatan Nasional. Yogyakarta: Fakultas Kedokteran UGM.
7. Dinas Kesehatan Kota Lubuklinggau (2017) Profil Kesehatan Kota Lubuklinggau Tahun 2016. Lubuklinggau.
8. Oktarina, Z. (2012) Hubungan berat lahir dan faktor-faktor lainnya dengan kejadian stunting pada balita usia 24-59 bulan , di Provinsi Aceh, Sumatera Utara, Sumatera Selatan dan Lampung Tahun 2010. Universitas Indonesia.
9. Allen, Lindsay H, S. R. G. (2001) ACC/SCN Nutrition Policy Paper No19 and ADB Nutritionand Development Series No5. Manila.
10. Varela-Silva MI, Azcorra H, Dickinson F, Bogin B, F. A. (2009) 'Influence of maternal stature, pregnancy age, and infant birth weight on growth during childhood in Yucatan, mexico : a test of the intergenerational effects hypothesis', Am J Hum Biol, 21(5), pp. 657–63.
11. Bobok S Simanjuntak (2011) Hubungan Antara Berat Badan Lahir dan Faktor-Faktor Lainnya dengan Stunting (Pendek) Pada Anak Usia 12-59 Bulan di Sulawesi Tahun 2010 (Analisis Data Riskesdas 2010). Universitas Indonesia.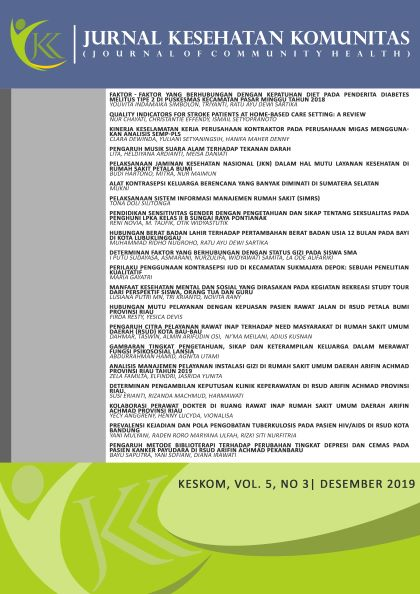 Downloads
How to Cite
1.
Nugroho MR, Ayu Dewi Sartika R. Relationship Between Birth Weight Against Weight Gain 12 Months of Age in Babies at Lubuklinggau City. J Keskom [Internet]. 2019 Dec. 31 [cited 2022 Dec. 5];5(3):173-8. Available from: https://jurnal.htp.ac.id/index.php/keskom/article/view/434
License
Copyright @2017. This is an open-access article distributed under the terms of the Creative Commons Attribution-NonCommercial-ShareAlike 4.0 International License (http://creativecommons.org/licenses/by-nc-sa/4.0/) which permits unrestricted non-commercial used, distribution and reproduction in any medium