Factors Affecting In Choosing The Birth Mother In Health Care Delivery XIII Koto Kampar I
Keywords:
Attitude, Affordability, Family Support, Birth Attendant
Abstract
The utilization of birth assistance by a professional health worker (midwife) in the community is very low compared to the target expected.The determinants of choosing birth attendant include the factors of education, knowledge, attitude, economic status, affordability,health worker and traditional birth attendant. The purpose of this survey study with cross-sectional approach was to analyze the factor of determinant influencing the mothers in choosing birth attendant at Puskesmas (Community Health Center) XIII Koto Kampar I, Kampar Subdistrict, in 2013. The population of this study was all of the 71 mothers who gave birth (born alive or stillborn) in the past 6 (six) months from October 2012 to March 2013 in the working area of Puskesmas XIII Koto Kampar I and all of the mothers were selected to be the samples for this study. All of the variables were analyzed Multiple Logistic Regression tests. The result of this study showed that the factors of attitude (p = 0.011), affordability (p = 0.001), and family support (p = 0.042) had influence on choosing birth attendant. Affordability was the most dominant variable influencing the process of choosing birth attendant with regression coefficient of 2.702.
Downloads
Download data is not yet available.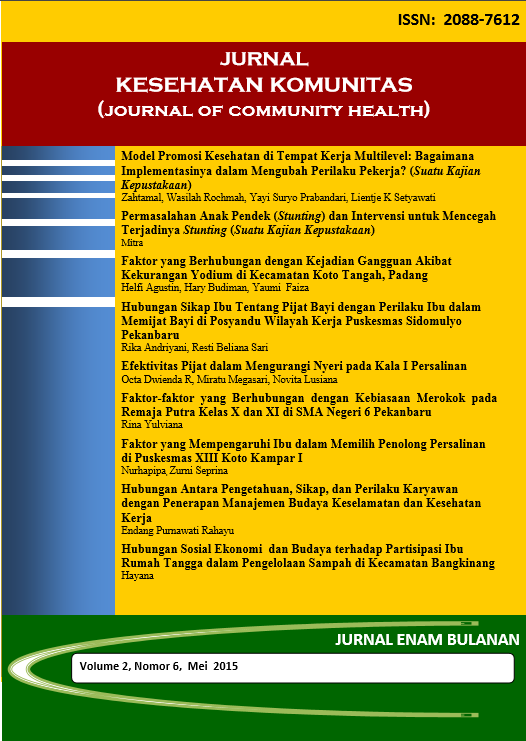 Downloads
How to Cite
1.
. N, Seprina Z. Factors Affecting In Choosing The Birth Mother In Health Care Delivery XIII Koto Kampar I. J Keskom [Internet]. 2015 May 1 [cited 2023 Jan. 28];2(6):283-8. Available from: https://jurnal.htp.ac.id/index.php/keskom/article/view/90
License
Copyright @2017. This is an open-access article distributed under the terms of the Creative Commons Attribution-NonCommercial-ShareAlike 4.0 International License (http://creativecommons.org/licenses/by-nc-sa/4.0/) which permits unrestricted non-commercial used, distribution and reproduction in any medium