Faktors Related To The Elderly Visit Behavior Of To Seniorsin The Work Area Ihc Health Center Kampar Regency In 2013
Keywords:
Behavior Visits, IHC elderly, Knowledge
Abstract
For the number of visits to the elderly elderly IHC from year to year is low, as it is still below the target minimum service standards (MSS) which is 70%. This study aims at knowing the factors related to the behavior of the elderly to visit the elderly posyandu Knowledge, Attitude, Family Support, The Role of Health Personnel, Access, Employment Status, Education, Gender, Age. Type of research is the study used cross-Analytical (Analytical Cross Sectional Study) with a sample of 250 people. The sampling process is done by proportional random sampling, data analysis was performed using univariate, bivariate, and multivariate logistic regression Test Doubles. Results of this study was the proportion of elderly who visited posyandu 102 people (40.8%), and 148 people who did not visit (59.2%). While the variable knowledge gained POR 8.2 (95% CI: 4.3 to 15.7), attitude POR 2.1 (95% CI: 1.16 to 3.9), family support POR 2.4 (1, 27 to 4.64), the role of health workers POR 2.6 (95% CI: 1.36 to 5.32), access POR 2.09 (95% CI: 1.12 to 3.9), education POR 2 , 3 (95% CI: 1.1 to 4.86). The conclusion of this study is that there is a relationship between the Knowledge, Attitude, Family Support, The Role of Health Personnel, Access, Education to conduct neighborhood health center visits to elderly seniors. Advice for health promotion officer needs to be planned, directed, and sustained and the officer immediately diposyandu varying the existing activities, and the family must always provide support and are available to take seniors keposyandu
Downloads
Download data is not yet available.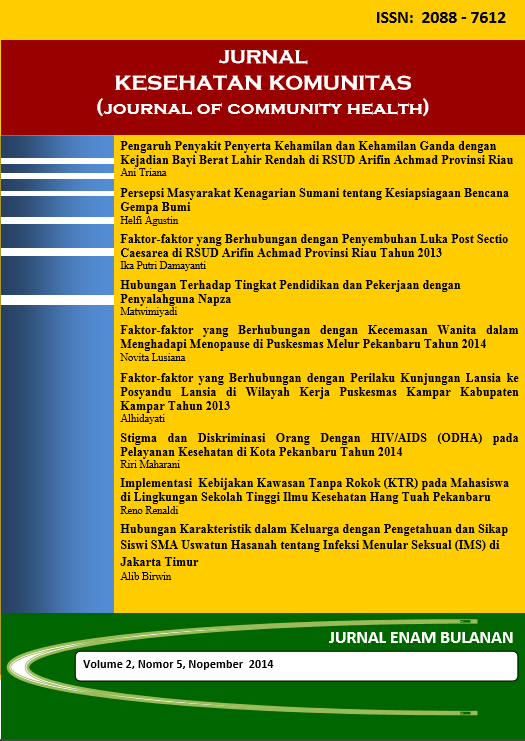 Downloads
How to Cite
1.
. A. Faktors Related To The Elderly Visit Behavior Of To Seniorsin The Work Area Ihc Health Center Kampar Regency In 2013. J Keskom [Internet]. 2014 Nov. 1 [cited 2022 Oct. 5];2(5):220-4. Available from: https://jurnal.htp.ac.id/index.php/keskom/article/view/78
License
Copyright @2017. This is an open-access article distributed under the terms of the Creative Commons Attribution-NonCommercial-ShareAlike 4.0 International License (http://creativecommons.org/licenses/by-nc-sa/4.0/) which permits unrestricted non-commercial used, distribution and reproduction in any medium