Relationship Training and Supervision with at Risk Behavior on Dump Truck's Driver
Hubungan Pelatihan Dan Pengawasan Dengan At Risk Behavior Pada Pengemudi Mobil Sampah
Keywords:
At Risk Behavior, pelatihan, pengawasan
Abstract
At risk behavior of driver is an unsafety driving and it could harm themselves and others. One of the causes of the at risk behavior are lack of monitoring supervision, behavior of the industrial society as well as public community that haven't been optimal yet.  It is 88% accident at work that caused by the unsafety behavior. This research aimed to find out the relation between knowledge, behavior, education, training, SOP and also the supervision of at Risk Behavior for dump truck's driver. This was an observational analytic quantitative study with cross sectional approach. The samples were 122 dump truck drivers. Data processing was done in the stages of editing, coding, entry, cleaning and tabulating. Data analyze was conducted by univariate, bivariate, and multivariate. The result showed that variables which has causality relation with at risk behavior, were the training (p=0,004) and the supervision (p=0,017). The confounding variable were the SOP and behavior while the education was not related to the variable. The conclusion was there is a causality relation between training and supervision with "At Risk Behavior†of dump truck's driver. It is recommended for driver to participate in the training for work safety. It's also suggested for the supervisor to improving supervision method according to the policy and giving rewards to those drivers who's have great performance.
Downloads
Download data is not yet available.
References
Alamsyah, D. (2013). Pilar Dasar Ilmu Kesehatan Masyarakat. (N. Medika, Ed.). Yogyakarta.
Andani, R., Hariyono, W., Studi, P., Kesehatan, I., Masyarakat, F. K., Dahlan, A., & Yogyakarta, K. (2017). Penerapan standar operasional prosedur perilaku selamat dan kecelakaan kerja di pabrik gula tasikmadu karanganyar, 978–979.
Firmansyah, A. (2013). Faktor yang Berhubungan dengan Perilaku Safety Driving pada Pengemudi Mobil Pengangkut Semen Curah di PT. Prima Karya Manunggal (PKM) Kab. Pangkep Tahun 2013, 1–12. Retrieved from http://repository.unhas.ac.id/bitstream/handle/123456789/5919/JURNAL.pdf?sequence=1
InfoDatin. (2015). Infodatin Situasi Kesehatan Kerja. Kementrian Kesehatan RI.
Ketenagakerjaan, B. (2016). BPJS Ketenagakerjaan. Retrieved from http://www.bpjsketenagakerjaan.go.id
Lapau, B. (2015). Metode Penelitian Kesehatan. (Obor, Ed.) (3rd ed.). Jakarta.
Meisyalla, L. (2014). faktor-faktor yang berhubungan dengan kecelakaan kerja pada pengemudi taksi PT. Riau Indah Transport Pekanbaru 2014.
Rejeki, S. (2015). Sanitasi Hygiene dan K3. (Rekayasa Sains, Ed.).
Sari, W. P., Mahyuni, E. L., & Salmah, U. (2015). Faktor-Faktor Yang Memengaruhi Potensi Kecelakaan Kerja Pada Pengemudi Truk Di Pt Berkatnugraha Sinarlestari Belawan Tahun 2015.
Septiana, D. A., & Mulyono. (2014). Faktor Yang Mempengaruhi Unsafe Action Pada Pekerja di Bagian Pengantongan Urea. The Indonesian Jiurnal of Occupational Safety and Health, 3(1), 25–34.
Shiddiq, S. (2013). Hubungan Persepsi K3 Karyawan Dengan Perilaku Tidak Aman di Bagian Produksi Unit IV PT . Semen Tonasa Tahun 2013, 3, 1–14.
Tarwaka. (2015). K3 dan Ergonomi dalam Perspektif Bisnis. (Harapan Press, Ed.) (1st ed.). Surakarta.
Tasliati. (2015). Faktor-faktor yang berhubungan dengan perilaku tidak aman pada karyawan PT. Ramajaya Desa petapahan kecamatan Tapung kabupaten kampar tahun 2015.
Winarsunu, T. (2008). Psikologi Keselamatan Kerja. (UMM, Ed.).
Winter, J. C. F. De, & Dodou, D. (2010). The Driver Behaviour Questionnaire as a predictor of accidents : A meta-analysis ☆. Journal of Safety Research, 41(6), 463–470. https://doi.org/10.1016/j.jsr.2010.10.007
Yarmansyah. (2015). Faktor-faktor yang berhubungan dengan At risk Behavior pada Pengemudi PT. BKT Duri.
Yarmansyah. (2016). Supervision From Management To Unsafe Behavior Drivers. International Journal of Management (IJM) Volume 7, Issue 3, pp.253–258, Article ID: IJM_07_03_023 Available online at.
Yarmansyah. (2016). Several Factors Associated Behavior Drivers at The Corporation Of A. International Journal of Management and Applied Science, ISSN: 2394-7926.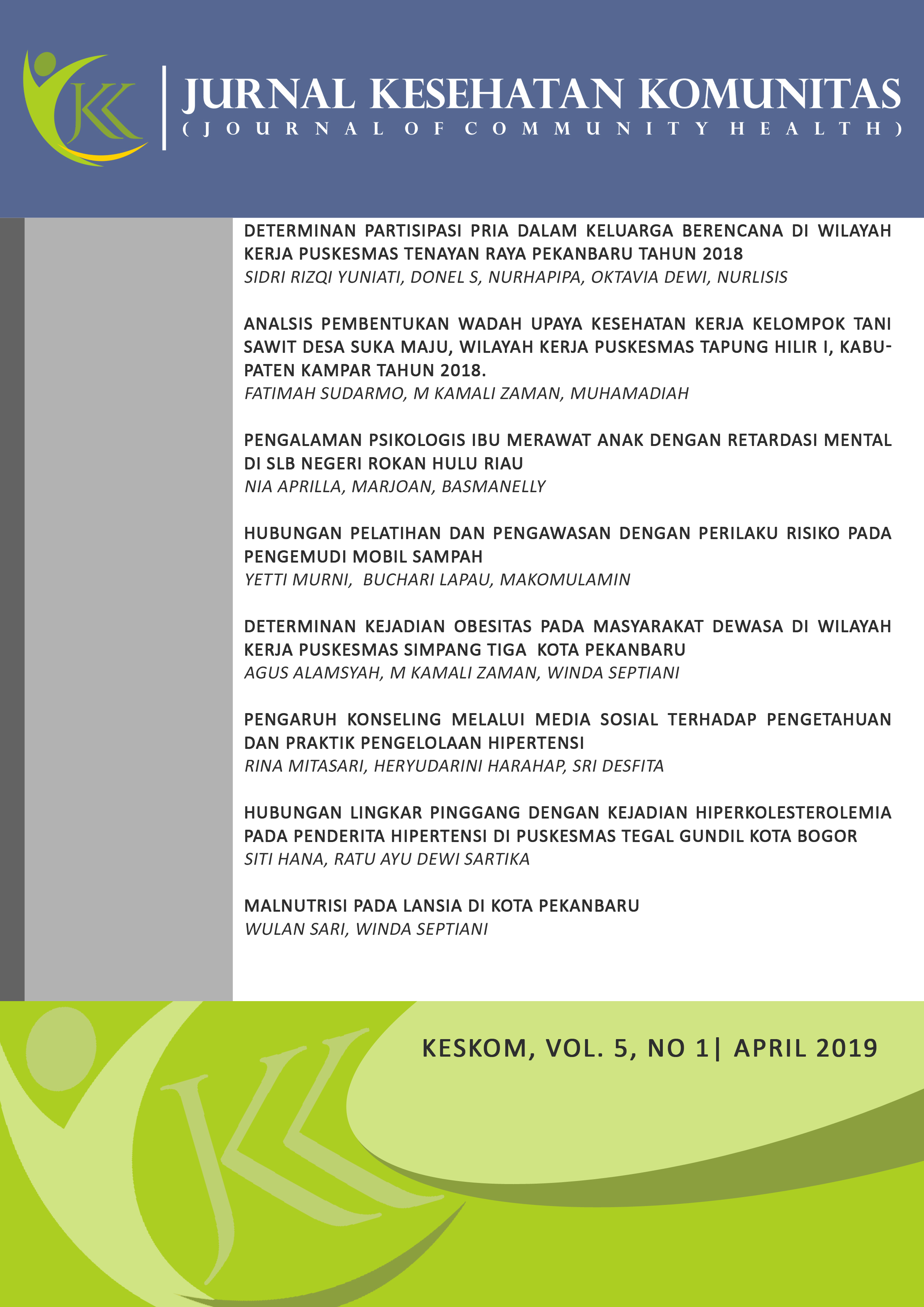 Downloads
How to Cite
1.
Murni Y, Makomulamin M, Lapau B. Relationship Training and Supervision with at Risk Behavior on Dump Truck's Driver: Hubungan Pelatihan Dan Pengawasan Dengan At Risk Behavior Pada Pengemudi Mobil Sampah . J Keskom [Internet]. 2019 Apr. 23 [cited 2023 Jun. 2];5(1):19-22. Available from: https://jurnal.htp.ac.id/index.php/keskom/article/view/177
License
Copyright @2017. This is an open-access article distributed under the terms of the Creative Commons Attribution-NonCommercial-ShareAlike 4.0 International License (http://creativecommons.org/licenses/by-nc-sa/4.0/) which permits unrestricted non-commercial used, distribution and reproduction in any medium