The Parliament is expected to Serve Initiator of Empowering As Primary Health Care For Public Welfare
Keywords:
Masalah kesehatan, preventif, promotif, bukti, efektif, efisien, pembiayaan
Abstract
In indonesia the health problem is still hight, which is necessary to be  solved throught effective, efficient and qualified Primary Health Care (PHC). The primary of Health has confirmed the implementation of MDGs (Milenium Development Goals) which should be achieved by 2015. The objective of this paper to discuss how should be able to create services of effective, efficient and qualified PHC including MDGs. To achieve the objective there was conducted literature review on comprehensive health care, MDGs, evidence based,decision making, health financing decentralization health services and hight education of public health. Besides, then is discussed the relation parliament role duel the identified problem. The conclusion is as follows: the goverment has been likely to priority MDGs than PHC, evidence based decision has not been running, health financing allocation for preventive and promotive PHC is less than curative sevices, the local goverments too not appoint health officials from those graduated from hight education in public health have not able to produce Information and evidence for making decision. The parliament has not used the role as to formulate the low and control to solve the problem. In decentralised health services. It is sugested to formulated strategic planning for the achievment of PHC including MDGs in health to produce information and evidence for creating efective, efficient and qualified health services; To prioritise prevention and promotion more than curative  health service; local an step by step; those having authority in local goverments always appoint health officials from those educated in health field; To plan and implement the curiculum directed to evidence based health service hight education in public health. The Parliament should initiate based in their function so that sugesstion mentioned above can be planed and implemented by the goverment
Downloads
Download data is not yet available.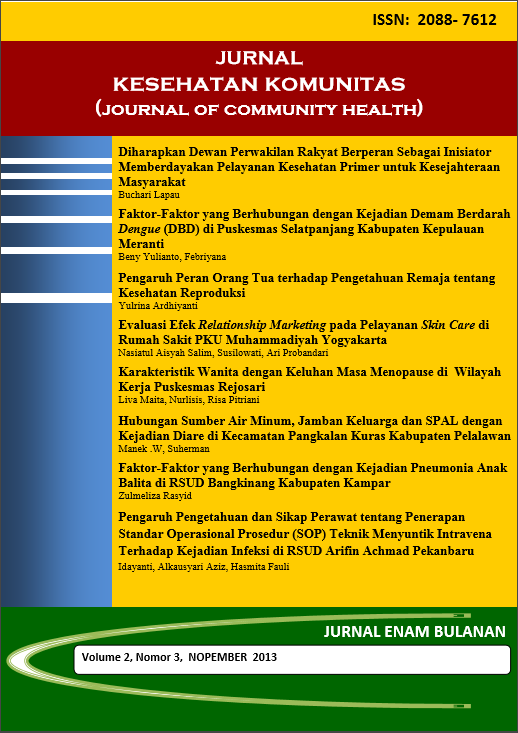 Downloads
How to Cite
1.
Lapau B. The Parliament is expected to Serve Initiator of Empowering As Primary Health Care For Public Welfare. J Keskom [Internet]. 2013 Nov. 1 [cited 2022 Aug. 7];2(3):108-12. Available from: https://jurnal.htp.ac.id/index.php/keskom/article/view/55
License
Copyright @2017. This is an open-access article distributed under the terms of the Creative Commons Attribution-NonCommercial-ShareAlike 4.0 International License (http://creativecommons.org/licenses/by-nc-sa/4.0/) which permits unrestricted non-commercial used, distribution and reproduction in any medium