Outpatient Behavior Toward Utilizing of Health Service Insurance in A Private Hospital in Pekanbaru
Keywords:
BPJS, Knowledge, RS Petala Bumi
Abstract
The hospital has a very large role as a provider of health services to BPJS Health participants. The implementation of the BPJS Health program in the Hospital is inseparable from various problems such as BPJS participants who do not understand their rights and obligations as a result of lack of knowledge, community work related to BPJS Health, lack of exposure to information related to BPJS health to the attitudes and behavior of health workers towards patients. The purpose of the study was to find out what factors were related to the attitude of utilizing BPJS health services to outpatients in Petala Bumi Hospital, Riau Province. This was a quantitative analytic research with a cross-sectional design. Data analysis was carried out by univariate, bivariate, and multivariate using multiple logistic regression tests. The results showed that the variables significantly related to the attitudes of outpatients in the utilization of the Social Security Organizing Agency (BPJS) services namely knowledge (POR: 3.99; 95% CI; 1, 782-8,935), education (POR: 16, 67; 95% CI; 7,206-38,575) and exposure to information POR: 2.65; 95% CI; 1,228-5,704). It is recommended for health workers to further enhance their role in providing health promotion on health BPJS through integrated counseling by establishing cross-program and cross-sectoral cooperation including through integrated socialization from various parties involving ulemas, and community leaders through activities carried out by the community.
Downloads
Download data is not yet available.
References
Alamsyah, Dedi. (2011). Manajemen pelayanan kesehatan. Yogyakarta: Nuha Medika

Ali, Zaidin. (2010). Dasar-dasar pendidikan kesehatan masyarakat dan promosi kesehatan. Jakarta: Trans Info Media

Azwar, S. (2012). Penyusunan skala psikologi, Edisi 2. Yogyakarta: Pustaka Pelajar

Azwar, S. (1995). Sikap manusia teori dan pengukurannya. Jakarta: Pustaka Pelajar

Barthos, Basir. (2009). Manajemen sumber daya manusia suatu pendekatan makro. Jakarta: Bumi Aksara

Hartono, Bambang. (2010). Manajemen pemasaran untuk rumah sakit. Jakarta: Rineka Cipta

Hastuti, Permata dan Fitri, Milla. (2016). Asuransi konvensional, syari'ah dan BPJS. Yogyakarta: Parama Publishing

Irawan, Bambang., Asmaripa Ainy. (2018). Analisis faktor-faktor yang berhubungan dengan pemanfaatan pelayanan kesehatan pada peserta Jaminan Kesehatan Nasional di wilayah kerja Puskesmas Payakabung, Kabupaten Ogan Ilir.

Lukiono, Wahyu Tri. (2010). Pengaruh pengetahuan dan sikap terhadap pemanfaatan jaminan kesehatan pada ibu hamil miskin Di Kota Blitar.

Maharani, Putu Veyna. (2015). Analisis faktor-faktor yang mempengaruhi masyarakat di Kota Singaraja memiliki program asuransi unitlink.

Notoadmodjo, S. (2010). Metodologi penelitian kesehatan. Jakarta: Rineka Cipta

Peraturan Pemerintah RI Nomor 101 Tahun 2012 Tentang penerima bantuan iuran jaminan kesehatan

Peraturan Presiden RI Nomor 12 Tahun 2013 Tentang jaminan kesehatan

Salim, Hermiyanti dan Rahman. (2017). Analisis implementasi kebijakan Jaminan Kesehatan Nasional (JKN) Di Rumah Sakit Umum Daerah (RSUD) Undata Palu. Jurnal Kesehatan Tadulako Vol.3 No. 1, Januari 2017

Siangian, Sondang. (2012). Teori motivasi dan aplikasinya. Jakarta: Rineka Cipta

Sulastri, Susi. (2016). Faktor-faktor yang berhubungan dengan pemanfaatan pelayanan kesehatan oleh peserta BPJS golongan Pbi Di Puskesmas Tandang Buhit Kecamatan Balige

Suryani, Irma dan Suharyanto. (2016). Implementasi program badan Penyelenggara Jaminan Kesehatan (BPJS) dalam meningkatkan pelayanan administrasi kesehatan di Rumah Sakit Umum Kabupaten Padang Lawas. Jurnal Ilmu Administrasi Publik Universitas Medan Area Indonesia

Thabrany, Hasbullah. (2014). Jaminan Kesehatan Nasional. Jakarta: PT. Raja Grafindo Persada.

Undang-Undang No. 36 tahun 2009 Tentang kesehatan

Undang-Undang No. 40 Tahun 2014 Tentang sistem jaminan sosial nasional

Undang-Undang No. 24 Tahun 2011 Tentang Badan Penyelenggara Jaminan Sosial

Undang-Undang No. 44 Tahun 2009 Tentang Rumah Sakit

Vyandri, Masadib Akmal. (2016). Implementasi kebijakan BPJS kesehatan di Kota Surabaya. Jurnal penelitian administrasi publik Universitas Wiraraja Sumenep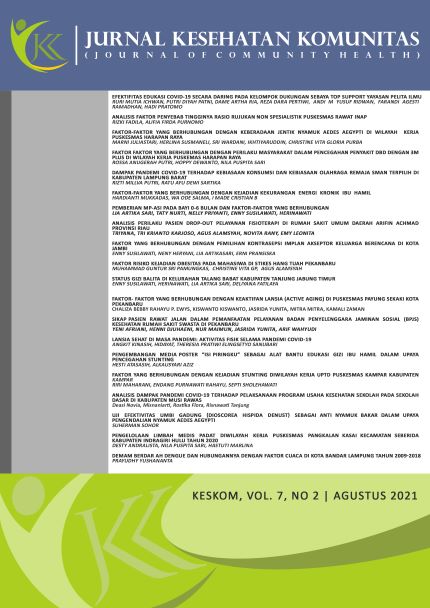 Downloads
How to Cite
1.
afriani yeni, Djuhaeni henny, Nurmaimun N, Yunita J, Wahyudi A. Outpatient Behavior Toward Utilizing of Health Service Insurance in A Private Hospital in Pekanbaru. J Keskom [Internet]. 2021 Aug. 31 [cited 2023 Mar. 21];7(2):214-20. Available from: https://jurnal.htp.ac.id/index.php/keskom/article/view/436
License
Copyright (c) 2021 Jurnal Kesehatan Komunitas
This work is licensed under a Creative Commons Attribution-NonCommercial-ShareAlike 4.0 International License.
Copyright @2017. This is an open-access article distributed under the terms of the Creative Commons Attribution-NonCommercial-ShareAlike 4.0 International License (http://creativecommons.org/licenses/by-nc-sa/4.0/) which permits unrestricted non-commercial used, distribution and reproduction in any medium