The Analysis of Linen Management in LaundryWard of Ibnu Sina Pekanbaru Islamic Hospital
Analisis Pengelolaan Linen di Instalasi Laundry Rumah Sakit Islam Ibnu Sina Pekanbaru Tahun 2018
Keywords:
Laundry, linen management, hospital
Abstract
Installation laundry became one of the most important in supporting medical services at the hospital. Preliminary survey conducted at Ibnu Sina Islamic Hospital Pekanbaru, at process linen management dirty not performed the stage weighing. This resulted in the laundry just estimate how comparison between heavy linen dirty with amount of water and measure of down. Research purposes to see how linen management at Ibnu Sina Islamic Hospital Pekanbaru.
The data collected in interviews, observation and review of documentation. Data processing done to technique qualitative analysis by approach explorative. This research using data validity of triangulation. Informants to research this is officer laundry, head of laundry, chief medical facilities and director at Ibnu Sina Islamic Hospital Pekanbaru which consisted of the 7.
The research results show that there are themes that appear as the findings of the study this linen management .As for themes in the area are obstacles in the management of exertion or in the form of a lack of linen is , less he did training to officers and the length of the handling of if there are defective machine , the provision of facilities and infrastructure in the form of the absence of an instrument those who weighed dirty linen , and she has not done on a regular service , and the implementation of the house in the form of discharging sop apd , she has not done the process of weighing dirty linen , discharging washer that equal and there is no color sorting linen .By because it was necessary attention on the management of the linen in installation Ibnu Sina Islamic Hospital Pekanbaru conforming with established standards.
Downloads
Download data is not yet available.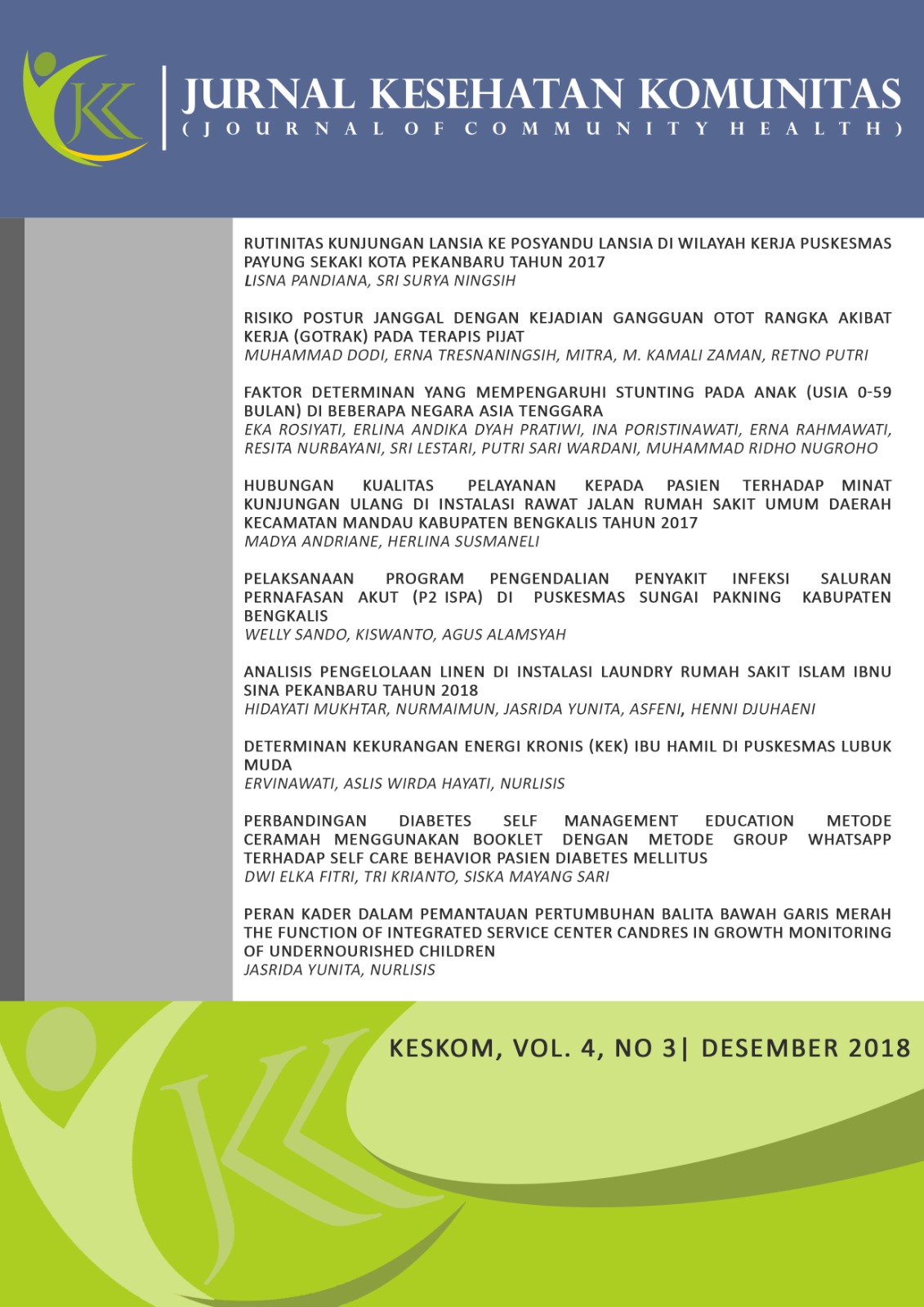 Downloads
How to Cite
1.
Mukhtar H, Nurmaimun N, Yunita J, Asfeni A, Djuhaeni H. The Analysis of Linen Management in LaundryWard of Ibnu Sina Pekanbaru Islamic Hospital: Analisis Pengelolaan Linen di Instalasi Laundry Rumah Sakit Islam Ibnu Sina Pekanbaru Tahun 2018. J Keskom [Internet]. 2019 Feb. 2 [cited 2023 Jun. 9];4(3):112-9. Available from: https://jurnal.htp.ac.id/index.php/keskom/article/view/278
License
Copyright @2017. This is an open-access article distributed under the terms of the Creative Commons Attribution-NonCommercial-ShareAlike 4.0 International License (http://creativecommons.org/licenses/by-nc-sa/4.0/) which permits unrestricted non-commercial used, distribution and reproduction in any medium