Determinants of Masturbation of Adolescent at Tapung Public High School 3 in the District of Kampar, 2017
Keywords:
Mass media, adolescent knowledge, parent roles, and peer influences
Abstract
Masturbasi adalah aktivitas merangsang dengan menyentuh atau meraba organ seks sendiri. Hal ini dipengaruhi oleh faktor perkembangan pertumbuhan organ reproduksi yang terjadi pada remaja. Perubahan akibat kematangan seksual secara biologis yang dialami oleh remaja merupakan salah satu hal yang dapat menyebabkan remaja mengalami kebingungan dalam menghadapi dorongan seksualnya adalah dengan melakukan masturbasi. Penelitian ini bertujuan untuk menganalisis determinan masturbasi pada remaja SMA Negeri 3 Tapung Kabupaten Kampar Tahun 2017. Metode penelitian ini menggunakan desain cross sectional. Pengambilan sampel penelitian ini dilakukan dengan cara teknik Stratified Random Sampling yakni siswa SMA yang dipilih secara acak berdasarkan jumlah total sampel yang diinginkan yaitu sebanyak 87 siswa. Analisis dilakukan dengan uji statistik Chi-square yang bertujuan untuk menghubungkan antara variabel independen dan variabel dependen. Hasil penelitian menunjukkan bahwa 75,9% responden terpapar media massa, 78,2% responden mempunyai pengetahuan rendah, 60,9% responden mempunyai orang tua yang tidak berperan, 77% responden mempunyai pengaruh teman sebaya yang berpengaruh. Dari hasil uji Chi-square menunjukkan bahwa ada hubungan yang bermakna antara media massa (Pvalue
= 0,001 dan OR = 6,591 [2,126-20,429]), pengetahuan (Pvalue  = 0,018 dan OR = 4,200 [1,405-
12,558]), peran orang tua (Pvalue = 0,001 dan OR = 8,533 [2,726-26,708]), dan pengaruh teman sebaya (Pvalue = 0,005 dan OR = 5,091 [1,713-15,128]). Kesimpulan dari hasil penelitian 4 variabel yang diteliti (media massa, pengetahuan, peran orang tua dan pengaruh teman sebaya) 4 variabel mempunyai hubungan bermakna dengan masturbasi dan saran agar orang tua lebih dapat menjalin komunikasi lebih intensif dengan remaja.
Downloads
Download data is not yet available.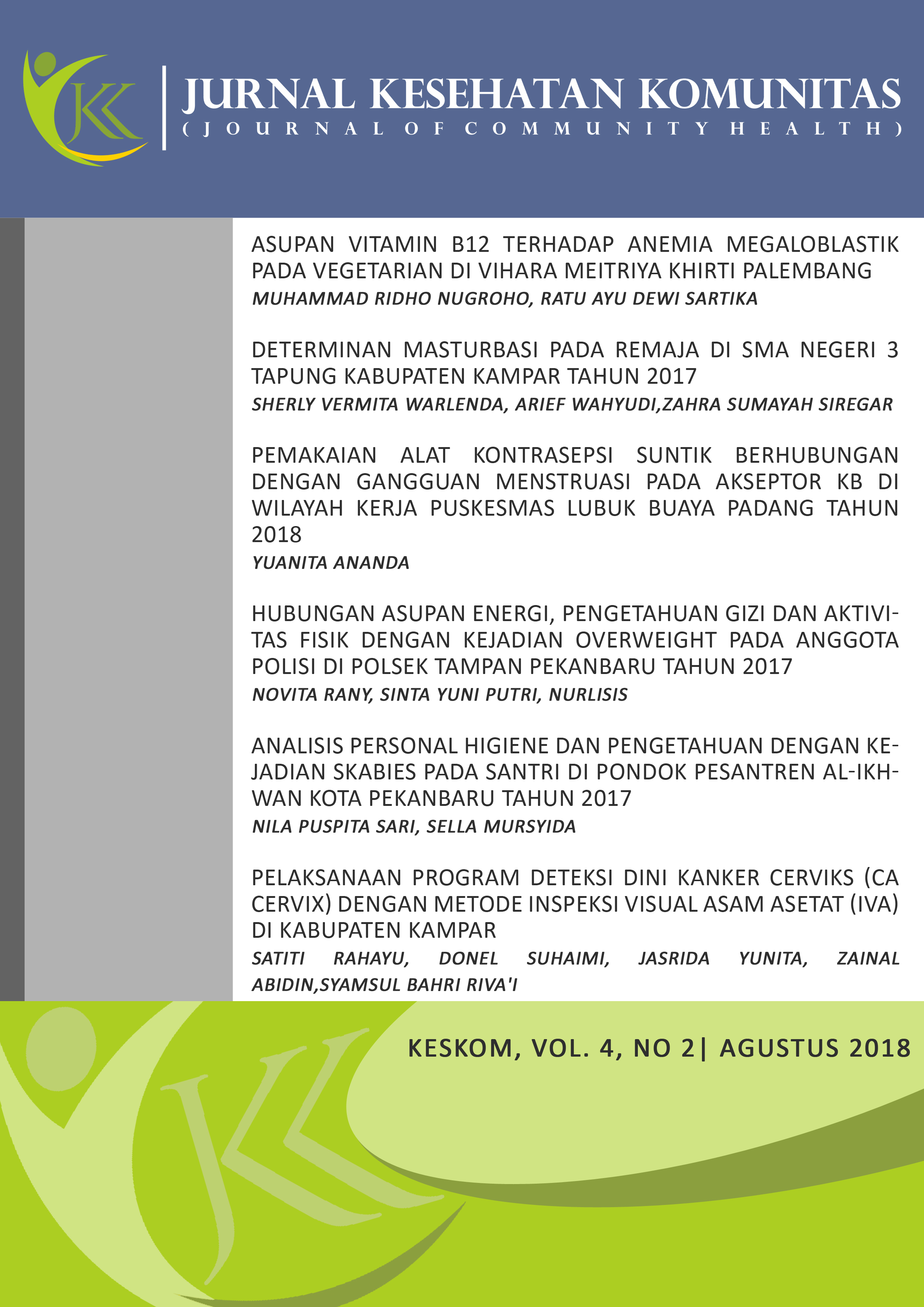 Downloads
How to Cite
1.
Warlenda SV, Wahyudi A, Siregar ZS. Determinants of Masturbation of Adolescent at Tapung Public High School 3 in the District of Kampar, 2017. J Keskom [Internet]. 2018 Dec. 30 [cited 2023 Jun. 2];4(2):46-51. Available from: https://jurnal.htp.ac.id/index.php/keskom/article/view/257
License
Copyright @2017. This is an open-access article distributed under the terms of the Creative Commons Attribution-NonCommercial-ShareAlike 4.0 International License (http://creativecommons.org/licenses/by-nc-sa/4.0/) which permits unrestricted non-commercial used, distribution and reproduction in any medium