Leadership and Communication Effectiveness on Patient Safety Teamwork Ibnu Sina Islamic Hospital Pekanbaru Riau
Keywords:
patient safety teamwork, leadership, communication
Abstract
Patient safety is a priority in hospitals services. Implementation of patient safety are expected to minimize the risk of adverse event. Committee of Patient Safety in Hospitals invite all stakeholders to be more attention on patient safety issues. However, in the process, teamwork seems not effective. Leadership is one of the characteristics that an teamwork should have. Various patient safety studies have been done and the result is communication also affects the efficiency of teamwork. This study was aimed to evaluate leadership and communication effectiveness  of patient safety teamwork in Ibnu Sina Islamic Hospital, Pekanbaru, Riau. This study  used a mixed method exploratory sequential design. In-depth interview and observation were used to explore  perception and behavior that describe leadership and communication effectiveness on patient safety teamwork. A Survey using questionnaires were used to categorize  perception of both aspects into YAKKUM competency level. Data were analyzed qualitatively using open code 3.6 and quantitatively through frequency distribution. All member of patient safety team participated in the study. The results of study, Of the 42 cases reported incidents, there were 45.22% medication error cases, in which 2.38% result in death and 50% were not analyzed. There were no reports of internal and external work done by  team. The effectiveness of leadership and communication still at level 2nd and 3rd. The Conclusion of the research was leadership and communication effectiveness on this team is not optimal and predominantly used passive leadership. Round of Patient Safety (RPS), The SBAR Tools, reward and punishment are recommended in this study. 
Downloads
Download data is not yet available.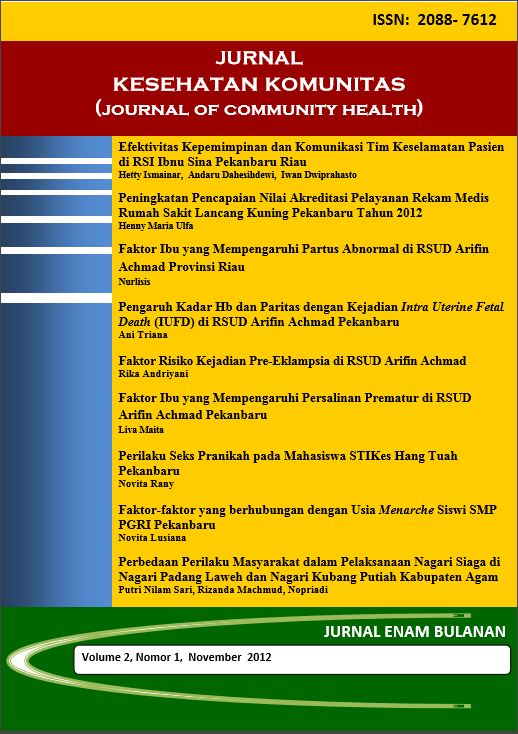 Downloads
How to Cite
1.
Ismainar H, Dahesihdewi A, Dwiprahasto I. Leadership and Communication Effectiveness on Patient Safety Teamwork Ibnu Sina Islamic Hospital Pekanbaru Riau. J Keskom [Internet]. 2012 Sep. 9 [cited 2023 Jan. 28];2(1):2-8. Available from: https://jurnal.htp.ac.id/index.php/keskom/article/view/34
License
Copyright @2017. This is an open-access article distributed under the terms of the Creative Commons Attribution-NonCommercial-ShareAlike 4.0 International License (http://creativecommons.org/licenses/by-nc-sa/4.0/) which permits unrestricted non-commercial used, distribution and reproduction in any medium