The Difference of Community Behaviour In Implementation of Nagari Siaga Between Nagari Padang Laweh and Nagari Kubang Putiah In Agam District
Keywords:
Behaviour, Implementation of Nagari Siaga, Agam Distric
Abstract
The number of Nagari Siaga in West Sumatera Province at the end of the year 2008 is 2.125. However this number has not been reached the target yet that are 3.317 Nagari Siaga. The implementation of Nagari Siaga requires a full support of the community as the major driver that is initiated by the understanding and positive attitude towards health itself. The aim of this research is knowing about the difference of community behaviour in implementating Nagari Siaga between Nagari Padang Laweh and Nagari Kubang Putiah in Agam District. This study used cross sectional study design, with a total sample of 84 head families in both villages. Dependent variable in this study is Nagari Siaga and independent variable are knowledge, attitude and practice. Bivariate analysis was done by Chi Square (X2) with α = 0,05. The analysis shows significant relationship between the variables of knowledge and practice on implementation of Nagari Siaga with p value of 0,00. There are differences in knowledge and attitudes between the two villages. Knowledge and community practices in Nagari Kubang Putiah were better than Nagari Padang Laweh. Attitude variables can not be tested because the attitude in both villages is completely (100%) positive. It needs sosialization to the community about the importance of health and Nagari Siaga program in Nagari Padang Laweh, so that the program can be run optimally as well as Nagari Kubang Putiah. For Nagari Kubang Putiah, Nagari Siaga program should be developed continiously. Cross-sector participation should be increased to the success of Nagari Siaga program
Downloads
Download data is not yet available.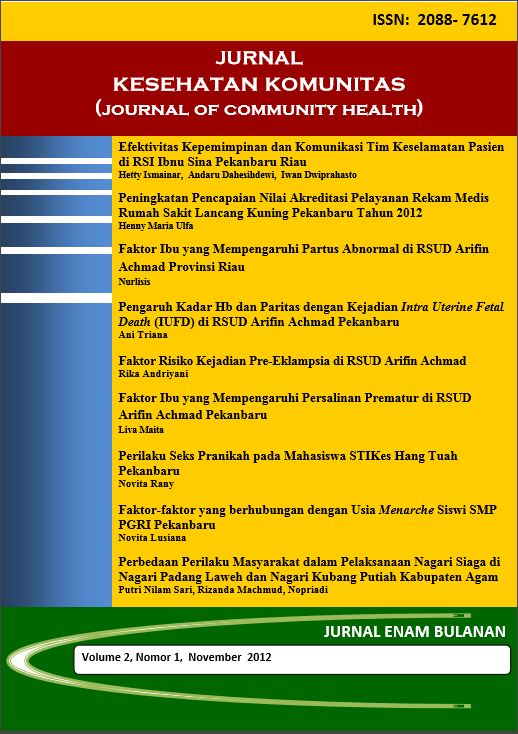 Downloads
How to Cite
1.
Sari PN, Machmud R, . N. The Difference of Community Behaviour In Implementation of Nagari Siaga Between Nagari Padang Laweh and Nagari Kubang Putiah In Agam District. J Keskom [Internet]. 2012 Nov. 9 [cited 2023 Jan. 28];2(1):45-52. Available from: https://jurnal.htp.ac.id/index.php/keskom/article/view/43
License
Copyright @2017. This is an open-access article distributed under the terms of the Creative Commons Attribution-NonCommercial-ShareAlike 4.0 International License (http://creativecommons.org/licenses/by-nc-sa/4.0/) which permits unrestricted non-commercial used, distribution and reproduction in any medium