Perilaku Pekerja Seks Komersial Dalam Penggunaan Kondom Untuk Pencegahan Transmisi HIV/AIDS Di Lokalisasi Teleju Kota Pekanbaru
Keywords:
Perilaku, Pekerja Seks, Pencegahan HIV/AID, Pekanbaru
Abstract
Abstrak Prevalensi HIV AIDS di Pekanbaru meningkat dengan pesat di tahun belakangan ini, meskipun sudah dilakukan kampanye nasional mengenai pemanfaatan kondom pada kelompok risiko tinggi terutama pada pekerja seks wanita dan kliennya. Penelitian ini meneliti faktor-faktor yang mempengaruhi perilaku dari perempuan pekerja seks dalam pemanfaatan kondom dengan menggunakan pendekatan kualitatif. Data dikumpulkan dengan wawancara mendalam dan diskusi kelompok terfokus kemudian dianalisis dengan menggunakan matriks konten. Penelitian ini dilakukan di Lokalisasi Prostitusi di Pekanbaru pada Maret 2010. Hanya 16,6% dari 30 responden menggunakan kondom secara konsisten, pada umumnya sering berubah pikiran ketika klien memberikan uang lebih banyak untuk tidak menggunakan kondom. 80% responden tidak memahami dengan baik tentang pencegahan HIV dan pentingnya menggunakan kondom secara konsisten selama aktivitas seksual. Menariknya, pasokan kondom secara teratur diberikan oleh bos mereka. Tingkat pemanfaatan kondom rendah karena adanya penolakan klien, ketidakseimbangan gender dan tawaran uang. Kemungkinan faktor dasar adalah rendahnya pengetahuan pekerja seks tentang HIV. Intervensi yang komprehensif sangat penting untuk mengatasi hambatan perilaku tersebut. Kata Kunci : Perilaku, Pekerja Seks, Pencegahan HIV/AIDS, Pekanbaru
Abstract
The Prevalence of HIV AIDS in Pekanbaru is growing rapidly in recent year, even though there are some national control actions by mass campaign of condom utilization among high risk group particularly in Female Sex workers and her clients. This study investigated the factors influencing of Female Sex workers behavior in the condom utilization by using qualitative approach. Data collected with in-depth interview and Focus group discussion then analyzed by content matrix. This study was held at Prostitute Localization in Pekanbaru on March 2010. Only 16.6% of 30 respondents used condom consistently, others commonly changed her mind when client gave more money for not using condom. 80% of respondent did not understand well about HIV prevention and importance of using condom consistently during sexual activity. Interestingly, condom supply regularly provided by their boss. the condom utilization rate were low due to client resistance, imbalance gender and financial bargaining as well. Poor sex worker's knowledge about HIV perhaps the basic factor. Comprehensive interventions are crucial for addressing these behavior barriers.
Downloads
Download data is not yet available.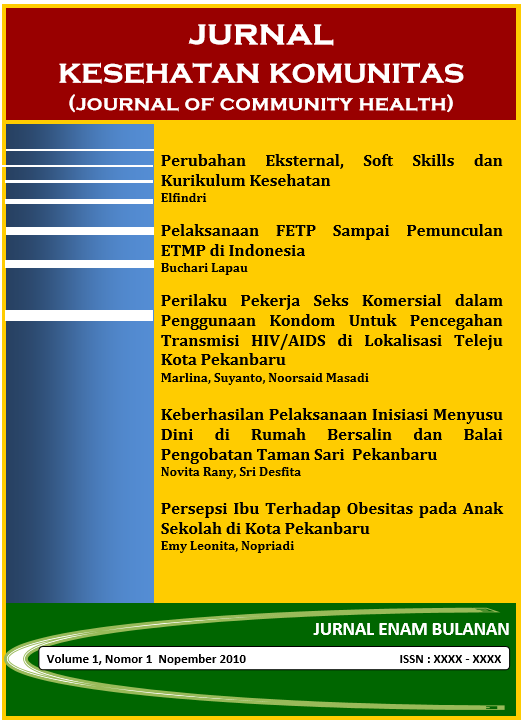 Downloads
How to Cite
1.
Marlina M, Suyanto S, Masadi N. Perilaku Pekerja Seks Komersial Dalam Penggunaan Kondom Untuk Pencegahan Transmisi HIV/AIDS Di Lokalisasi Teleju Kota Pekanbaru. J Keskom [Internet]. 2010Nov.16 [cited 2021Oct.23];1(1):20-31. Available from: https://jurnal.htp.ac.id/index.php/keskom/article/view/7
License
Copyright @2017. This is an open-access article distributed under the terms of the Creative Commons Attribution-NonCommercial-ShareAlike 4.0 International License (http://creativecommons.org/licenses/by-nc-sa/4.0/) which permits unrestricted non-commercial used, distribution and reproduction in any medium