Developing "My Plate" Poster as a Nutrition Education Media of Pregnant Women in Efforts to Prevent Stunting
Abstract
One of nutritional problems experienced by toddlers is stunting, which is a short or very short body condition in children due to chronic malnutrition that occurs from pregnant women to children aged 2 years. Nutrition education is a method and effort to increase knowledge of nutrition and eating behavior in order to create optimal nutritional status. Education for the "My Plate†poster is important for pregnant women to implement a healthy diet and to meet daily nutritional needs as an effort to prevent stunting. This research was conducted by interview method. From the result of this research, a poster of "My Plate-Pregnant Women†has been designed as a nutrition education media.
Keywords: Nutriotion Education Poster, Pregnant Women, Stunting
Downloads
Download data is not yet available.
References
Eka Satriani Sakti (2020) Hari Bawa Bekal. Jakarta: Kemenkes RI 2020.
Hermina And Prihatini, S. (2016) 'Pengembangan Media Poster Sebagai Alat Bantu Edukasi Gizi Pada Remaja Terkait Keluarga Sadar Gizi (Kadarzi)', Penelitian Gizi Dan Makanan, 39(1), Pp. 15–26.
Kemenkes (2014a) 'Kemenkes', Pp. 1–96.
Kemenkes (2014b) 'PERATURAN MENTERI KESEHATAN REPUBLIK INDONESIA NOMOR 97 TAHUN 2014', Journal Of Sustainable Agriculture, 5(1–2), Pp. 171–185. Doi: 10.1300/J064v05n01_12.
Kemenkes RI (2017) 'Hasil Pemantauan Status Gizi (PSG) Balita Tahun 2017', Buku Saku, Pp. 1–150.
Kementerian Kesehatan (2014) 'Pedoman Gizi Seimbang', Peraturan Menteri Kesehatan Republik Indonesia Nomor 41 Tentang Pedoman Gizi Seimbang, Pp. 1–96.
Maruka, S. R. (2018) 'Poster Pada Majalah Dinding Universitas Tadulako', Jurnal Pendidikan Bahasa Dan Sastra, 3(1), P. 1.
Mitra, M., Nurlisis, N. And Destriyani, R. (2014) 'Jenis Dan Keberagaman Makanan Pendamping Air Susu Ibu Dengan Kejadian Stunting Pada Anak Usia 6–24 Bulan',
In. Jakarta: LIPI, P. 111. Available At: Https://Www.Researchgate.Net/Profile/Zahra-Pratiwi/Publication/335219622_Kerja_Sama_Perusahaan_Daerah_Perguruan_Tinggi_Dan_Kader_Kesehatan_Dalam_Program_Aksi_Mengatasi_Masalah_Gizi_Masyarakat_Studi_Kasus_Di_Sleman_DIY/Links/5d57a794299bf151bad9c501/Kerja-Sama-Perusahaan-Daerah-Perguruan-Tinggi-Dan-Kader-Kesehatan-Dalam-Program-Aksi-Mengatasi-Masalah-Gizi-Masyarakat-Studi-Kasus-Di-Sleman-DIY.Pdf#Page=124.
Mubasyiroh, L. And Aya, Z. C. (2018) 'Hubungan Perilaku Ibu Dalam Pemenuhan Gizi Pada Anak 1000 Hari Pertama Kehidupan/ Golden Period Dengan Status Gizi Balita Di Desa Sitanggal Kecamatan Larangan Kabupaten Brebes Tahun 2018', Jurnal Ilmu Kesehatan Bhakti Husada: Health Sciences Journal, 9(1), Pp. 18–27. Doi: 10.34305/Jikbh.V9i1.58.
Praditama, A. D. (2013) 'Pola Makan Pada Ibu Hamil Dan Pasca Melahirkan Di Desa Tiripan Kecamatan Berbek Kabupaten Nganjuk', Jurnal Unair, 4(2), Pp. 1–14.
Prendergast, A. J. And Humphrey, J. H. (2014) 'The stunting Syndrome In Developing Countries', Paediatrics And International Child Health, 34(4), Pp. 250–265. Doi: 10.1179/2046905514Y.0000000158.
Program Keluarga Harapan Kementerian Sosial RI (2018) 'Modul Kesehatan Dan Gizi', Kementerian Sosial RI, Pp. 1–117.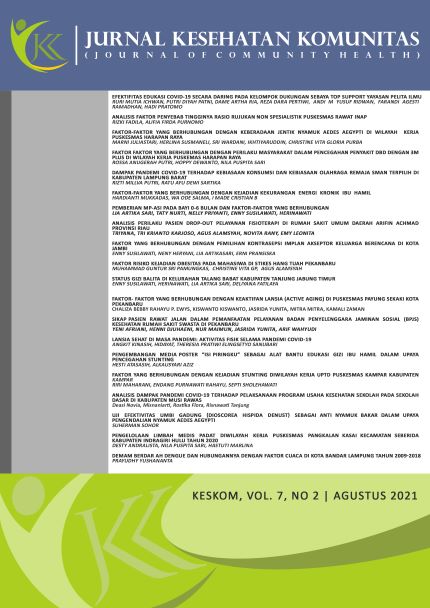 Downloads
How to Cite
1.
Atasasih hesti, Aziz A. Developing "My Plate" Poster as a Nutrition Education Media of Pregnant Women in Efforts to Prevent Stunting. J Keskom [Internet]. 2021 Aug. 31 [cited 2023 Dec. 10];7(2):226-33. Available from: https://jurnal.htp.ac.id/index.php/keskom/article/view/937
License
Copyright (c) 2021 Jurnal Kesehatan Komunitas
This work is licensed under a Creative Commons Attribution-NonCommercial-ShareAlike 4.0 International License.
Copyright @2017. This is an open-access article distributed under the terms of the Creative Commons Attribution-NonCommercial-ShareAlike 4.0 International License (http://creativecommons.org/licenses/by-nc-sa/4.0/) which permits unrestricted non-commercial used, distribution and reproduction in any medium