Perceived Need Factor Analysis on the Utilization of Elderly Health Services in Puskesmas and Posyandu
Keywords:
lansia, pemanfaatan pelayanan kesehatan, perceived need factor, puskesmas, posyandu
Abstract
The need factor-based to the theory of Andersen and Newman (2005) is seen from 2 aspects, which include the individual assessment aspect (perceived need factor) and the clinical aspect (evaluated need). There is still no publication of review research that discusses specific analyzes of subjective assessment of the needs of the elderly on the use of services in health facilities at Puskesmas and Posyandu. The purpose of this study was to identify the relationship between the influence of perceived need factors on the utilization of health services for the elderly at the Puskesmas and Posyandu. This study is a qualitative study with a literature review using quantitative and mixed methods analysis which are published from 2016 to 2021. The collection of literature using the Scopus, Science Direct, PubMed, and Google Scholar databases. The search results obtained 60 articles that matched the keywords and then the overall identification was carried out using inclusion and exclusion criteria in the content of the article so that 12 articles were reviewed. The results showed which variable of perceived need factor that most commonly found to be related to the utilization of elderly health care services at Puskesmas and Posyandu was the chronic condition variable (n = 4 articles), followed by the self-rated health, subjective health complaint, perception for benefit matter and limitation in daily activities variable, each of them are (n=2 articles). Further studies are needed to develop an appropriate instrument in assessing the factors of the needs of the elderly in full, namely the factors of the needs of the elderly which are seen from the clinical aspect of the utilization of health services at the Puskesmas and Posyandu.
Downloads
Download data is not yet available.
References
Aji, B., Anandari, D., Siti, Chamchan, M., Kunci, K., Pelayanan, Kesehatan, P., Pedesaan, L., Aisyah, J., Jurnal, Kesehatan, I., Masfiah, S., Wijayanti, S. P. M., & Chalermpol. (2021). Utilization of Preventive Health Check-Ups Among Older People in Rural Indonesia. Jurnal Aisyah Jurnal Ilmu Kesehatan, 6(1), 2502. https://doi.org/10.30604/jika.v6i1.464
AL-Kahil, A., Khawaja, R., Kadri, A., Abbarh, S., Alakhras, J., & P J, P. (2019). Knowledge and Practices Toward Routine Medical Checkup Among Middle-Aged and Elderly People of Riyadh. Journal of Patient Experience, 7, 237437351985100. https://doi.org/10.1177/2374373519851003
Alkhawaldeh, A., Holm, M. B., Qaddumi, J., Petro, W., Jaghbir, M., & Al Omari, O. (2014). A Cross-Sectional Study to Examine Factors Associated with Primary Health Care Service Utilization among Older Adults in the Irbid Governorate of Jordan. Current Gerontology and Geriatrics Research, 2014, e735235. https://doi.org/10.1155/2014/735235
Amente, T., & Kebede, B. (2016). Determinants of Health Service Utilization among Older Adults in Bedele Town,Illubabor Zone, Ethiopia. Journal of Diabetes & Metabolism, 7. https://doi.org/10.4172/2155-6156.1000713
Andersen, R., & Newman, J. F. (2005). Societal and Individual Determinants of Medical Care Utilization in the United States. The Milbank Quarterly, 83(4). https://doi.org/10.1111/j.1468-0009.2005.00428.x
Ariani, M. (2020). Determinants of Elderly Behavior Follow the Posyandu in the Working Area of Kebonsari Primary Healthcare Surabaya. Jurnal Promkes: The Indonesian Journal of Health Promotion and Health Education, 8(1), 79–86. https://doi.org/10.20473/jpk.V8.I1.2020.79-86
Beran, D. (2015). Needs and Needs Assessments: A Gap in the Literature for Chronic Diseases. SAGE Open, 5(2), 2158244015580375. https://doi.org/10.1177/2158244015580375
BPS. (2019). Profil Statistik Kesehatan 2019 (04230.1907). Badan Pusat Statistik. https://www.bps.go.id/publication/2019/12/30/9d583b7e2bd81fada82375e0/profil-statistik-kesehatan-2019.html
BPS. (2020). Statistik Penduduk Lanjut Usia 2020. Badan Pusat Statistik. https://www.bps.go.id/publication/2020/12/21/0fc023221965624a644c1111/statistik-penduduk-lanjut-usia-2020.html
Cao, J., & Rammohan, A. (2016). Social capital and healthy ageing in Indonesia. BMC Public Health, 16, 347–353. https://doi.org/10.1186/s12889-016-3257-9
Chen, C.-M., & Baithesda, B. (2020). Primary healthcare utilization by the elderly: A secondary analysis of the 5th Indonesian Family Life Survey. Working with Older People, 24(2), 81–94. https://doi.org/10.1108/WWOP-01-2020-0001
Cheng, X., Yang, Y., Schwebel, D. C., Liu, Z., Li, L., Cheng, P., Ning, P., & Hu, G. (2020). Population ageing and mortality during 1990–2017: A global decomposition analysis. PLOS Medicine, 17(6), e1003138. https://doi.org/10.1371/journal.pmed.1003138
Cohen-Mansfield, J., & Frank, J. (2008). Relationship between perceived needs and assessed needs for services in community-dwelling older persons. The Gerontologist, 48(4), 505–516. https://doi.org/10.1093/geront/48.4.505
He, Q., Cui, Y., Liang, L., Zhong, Q., Li, J., Li, Y., Lv, X., & Huang, F. (2017). Social participation, willingness and quality of life: A population-based study among older adults in rural areas of China. Geriatrics & Gerontology International, 17(10), 1593–1602. https://doi.org/10.1111/ggi.12939
Help Age International. (2008). Primary healthcare for older people- A participatory study in 5 Asian countries. Help Age International. https://ageingasia.org/primary-healthcare-for-older-people-a-participatory-study-in-5-asian-countries/
Idler, E., & Benyamini, Y. (1997). Self-Rated Health and Mortality: A Review of Twenty-Seven Community Studies. Journal of Health and Social Behavior, 38, 21–37. https://doi.org/10.2307/2955359
Irwan, A. M., Kato, M., Kitaoka, K., Kido, T., Taniguchi, Y., & Shogenji, M. (2016). Self-care practices and health-seeking behavior among older persons in a developing country: Theories-based research. International Journal of Nursing Sciences, 3(1), 11–23. https://doi.org/10.1016/j.ijnss.2016.02.010
Jiang, M., Yang, G., Fang, L., Wan, J., Yang, Y., & Wang, Y. (2018). Factors associated with healthcare utilization among community-dwelling elderly in Shanghai, China. PLOS ONE, 13(12), e0207646. https://doi.org/10.1371/journal.pone.0207646
Jylhä, M. (2009). What is self-rated health and why does it predict mortality? Towards a unified conceptual model. Social Science & Medicine, 69(3), 307–316. https://doi.org/10.1016/j.socscimed.2009.05.013
Lee, H. Y., Jang, S.-N., Lee, S., Cho, S.-I., & Park, E.-O. (2008). The relationship between social participation and self-rated health by sex and age: A cross-sectional survey. International Journal of Nursing Studies, 45(7), 1042–1054. https://doi.org/10.1016/j.ijnurstu.2007.05.007
Madyaningrum, E., Chuang, Y.-C., & Chuang, K.-Y. (2018). Factors associated with the use of outpatient services among the elderly in Indonesia. BMC Health Services Research, 18(1), 707. https://doi.org/10.1186/s12913-018-3512-0
Malik, N., Rosalien, R., Khalissya, N., Badruddin, I., & Maharani, D. (2020). Perceived need and utilization of dental health care services in Indonesia: A secondary analysis using the national socioeconomic data. Makara Journal of Health Research, 24(2). https://doi.org/10.7454/msk.v24i2.1218
Manihuruk, M., & Nadjib, M. (2018). Faktor-faktor yang Berhubungan dengan Kunjungan Lansia ke Posbindu Lansia di Wilayah Kerja Puskesmas Kelurahan Bintara Kota Bekasi Tahun 2017. Jurnal Kebijakan Kesehatan Indonesia, 7(4), 158–167. https://doi.org/10.22146/jkki.26409
Mardian, A., Darwita, R. R., & Adiatman, M. (2019). Factors contributing to oral health service use by the elderly in Payakumbuh City, West Sumatra. Journal of International Dental and Medical Research, 12(3), 1123–1130. Scopus. https://www.scopus.com/record/display.uri?eid=2-s2.0-85075349828&origin=resultslist&sort=plf-f&src=s&nlo=&nlr=&nls=&sid=27cd0d8135d04fc21d74c50471474bc5&sot=b&sdt=b&sl=25&s=TITLE-ABS-KEY%28payakumbuh%29&relpos=17&citeCnt=2&searchTerm=
Maresova, P., Javanmardi, E., Barakovic, S., Barakovic Husic, J., Tomsone, S., Krejcar, O., & Kuca, K. (2019). Consequences of chronic diseases and other limitations associated with old age – a scoping review. BMC Public Health, 19, 1431. https://doi.org/10.1186/s12889-019-7762-5
Maulidah, M. S., & Handayani, O. W. K. (2020). Pemanfaatan Pelayanan Kesehatan Lanjut Usia di Puskesmas. HIGEIA (Journal of Public Health Research and Development), 4(Special 4), 956–966. https://doi.org/10.15294/higeia.v4iSpecial
Misnaniarti, M., & Etrawati, F. (2020). Outpatient Care Utilization among Elderly in South Sumatra Based on National Social-Economic Survey Data. Media Kesehatan Masyarakat Indonesia, 16(4), 509–518. https://doi.org/10.30597/mkmi.v16i4.10433
Morris, C., James, K., Laws, H., & Eldemire-Shearer, D. (2011). Health status and health-seeking behaviour of Jamaican men fifty-five years and over. West Indian Medical Journal, 60(3), 322–329. Scopus.
Nursalam, N. (2020). Literature Systematic Review pada Pendidikan Kesehatan. Fakultas Keperawatan Universitas Airlangga. https://www.academia.edu/44706517/Literature_Systematic_Review_pada_Pendidikan_Kesehatan
Oktavianti, T. A., Suryoputro, A., & Sugiarto, Y. (2021). Factors Associated With The Utilization of Healthcare Facility Among The Ederly in X Hospital Semarang. Public Health Perspective Journal, 0(0), Article 0. http://journal.unnes.ac.id/nju/index.php/phpj/article/view/26032
Putri, R. A., & Ilyas, Y. (2019). The Determinant Of Outpatient Health Services Utilization For Elderly Patient In Indonesia (Susenas 2017 Data Analysis). Journal of Indonesian Health Policy and Administration, 4(2), Article 2. https://doi.org/10.7454/ihpa.v4i2.3143
Ralph, N. L., Mielenz, T. J., Parton, H., Flatley, A.-M., & Thorpe, L. E. (2013). Multiple Chronic Conditions and Limitations in Activities of Daily Living in a Community-Based Sample of Older Adults in New York City, 2009. Preventing Chronic Disease, 10, E199. https://doi.org/10.5888/pcd10.130159
Ree, E., Odeen, M., Eriksen, H. R., Indahl, A., Ihlebæk, C., Hetland, J., & Harris, A. (2014). Subjective Health Complaints and Self-Rated Health: Are Expectancies More Important Than Socioeconomic Status and Workload? International Journal of Behavioral Medicine, 21(3), 411–420. https://doi.org/10.1007/s12529-013-9329-7
Ryff, C. D., Radler, B. T., & Friedman, E. M. (2015). Persistent psychological well-being predicts improved self-rated health over 9–10 years: Longitudinal evidence from MIDUS. Health Psychology Open, 2(2), 2055102915601582. https://doi.org/10.1177/2055102915601582
Snyder, H. (2019). Literature review as a research methodology: An overview and guidelines. Journal of Business Research, 104, 333–339. https://doi.org/10.1016/j.jbusres.2019.07.039
Sumardi, G. A., Seweng, A., & Amiruddin, R. (2020). DETERMINANTS OF ACTIVITY IN ACTIVITIES OF POSYANDU ELDERLY IN THE SUDIANG HEALTH CENTER MAKASSAR. Hasanuddin International Journal of Health Research Sciences, 1(02), Article 02. https://journal.unhas.ac.id/index.php/HIJHRS/article/view/9554
Sun, J. K., & Smith, J. (2017). Self-Perceptions of Aging and Perceived Barriers to Care: Reasons for Health Care Delay. The Gerontologist, 57(suppl_2), S216–S226. https://doi.org/10.1093/geront/gnx014
Susilowati, N. B., Nugroho, D., & Dharmawan, Y. (2017). Hubungan Beberapa Faktor Ibu Lansia Dengan Pemanfaatan Pelayanan Kesehatan Reproduksi Lansia Di Puskesmas Lebdosari Semarang Triwulan I Tahun 2016. Jurnal Kesehatan Masyarakat (Undip), 5(1), 158–167.
UNFPA. (2012). Ageing in the Twenty-First Century. United Nations Population Fund (UNFPA). /publications/ageing-twenty-first-century
United Nations, Department of Economic and Social Affairs, Population Division. (2019). World population ageing, 2019: Highlights (ST/ESA/SER.A/430). United Nations. http://digitallibrary.un.org/record/3846855
Zaitsu, M., Kawachi, I., Ashida, T., Kondo, K., & Kondo, N. (2018). Participation in Community Group Activities Among Older Adults: Is Diversity of Group Membership Associated With Better Self-rated Health? Journal of Epidemiology, 28(11), 452–457. https://doi.org/10.2188/jea.JE20170152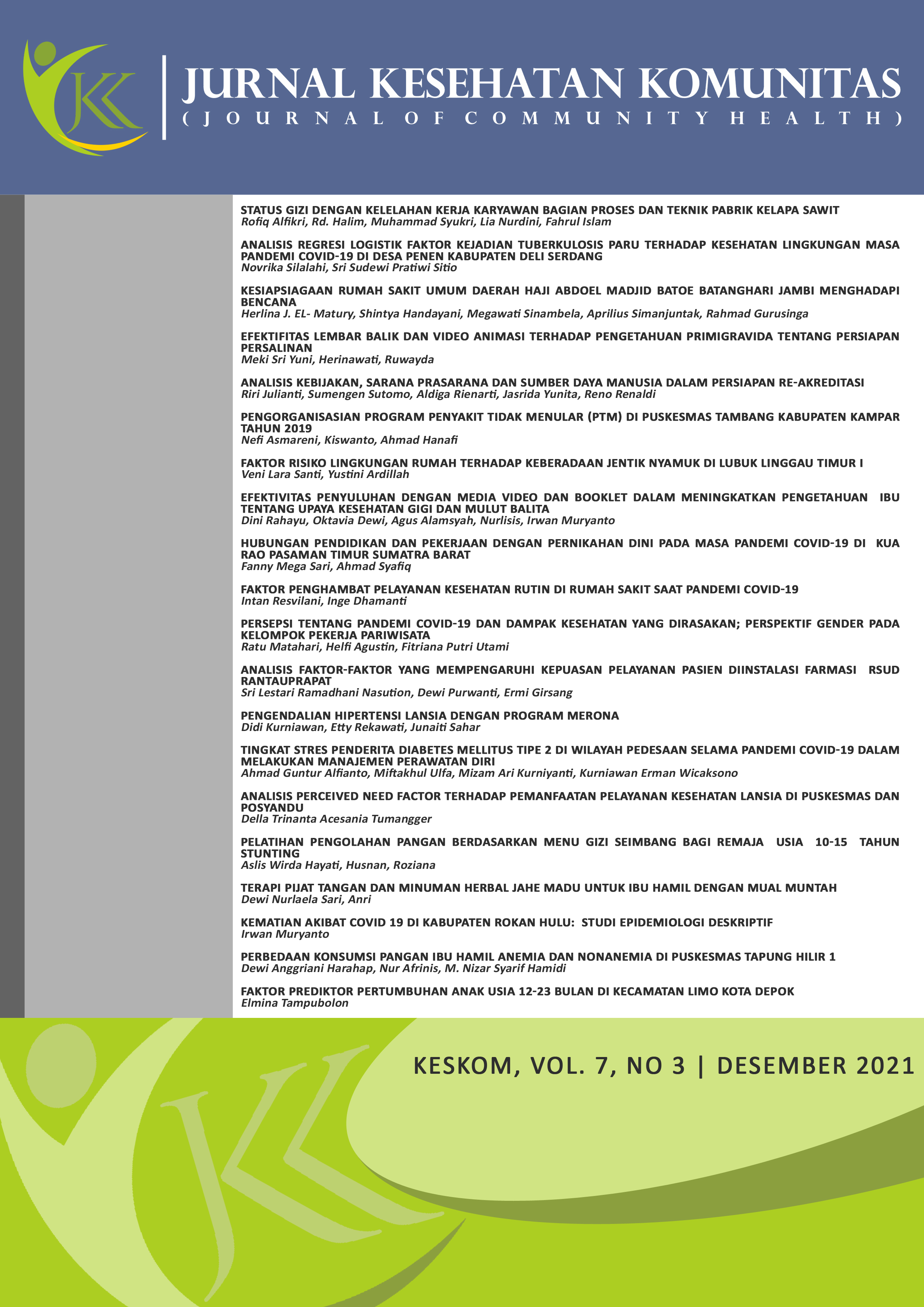 Downloads
How to Cite
1.
Tumangger DTA. Perceived Need Factor Analysis on the Utilization of Elderly Health Services in Puskesmas and Posyandu . J Keskom [Internet]. 2021 Dec. 31 [cited 2023 Jun. 2];7(3):360-7. Available from: https://jurnal.htp.ac.id/index.php/keskom/article/view/982
License
Copyright (c) 2021 Jurnal Kesehatan Komunitas
This work is licensed under a Creative Commons Attribution-NonCommercial-ShareAlike 4.0 International License.
Copyright @2017. This is an open-access article distributed under the terms of the Creative Commons Attribution-NonCommercial-ShareAlike 4.0 International License (http://creativecommons.org/licenses/by-nc-sa/4.0/) which permits unrestricted non-commercial used, distribution and reproduction in any medium