Foot Massage Reduce Post Operation Pain Sectio Caesarea At Post Partum
Keywords:
Foot Massage, Post Partum, Caesarean Sectio
Abstract
ABSTRACT
Sectio Caesarea is an alternative action in the delivery process to save the mother and fetus. Mothers with section Caesarea surgery are performed surgically on the abdominal wall and uterine wall. The most frequent impact felt by the postpartum with postoperative cesarean section is pain. The pain will affect disturbed bounding attachments, limited mobilization, Activity Daily Living (ADL) will be disrupted and will affect the Early Breastfeeding Initiation (IMD). The care provided is limited to pharmacological therapy compared to non-pharmacology. Foot massage is one of the non-pharmacological therapies that can help close the gates in the posterior horns of the spinal cord and block parts of pain from the central nervous system. The purpose of this study was to determine the effect of foot massage on pain scales on postoperative Caesarea client in AMC Hospital. This research is pre-experimental research with one group pre-test and post-test design approach. The number of samples used amounted to 27 people using purposive sampling techniques. The instrument used was the Numeric Rating Scale (NRS) and foot massage work procedures. Respondents performed foot massage for 20 minutes for 2 days. Data were analyzed using a Wilcoxon test. The results showed that more than half of the clients post section Caesarea was on the pain scale 6 before foot massage and almost half had a pain scale 3 after foot massage and the p-value = 0.000 was obtained, so it was concluded there was an influence of foot massage on the pain scale on the client postoperative cesarean section. It is hoped that the hospital can  make foot massage an alternative non-pharmacological management for pain management
Keywords: Foot Massage; Post Partum; Pain; Caesarean Sectio
Downloads
Download data is not yet available.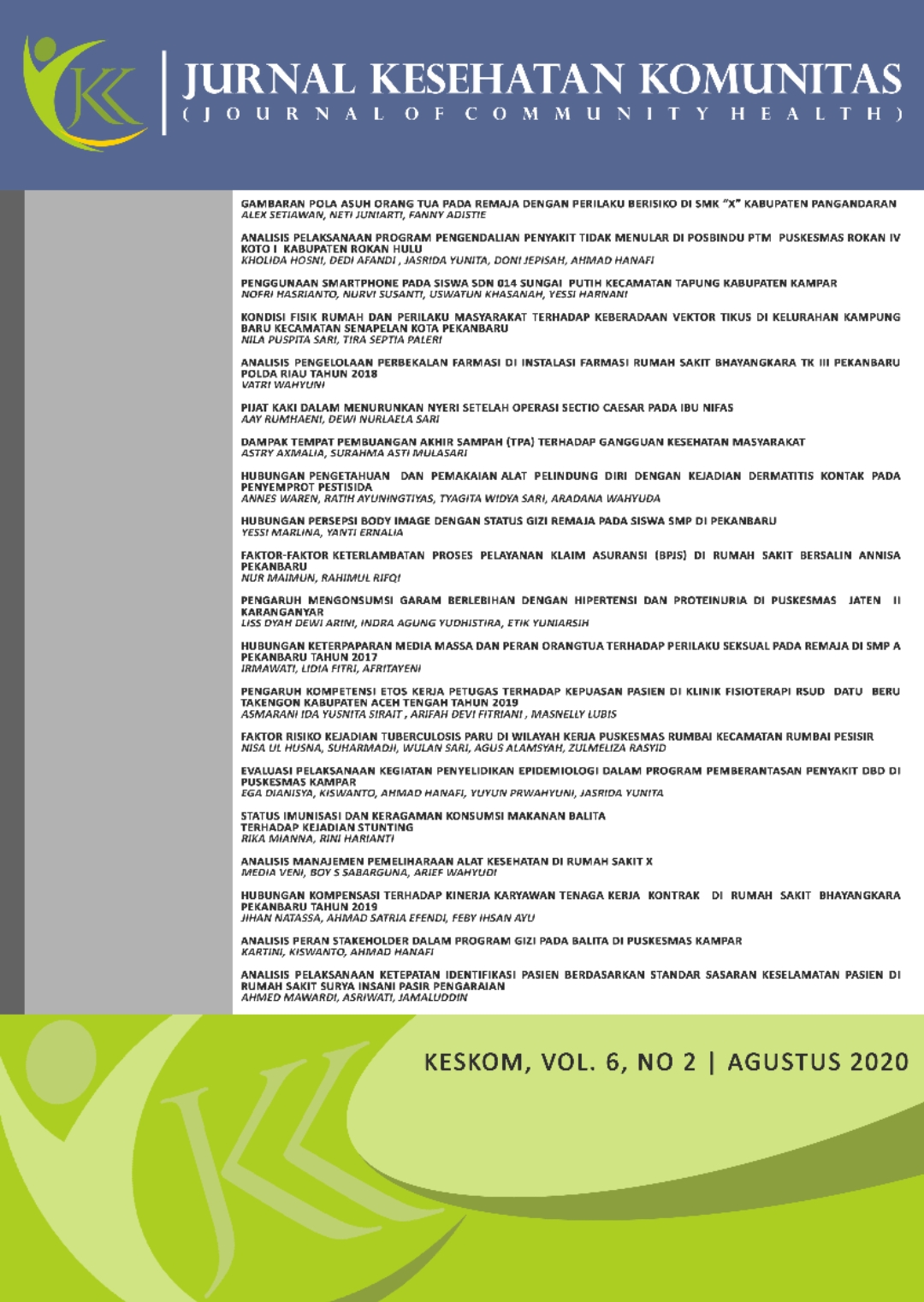 Downloads
How to Cite
1.
Sari DN, Rumhaeni A. Foot Massage Reduce Post Operation Pain Sectio Caesarea At Post Partum. J Keskom [Internet]. 2020 Oct. 2 [cited 2023 Jun. 2];6(2):164-70. Available from: https://jurnal.htp.ac.id/index.php/keskom/article/view/528
License
Copyright (c) 2020 Jurnal Kesehatan Komunitas
This work is licensed under a Creative Commons Attribution-NonCommercial-ShareAlike 4.0 International License.
Copyright @2017. This is an open-access article distributed under the terms of the Creative Commons Attribution-NonCommercial-ShareAlike 4.0 International License (http://creativecommons.org/licenses/by-nc-sa/4.0/) which permits unrestricted non-commercial used, distribution and reproduction in any medium