Relationship Of Mother Attitude About Infant Massage With Mother Behavior In Baby Massage At Posyandu Sidomulyo Health Center Area, Pekanbaru
Keywords:
Attitudes, Infant Massage, massaging behavior 1
Abstract
Massage is an art of medical care and treatment that has been practiced since years ago. Massage can be done at any age, including infants. Touch and massage to new born can guarantee continuous skin contact that can maintain the feeling of safety in infants. Based on preliminary studies conducted in Posyandu Kasih Ibu Perum Putri indah RW 5, Posyandu Kenangga / Jl. Pahlawan RW 8, and Dang Merdu Asri in Puskesmas Sidomulyo Pekanbaru. The information obtained from several officers at posyandu, that mothers who visited posyandu had been informed about the benefits of infant massage, but in reality many of them do not want to do massage on their babies. The purpose of this research was to know Relations of mother's attitude about baby massage with mother's behaviour in baby massage at Puskesmas Sidomulyo Pekanbaru Year 2014. This research used analytic quantitative research. Collecting data was carried out by questionnaire. The population in this study were all mothers who had babies 0-11 months lived at residence in Sidomulyo health center Pekanbaru work area in 2014 with 68 samples. The sampling technique was purposive sampling. Data analysis performed was univariate and bivariate. The results obtained P value = 0.002. The value is smaller α = 0.05. It means there is relationship of mother attitudes about baby massage with massaging behavior or hypothesis (Ha) was accepted. Based on the result, it is expected to posyandu officer to open baby massage class for motivating mother to do baby massage.
Downloads
Download data is not yet available.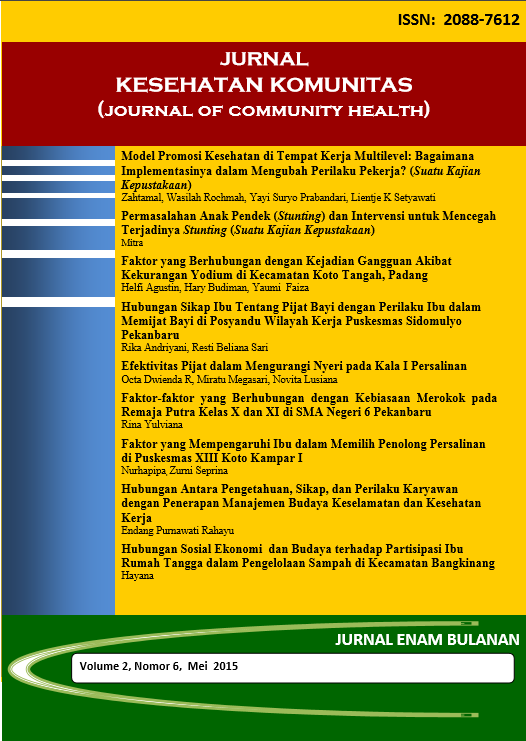 Downloads
How to Cite
1.
Andriyani R, Beliana Sari R. Relationship Of Mother Attitude About Infant Massage With Mother Behavior In Baby Massage At Posyandu Sidomulyo Health Center Area, Pekanbaru. J Keskom [Internet]. 2015 May 1 [cited 2023 Jan. 28];2(6):270-3. Available from: https://jurnal.htp.ac.id/index.php/keskom/article/view/87
License
Copyright @2017. This is an open-access article distributed under the terms of the Creative Commons Attribution-NonCommercial-ShareAlike 4.0 International License (http://creativecommons.org/licenses/by-nc-sa/4.0/) which permits unrestricted non-commercial used, distribution and reproduction in any medium