Determinant of Sectio Caesarea delivery on Birth Mother in A Hospital in Pekanbaru City
Keywords:
Determinant, Sectio Caesarea Childbirth, Hypertension, X Hospital Pekanbaru
Abstract
Persalinan Sectio Caesarea Adalah Suatu Pembedahan Guna Melahirkan Janin Lewat Insisi Pada Abdomen Dan Uterus. Berdasarkan Observasi Awal Yang Dilakukan Peneliti Di Rumah Sakit X Pekanbaru Didapatkan Ibu Yang Bersalin Normal Sebanyak 106 (20,7%) Dengan Sectio Caesarea Sebanyak 406 (79,3%) Ibu Pada Bulan Januari-Maret 2019. Penelitian Ini Bertujuan Untuk Mengetahui Determinan Yang Berhubungan Dengan  Persalinan Sectio Caesarea. Penelitian Ini Adalah Survei Analitik Dengan Desain Penelitian Cross Sectional. Jumlah Populasi Sebanyak 512 Ibu Bersalin Dan Jumlah Sampel Penelitian Sebanyak 81 Orang. Teknik Pengambilan Sampel Menggunakan Consecutive Sampling. Alat Ukur Yang Digunakan Adalah Kuesioner Dan Pengolahan Data Menggunakan Komputerisasi.  Analisis Yang Digunakan Adalah Analisis Univariat Dan Bivariat Dengan Uji Chi-Square. Hasil Penelitian Menunjukkan Bahwa Proporsi Persalinan Dengan Sectio Caesarea Di Rumah Sakit X Pekanbaru Tahun 2019 Sebanyak 51 (63%) Orang Dan Ibu Yang Melakukan Persalinan Normal Sebanyak 30 (37%) Orang. Setelah Di Analisis Terdapat Hubungan Antara Pengetahuan (P=0,041, Or=2,909 (1,142-7,409)), Ketuban Pecah Dini (Kpd) (P= 0,041 Or=3,159 (1,152-8,662)) Dan Hipertensi (P=0,025, Or= 3,348 (1,257-8,914)) Dengan Persalinan Sectio Caesraea. Diharapkan Kepada Pihak Rumah Sakit X Pekanbaru Untuk Dapat Berkolaborasi Dengan Petugas  Promosi Kesehatan Rumah Sakit (Pkrs) Dan Kesehatan Ibu Dan Anak (Kia) Untuk Lebih Giat Melakukan Edukasi Kepada Ibu Hamil Mengenai Menjaga Kesehatan Selama Kehamilan, Persalinan Normal, Persalinan Sectio Caesarea
Downloads
Download data is not yet available.
References
Ayuningtyas, D., Oktarina, R., Nyoman, N., & Sutrisnawati, D. (2018), Etika Kesehatan pada Persalinan Melalui Sectio Caesarea Tanpa Indikasi, 14 (1), 9–16.

Astuti, D. M. (2016), Faktor-faktor yang berhubungan dengan persalinan sectio caesarea di RSU PKU Muhammadiyah Kota yogyakarta

Chapman, Vicky., Cathy Charles. (2013). Persalinan & Kelahiran: Asuhan Kebidanan. Alih Bahasa; H.Y Kuncara, editor bahasa Indonesia; Eka Anisa Mardella. Ed.2. Jakarta: EGC.

Fadlun. (2012). Asuhan Kebidanan Patologis. Jakarta: Salemba Medika

Hapsari, D. I., Hendraningsih, T., & Publikasi, D. (2018). Determinan Peningkatan Angka Kejadian Tindakan Sectio Caesarea Pada Ibu Bersalin Di Rumah Sakit Ade Muhammad Djoen Kabupaten Sintang.

Hasanah, Siti. (2015). Analisis Persalinan Dengan Seksio Sesarea Dan Faktor-Faktor Yang Berhubungan di Rumah Sakit Ibu Dan Anak Zainab Pekanbaru Tahun 2015.

Janiwarty,B dan Pieter, H. Z. (2013) Pendidikan psikologi untuk bidan suatu teori dan terapannya, Yogyakarta: Rapha Publihing

Jannah, AW., Widja Widajaka. (2012). Enjoy your pregnancy, mom. PT. AgroMedia Pustaka.

Lubis, D. S. (2018). Hubungan Pengetahuan Ibu dengan Riwayat Persalinan Sectio Caesarea (SC) Di RSIA Norfa Husada Bangkinang. 2(2), 62–69.

Maryani, (2016), Determinan Persalinan Seksio Sesarea Di RSUD Wates Kulon Progo.

Manuaba, 2010. Ilmu kebidanan penyakit kandungan dan keluarga berencana untuk pendidikan kebidanan, Jakarta: EGC.

Mochtar, Rustam. (1998). Sinopsis Obstetri. Ed.2. Jakarta: EGC

Notoatmodjo, 2010. Promosi Kesehatan Teori dan Aplikasi. Jakarta: Rineka Cipta.

Refni, R. (2015), Berhubungan Dengan Persalinan Tindakan SC Pada Ibu Bersalin Di Rsu Wiradadi Husada,vol. 1, no. 2, pp. 145–161.

Saifuddin, Abdul Bari [et.al]. (2006). Buku Acuan Nasional Pelayanan Kesehatan Maternal dan Neonatal. Jakarta: Yayasan Bina Pustaka Sarwono Prawirohardjo.

Sastrawinata, dkk. (2004). Obstetri Patologi. Ed.2. Jakarta: EGC

Sihombing, M., Andayasari, L., (2015). Determinan Persalinan seksio sesarea pasien kelas tiga di dua rumah sakit di jakarta. 173–181.

Sihombing, N., Saptarini, I., Sisca, D., & Putri, K. (2017). Determinan Persalinan Sectio Caesarea Di Indonesia ( Analisis Lanjut Data Riskesdas 2013 ), Jurnal Kesehatan Reproduksi, 8 (1), 63-75

Simkin, Penny, dkk. Panduan Lengkap Kehamilan, Melahirkan, dan Bayi. Jakarta: EGC

Suparmi., Maisya, B.M, (2017), Kesenjangan sosio- ekonomi dan faktor yang berhubungan dengan persalinan seksio sesarea di indonesia. 45 (3) 169-176.
World Health Organization (WHO). (2008). The Global Numbers and Costs of Additionally Needed and Unnecessary Caesarean Sections Performed per Year: Overuse as a Barrier to Universal Coverage.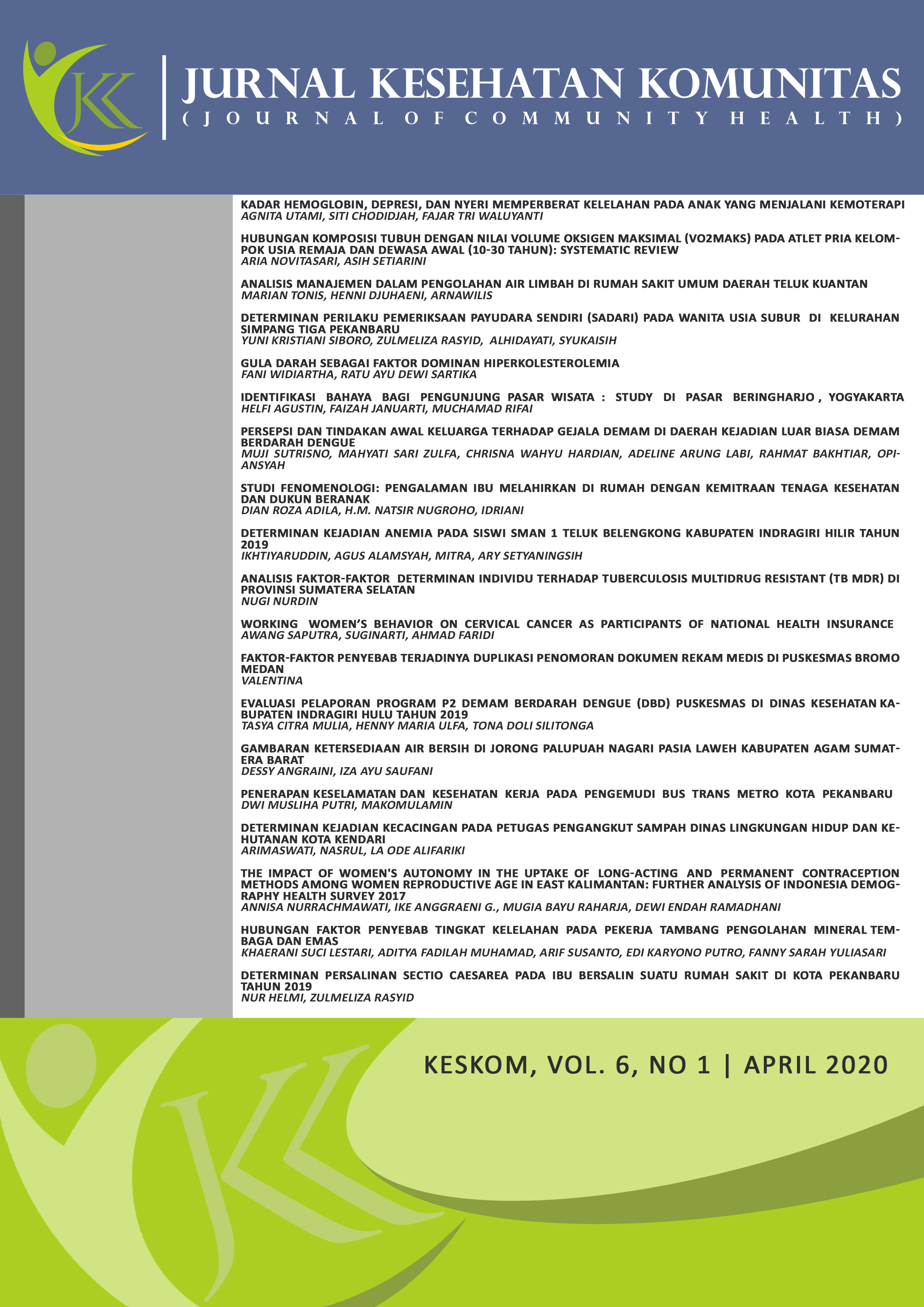 Downloads
How to Cite
1.
helmi nurhelmi, Rasyid Z. Determinant of Sectio Caesarea delivery on Birth Mother in A Hospital in Pekanbaru City . J Keskom [Internet]. 2020May28 [cited 2021Jan.23];6(1):115-21. Available from: https://jurnal.htp.ac.id/index.php/keskom/article/view/403
License
Copyright (c) 2020 Jurnal Kesehatan Komunitas
This work is licensed under a Creative Commons Attribution-NonCommercial-ShareAlike 4.0 International License.
Copyright @2017. This is an open-access article distributed under the terms of the Creative Commons Attribution-NonCommercial-ShareAlike 4.0 International License (http://creativecommons.org/licenses/by-nc-sa/4.0/) which permits unrestricted non-commercial used, distribution and reproduction in any medium